Crockpot Balsamic Honest Butcher Chicken Legs (Bone In)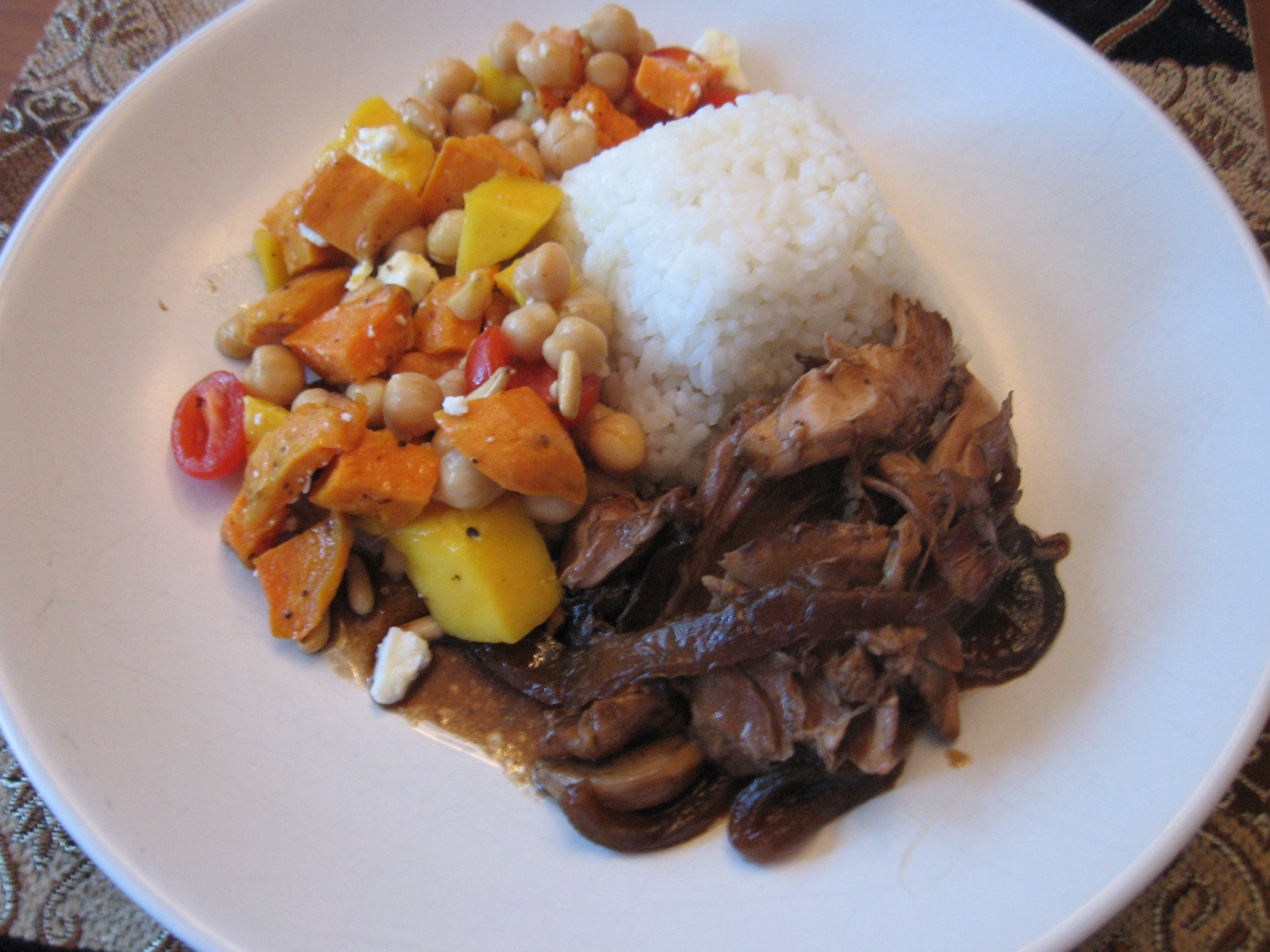 I'm big on finding recipes to suit the ingredients I have on hand. Today I defrosted some chicken legs that I bought recently from the BFFs (Big Friendly Fellahs) at the  Honest Butcher but I had a hard time finding a recipe for chicken legs (bone in) so I just adapted a recipe I found on Carrie's "Kiss my Whisk". Sorry about the Jayhawks this year Carrie :(.  I reduced the soy sauce quite a bit and upped the garlic just to ward off any vampires left over from that recent full moon. I also think I cooked this recipe closer to 8 hours (but 6 would have been fine).
Ingredients
4 bone in chicken legs (skin removed but you could leave it on if you can't be bothered)
1 large yellow onion, sliced into rings
1/3 c. soy sauce
1/3 c. balsamic vinegar
2 Tbsp Worcestershire sauce
2 bay leaves
7 cloves garlic, smashed
Ground pepper to taste
1 tablespoon brown sugar
2 tablespoons cornstarch
1/3 cup chicken broth (I bet orange juice would work well as a substitute)
Put the chicken legs and onion in your slow cooker. Stir together the soy sauce, balsamic vinegar, Worchestershire sauce and pour over top. Give it a stir to coat. Toss in the bay leaves, garlic and grind the pepper over top. Stir together the brown sugar, cornstarch and chicken broth and pour that it. Give it a stir, slap the lid on that sucker and cook on low for 6 hours. You can debone the chicken if you feel like it. It pretty much falls off the bone when done so I didn't bother…just watch out for d'em little bones.
Serve over rice with the vegetable of your choice. Here I served it with a "mangofied" take on Roasted Tuscan Salad…which I'm calling Mexitaliano Yam Salad … because I can't think of anything more interesting at the moment.
I think this would serve 4 if everyone has the side salad…my son the carnivore just wanted the meat, hold the onions (sigh). The onions are actually delicious because they've been braised in balsamic vinegar so they come out like caramelized onions without all that stirring (I like).
---
---