Chicken Bone Broth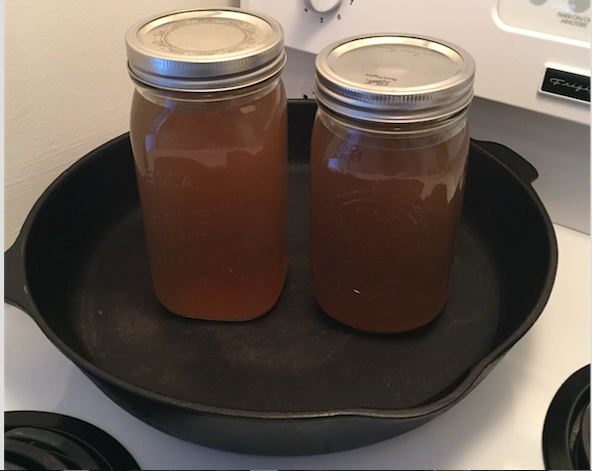 Every time I make chicken bone broth I just kind of wing it. I decided to write down what I did this time. This one is a mish mash of different flavours that I have used for different broths over the years. I thought I'd mix them together to see what happens (I know, living dangerously).  The idea was to create a rich broth with a lot of depth that could be eaten just on its own. I'm happy to say it worked. Some recipes call for messing about with roasting the bones. I didn't bother and the result was just as good as the times I have taken that step.
Ingredients
2.5 lbs chicken bones
2 whole chicken legs
10 -12 cups water (or enough to cover the bones by an inch)
1 large onion, peeled, cut in half and studded with 10 cloves
2 whole allspice balls
2 Tbsp rock salt
10 pepper corns
4 bay leaves
1 stalk lemon grass, peeled and chopped in 6
6 kaffir lime leaves
two pieces dried galangal
6-8 cloves garlic smashed and peeled (or more if you like)
2″ chunk of fresh ginger cut in slices
6 cardamon pods (bruised)
Method
Put all the ingredients in a large (and I mean large) pot.
Bring to a boil and skim off any foamy impurities.
Reduce to a simmer and let it simmer for at least one hour (2 is better).
Strain and cool completely in the fridge.
Skim off the fat that will rise to the to and you should have a lovely giggly bowl of bone broth. The giggle means you managed to get the gelatin out of the bones and that's the "good stuff" of bone broth.
---
---