Italian Almond Plum Cake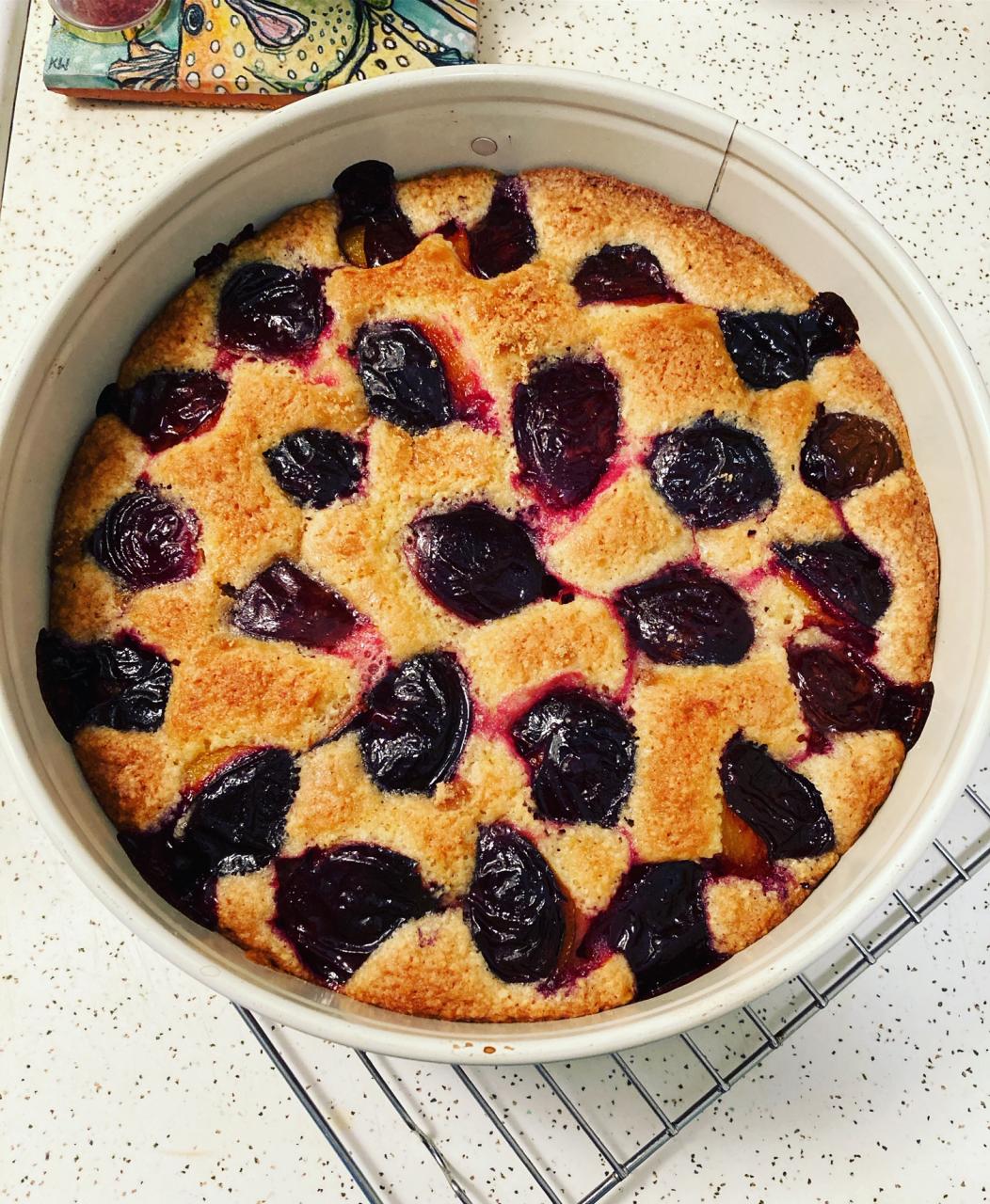 Every now and then I come across a recipe that I don't tinker with (much) because it's perfect just the way it is (and I happen to have all the ingredients (ha)).
The Italian Almond Plum Cake from Bon Appetit is it.
Because I live in fear of losing recipes because I site goes away here's what I did with very minor alterations. I may try out a gluten-free, egg free version some day. If you do, let me know how it goes!
Ingredients
1 cup all-purpose flour
½ cup almond meal
1½ teaspoons baking powder
½ teaspoon sea salt
½ cup butter, room temperature
¾ cup white sugar
¼ cup brown sugar
2 large eggs
1 teaspoon finely grated orange zest
1 teaspoon vanilla
14 Italian plums, halved, seeded
2 tablespoons brown sugar
Method
Preheat oven to 350°.
Generously grease a 10″ cake or spring form pan with nonstick spray.
Whisk flour, almond meal, baking powder, and salt in a medium bowl.
In a KitchenAid on medium speed, beat butter, granulated sugar, and brown sugar until pale and creamy, about 4 minutes.
Add eggs one at a time, mixing well to incorporate after each addition.
Add orange zest and vanilla and beat until fully incorporated, about 3 minutes.
Reduce speed to low and gradually add dry ingredients; beat just until smooth and no lumps remain, about 30 seconds.
Scrape batter into prepared pan and arrange plums, cut side down, on top of batter, don't push the plums into the batter (the batter will rise as it bakes, slightly submerging them).
Sprinkle brown sugar over and bake 50-60 minutes. The cake top will be golden brown, plums soft, and a tester inserted into the center will come out clean.
Remove from oven and let cake cool in pan (on a wire rack) at least 30 minutes.
Run a sharp knife around sides of pan to loosen cake and remove the outer ring.
You can mess with trying to cake plate it but I didn't bother.
Serves 8.
---
---