Holiday Cookies 5 (Shortbreads)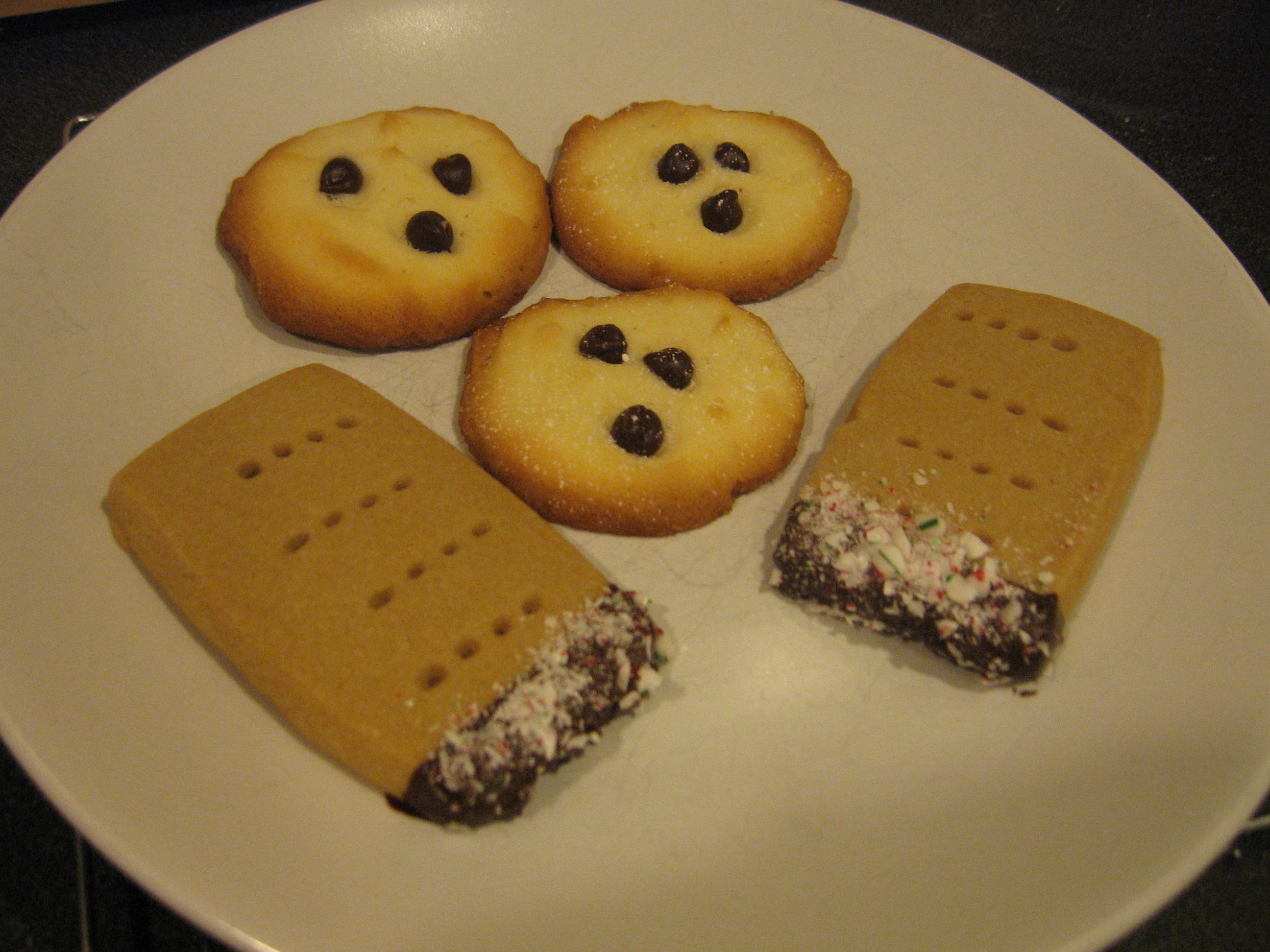 My Dad's side of the family is Scottish so I decided to make a couple different kinds of shortbread this year. I did up a traditional Scottish shortbread which is basically butter, brown sugar and flour and a whipped shortbread which is butter (again), confectioner's sugar and flour. Easy and rich.
Thanks to allrecipes.com for the Scottish Shortbread IV recipe and the Whipped Shortbread Cookies recipe. I decided to make the Scottish Shortbread a bit more festive by dipping one end in chocolate and sprinkling it with crushed candy canes while the chocolate was still warm. I added chocolate chips to the Whipped Shortbread because who doesn't like a hit of chocolate with their shortbread. If you don't…leave off the chips. The chips were supposed to be the eyes and mouth of singing carolers but they ended up looking more like the ghost of Christmas Past at at least a couple look more like the buttons on a snowman. Oh well.
For the Scottish Shortbread next time I would make them thinner so they are closer to 1 x 3. Mine turned out a tad more rustic than I would have liked. I also over cooked the Whipped Shortbread just a tad. I think they should be less brown around the edges. However, despite these minor glitches they were both yummy and received the household cookie connoisseurs' seal of approval. Of the two of them the Scottish Shortbread dough is easier to handle so that's probably the one I'll make again. The Whipped Shortbread requires fiddling with two spoons to get the batter onto the baking sheet.
We'll see whether they garner sufficient points to become holiday standards.
After a full day of baking I guess we are having cookies for dinner.
---
---