Nordic Accord Meatballs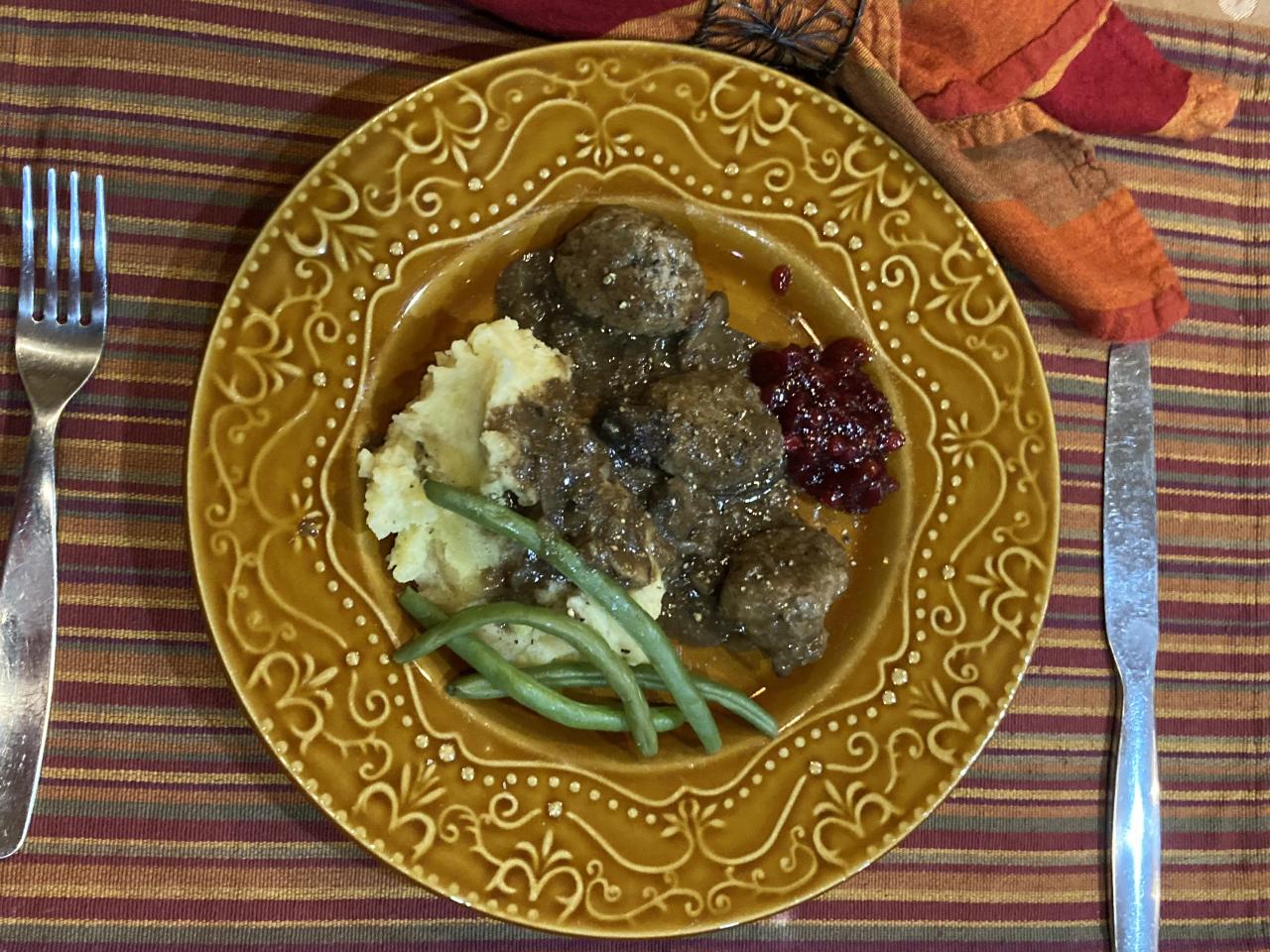 Nordic accord meatballs are a mash up of Finnish, Swedish and Norwegian meatballs. My mom couldn't decide which recipe to follow so she took the best bits from each and put them altogether in one.
We serve our meatballs with my Mummu's onion and mushroom gravy (recipe follows)
Ingredients – Meatballs
3/4 cup plain bread crumbs
1/2 cup milk
2 eggs, lightly beaten
1 large onion, minced (should be at least 3/4 cup)
1 tbsp fresh ginger, minced (or grated)
1 tsp salt (any kind)
2 tsp ground nutmeg
2 tsp minced garlic
1 1/2 tsp ground black pepper
1 tsp white pepper
1 tbsp ground allspice
1 tsp cardamon
6 ounces mild and buttery Gouda-style cheese, grated
1 lb ground beef
1 lb ground pork
Method – Meatballs
Preheat oven to 400 degrees F (200 degrees C).
Combine bread crumbs, milk, eggs, onion, ginger, salt, nutmeg, garlic, black pepper, white pepper, allspice, cardamon. Let the bread absorb the milk.
Add the grated cheese.
Add the ground beef and ground pork and mix well until all the ingredients are full incorporated.
Line a rimmed baking sheet with baker's parchment.
Shape meat mixture into 1-inch meatballs (think golf ball size) and place on the prepared baking sheet.
Bake in preheated oven until brown, about 18-20 minutes. Set meatballs aside and make the gravy.
Ingredients – Onion and Mushroom Gravy
1 large sweet onion, minced (or enough yellow onion to make about 1 cup)
1 shallot minced
1 cup sliced button (aka cremini) mushrooms
3 Tbsp of butter (for sautéing the onion and mushroom)
3 Tbsp of butter for making the roux
3-4 cups mushroom broth (or any brother will do) – this is by feel, it depends on how thick you like your gravy
Method – Gravy
Chop the onions and shallots and slice the mushrooms.
Sauté the onions for 2-3 minutes on medium high.
Add the shallots and the mushrooms and keep sautéing until the onions get nice and brown.
Remove the sautéd veggies and set them aside.
Melt 3 Tbsps butter in the same pan on medium heat.
Sprinkle in 3 Tbsp flour to make a roux.
Be patient and cook the roux until the flour gets nice and brown.
Add the broth slowly and keep stirring constantly to keep the ol' lumps at bay.
Continue adding broth until you get to the consistency you like.
Add back in the veggies and stir to incorporate. This is how it should look.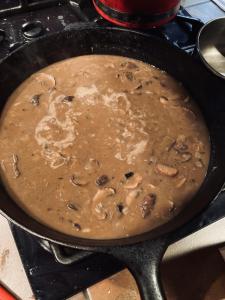 Add in your meatballs and simmer long enough to heat the meatballs through.
Serve with boiled potatoes, Lingon Berry jam (optional but really, really good) and a salad.
Serves 6.
---
---