Dilly Beans and Quickles aka Quick Pickles Experiment #1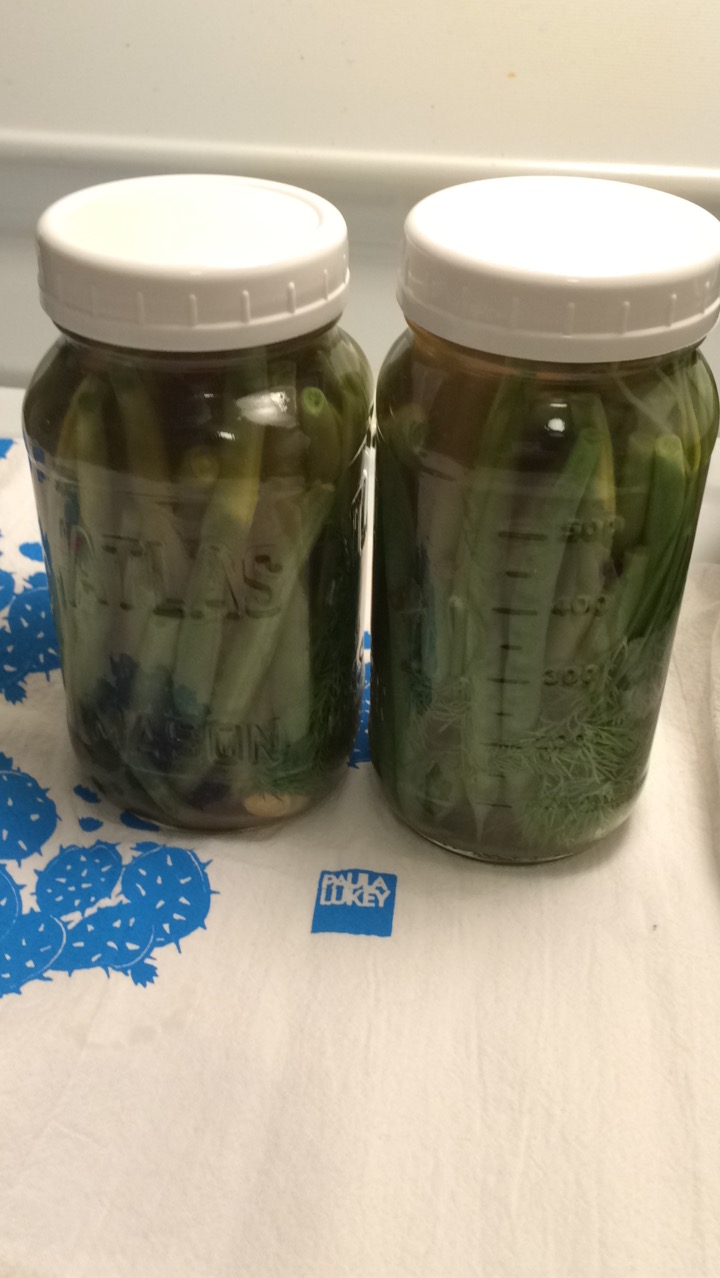 My friend Tracy Rowand of A Taste to Savour Catering and Cafe makes her home at Windsor Market, and I was invited to Customer Appreciation Night last week. While I was there being "appreciated" ha, I ended up buying some things (as I usually do because it's hard to resist). One of these things was a jar of sun-dried tomatoes packed in extra virgin olive oil which naturally got me thinking about pickled Italian vegetables. I guess that is kind of a big leap, but it happened. I really like pickles. Around this time, I also started noticing recipes for "quick pickles," on The Cook's Cook Community Forum and elsewhere. I found these recipes intriguing, particularly because there is no buggering about with processing, sterilizing, etc. The pickles don't last as long, but pickles never last long around here anyway, so I thought I'd give it a go. And so I did. I did up some green beans and some regular cucumber pickles. I haven't opened the dilly beans yet but I tried the cucumber pickles after 1 day and … #YAASSSS a new favourite thing. I also thought they'd make great seasonal host/hostess gifts, being green and all.
The recipes I looked at before coming up with my own concoction were:
The one ingredient that I could not find (I gave up after three stores, it was pouring rain) was dill seed but I figured that was ok because I happened to have a whole whack of fresh dill and I had celery seed.
My version of quick pickle brine is as follows:
Brine Ingredients
2 Tbsp yellow mustard seed
1 Tbsp coriander seed
1 Tbsp allspice berries
1 Tbsp mixed peppercorns
2 tsp celery seed
2 tsp fennel seed
1 tsp whole cloves
4 crushed bay leaves
1 tsp ground ginger
1/2 tsp dried red chili flakes
1 two inch piece of cinnamon stick
3 C white vinegar
3 C water
3 Tbsp kosher sea salt
3 Tbsp sugar
1lb green beans, washed, dried and with the tops trimmed (leave the bottoms).
4 cloves garlic, peeled and slightly smashed
2 healthy bunches of fresh dill
For the cucumber quickles you need a second batch of brine and 2 English cukes sliced into about 1/8″ thin rounds.
Supplies
You will need two 1 pint jars and lids, cleaned and dry. I used old Newman's Spaghetti sauce jars (they are basically Mason jars), and I just bought some plastic lids (you can get them at the hardware store; they are VERY handy).
Method
Make the pickling spice mixture and stir well.
Combine the water, vinegar, salt and sugar in a big non-reactive pot (stainless steel or glass, DON'T use aluminum or iron because you'll end up with a weird tasting brine – yuck).
Add the pickling spice mixture and bring the works to a boil.
Let boil for a few minutes while you are packing your pickle jars.
Tilt a jar on its side and drop in the garlic and law the dill down (keeps the dill from getting squashed at the bottom of the jar). Lay the beans in the jar lengthwise and pack them as closely together as possible without smashing them. Eventually, you'll be able to stand the jar up to finish filling it. Try to leave 1/2″ clearance at the top. Do the same with the other jar.  Turn the heat off under the brine and let it cool for a minute or two. Ladle the brine into your jars making sure to tap them gently to get any air bubbles out. Slap the lids on and let cool for a bit. Put them in the fridge. In a day or two…pickled beans. Bring on the Ceasars!
---
---