Carnitas in the Slow Cooker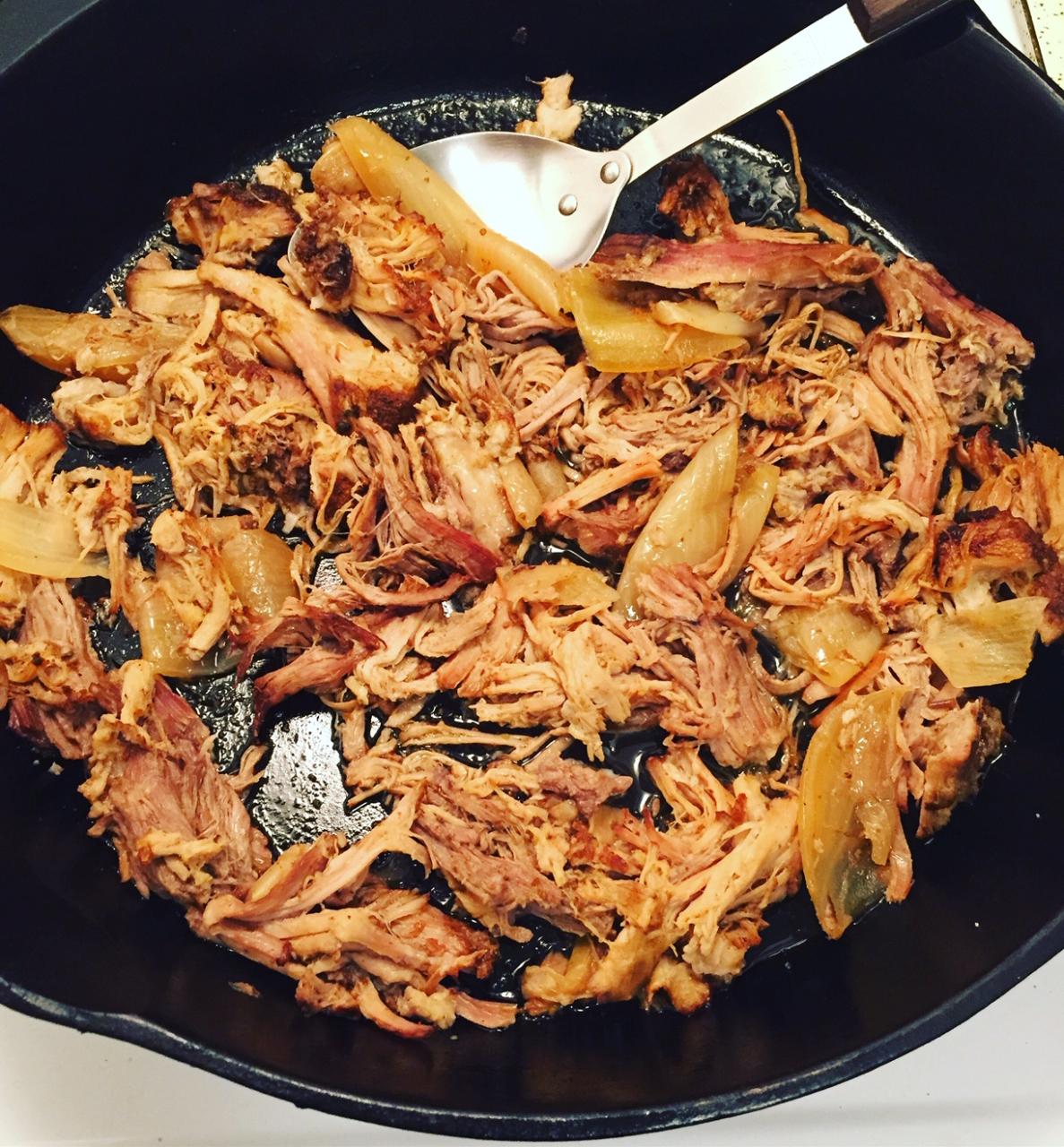 In keeping with the taco theme here's a recipe for carnitas in the slow cooker. I used the recipe from Damned Delicious (thank you!) which you can find here: Slow Cooker Carnitas. I changed out the black pepper for white pepper and added a bay leaf. I also used orange juice from concentrate (2 Tbsps to 2 Tbsps of water in place of the fresh juice, but I did use fresh lime juice because the bottle stuff is just yuck).
Ingredients
2 kg pork shoulder picnic roast (4.4 lbs) with the string and fat cap removed.
1 heaping tablespoon chili powder
2 teaspoons ground cumin
2 teaspoons dried oregano
2 teaspoons salt
1 teaspoon ground black pepper
6 cloves garlic, peeled
2 onions, quartered
1 bay leaf
2 Tbsp orange juice mixed in 2 Tbsp water
2 limes, juiced
Method
Combine chili powder, cumin, oregano, salt and white pepper.
Rub the spice mixture all over the roast (I did this right in the slow cooker).
Life up the roast and put the garlic, onions and bay leaf underneath to act as a rack.
Mix the orange juice and lime juice and pour over the roast.
Cover and cook on low for at least 8 hours.
Remove pork from the slow cooker and shred the meat.
Return the shredded meat the pot with the juices; season with salt and pepper, to taste.
Cover and let it warm up for 30 minutes.
Move rack to the middle of your oven and preheat oven to broil.
Line a baking sheet with foil or baker's parchment (makes clean up easer) OR if you have a big black cast iron pan, like I do, just use that and don't bother lining it.
Using tongs, put the carnitas onto a baking sheet or in your pan and broil until crisp and crusted, about 3-4 minutes.
Serve with tortillas (or rice) and the condiments you like.
---
---