Mango Brown Rice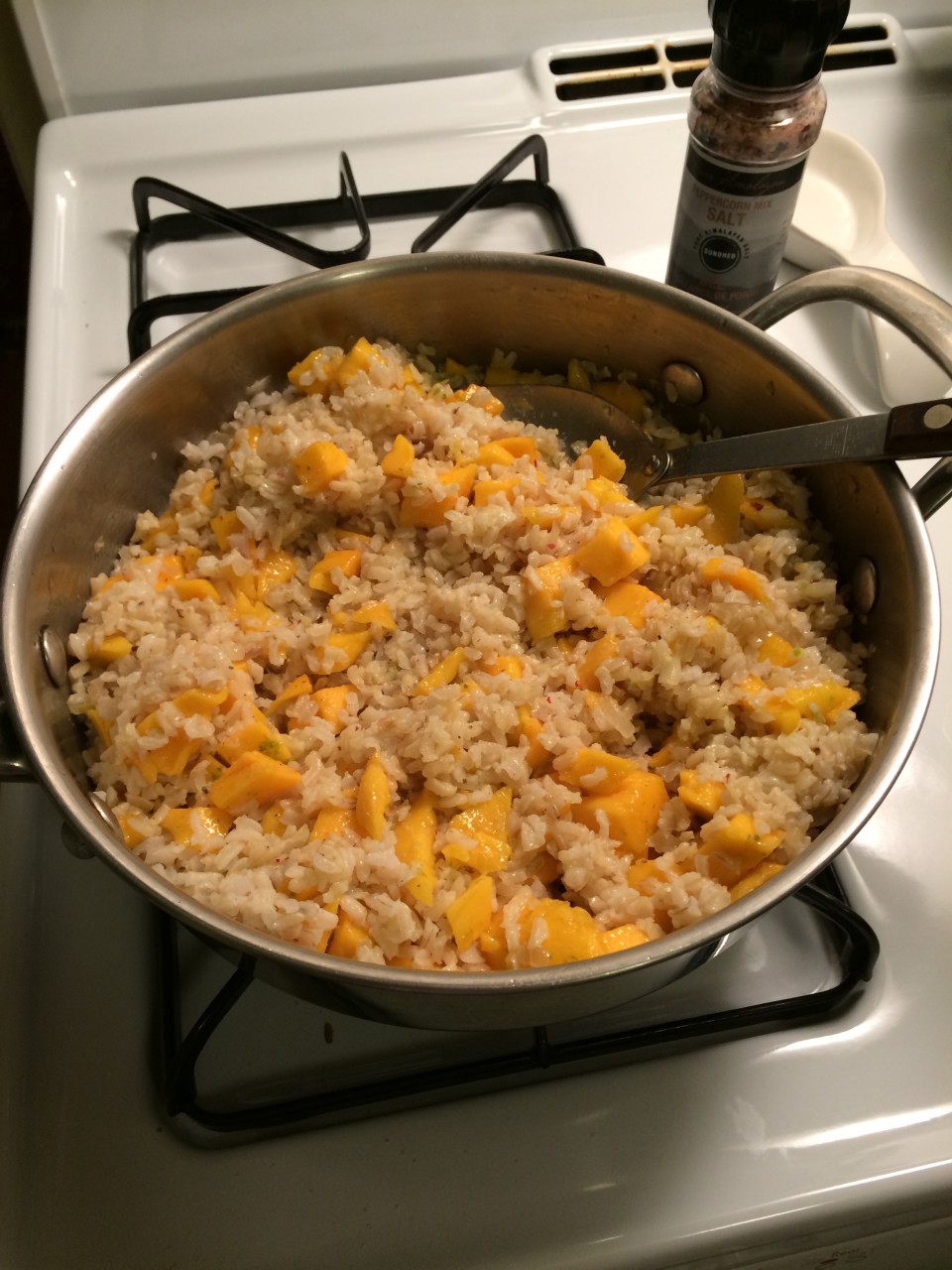 This started out as simply making brown rice but I had a couple of mangoes that needed using and I was using the rice to pair with meatballs that were on day three of leftovers (I hate to waste food). Regardless of how it started out, the end result was really very good.
Ingredients
1 C brown rice
12 C water
1 tsp salt
I followed Saveur's method for Perfect Brown Rice.
Just in case that link dies, here's the method: rinse the rice in a fine mesh strainer under cold water for 30 seconds. Bring the 12 C water to boil, add the salt, add the rice, stir a couple times, and boil uncovered for 30 minutes. Drain the rice and return to the pot (off the heat). Cover with a tight fitting lid and allow to steam for 10 minutes.
While the rice is boiling prepare the remaining ingredients.
1 large shallot, diced fine
1 Tbsp garlic, minced
2 Tbsp butter
2 Tbsp olive oil
Healthy pinch of chili flakes
Zest and juice of 1 lime
Handful of fresh cilantro chopped (optional, if you hate it, leave it out)
2 mangoes diced (I used ataulfo)
Method
In a deep saute pan, saute the shallots on low for 5 minutes to soften.
Add the olive oil and bring back to heat.
Add the garlic and let it saute until aromatic. Add the chili flakes.
Chop the mango and toss with lime zest and juice.
Toss the cooked brown rice with the shallots and garlic mix.
Fold in the mango.
Season with salt and pepper to taste.
Boom, done, and it's really very delicious. Serves 4-6 depending on what else you are having.
---
---