Thai Tom Kha Gai soup with Chicken and Rice Vermicelli Noodles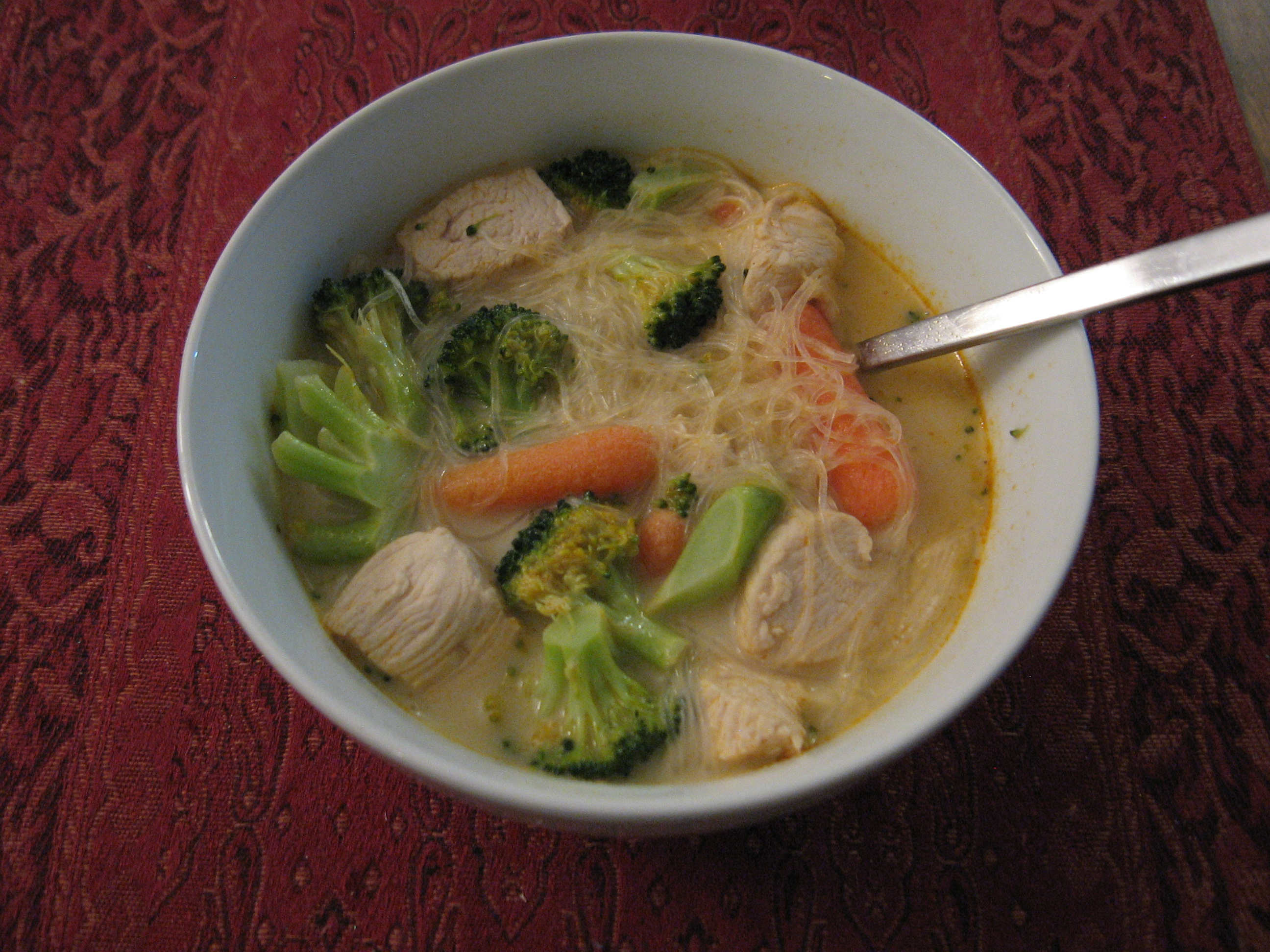 One of my favourite Thai soups is Tom Kha Gai. It's a mildly spicy soup with coconut milk to add a bit of body and flavour. For this soup I used the Thai Tom Yum Soup spice paste from Asian Home Gourmet. It's a bit of a cheat but at $2.79 a packet it is more economical then buying all the ingredients you need to make a home made broth and it has no MSG. As it turns out this soup tastes a LOT like the Singapore Laksa they serve at Freshbowl. The mildly spicy flavour is balanced with a nice zing from lime juice and a hit of fish sauce.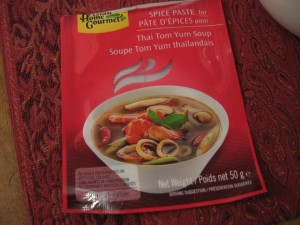 Ingredients:
1 50g packet of Asian Home Gourmet Thai Tom Yum Soup spice paste.
4 c. chicken stock
1 can coconut milk
1-2 tsp fish sauce
juice of one lime
1 large boneless, skinless chicken breast cut into bite sized chunks
1 c. sliced carrots (or a small bag baby carrots)
1 c. chopped broccoli (florets and stems)
Handful of chopped cilantro for garnish
Bring the chicken stock to a boil and stir in the spice paste until dissolved. Add the coconut milk. Bring the stock back to a boil and add the vegetables. Bring it back to a boil and add the chicken pieces. Reduce heat and simmer and simmer uncovered for about 5 minutes (or until the chicken is cooked). Stir in the fish sauce and lime juice.
You could serve this over jasmine rice or over rice vermicelli noodles which is what I did.
Rice Vermicelli Noodles
I used Sparkle brand rice vermicelli. It comes bundled in 5 individual bundles that are roughly 50g and I used 1 per serving. Put the dry noodles into a pot and cover them with boiling water to loosen them (takes about 3 minutes). Strain and rinse with cold water. Add them to your soup pot or you can put them in the bottom of individual serving bowls and spoon the soup over top.
Serve immediately.
Makes enough for 6-8 people.
---
---