Easy Peasy Roasted Potatoes, Tomatoes, and Red Onion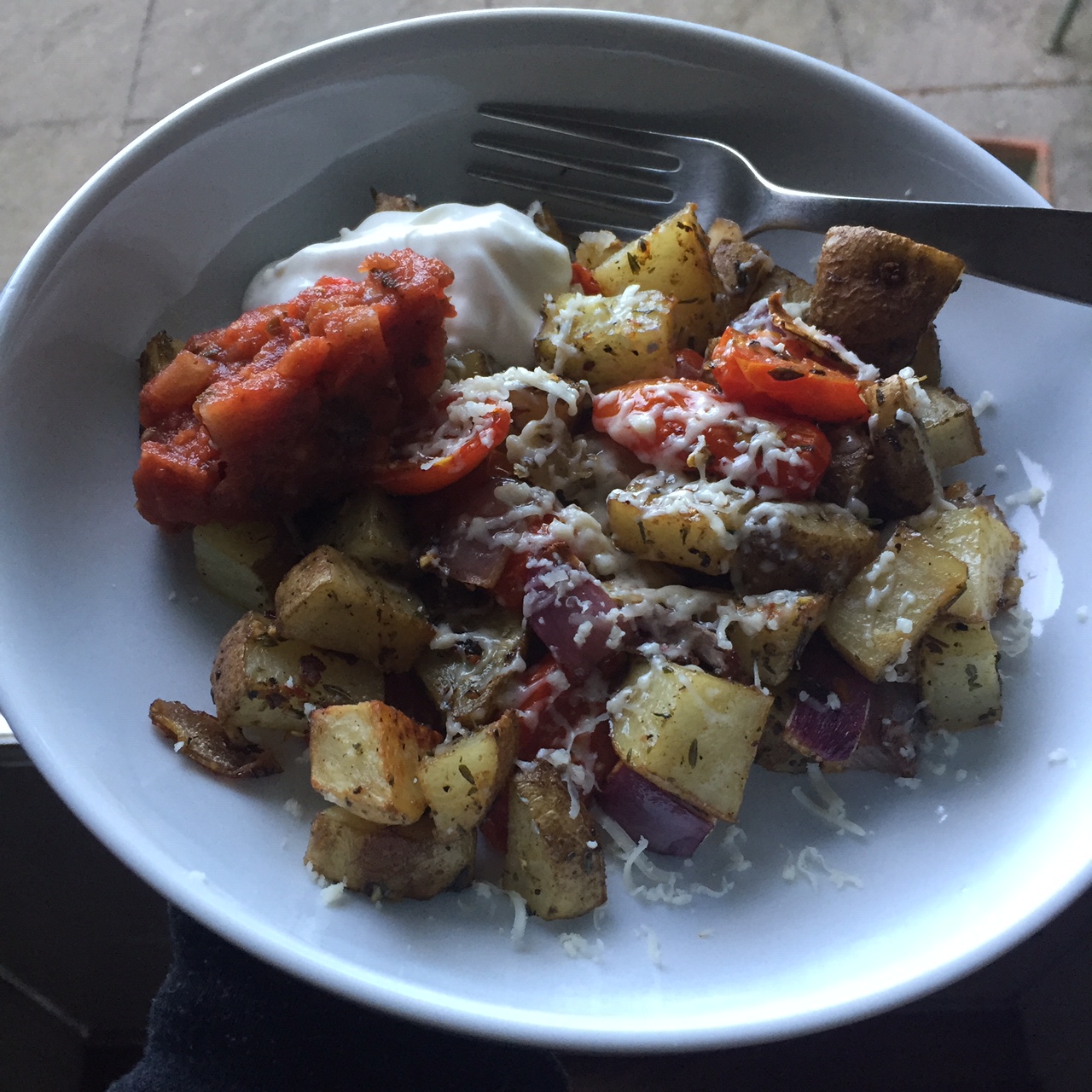 Sometimes simple is best and this recipe for roasted potatoes, tomatoes and red onion fits the bill. Normally, I roast root vegetables on high (like 425F high), but I wanted roasted tomatoes and they would have been charbroiled if I'd done that so I chose to roast longer at 350F. This would have been a great side dish for BBQ chicken, but I didn't have any (boo hoo), so I treated it like a baked potato and served it up with grated cheese, sour cream and fresh salsa. I didn't miss the chicken…well ok, maybe just a little.
Ingredients
3 large unpeeled russet potatoes cut in 1/2″ dice
10 Marzano tomatoes cut lengthwise (or use whatever cherry tomato you like)
1/2 a large red onion, roughly chopped
4 cloves garlic, peeled and minced
2-3 Tbsps olive oil
1 tsp dried thyme
1/2 tsp paprika
1/2 tsp ground cumin
1/2 tsp dried oregano
1 tsp kosher salt (or to your taste)
fresh ground pepper to taste
Fixings: grated cheddar, sour cream and salsa for finishing
Method
Preheat oven to 350F.
Line a cookie sheet with baker's parchment (just makes clean up easier).
Mix all the ingredients, except the fixings, together in a big bowl, making sure everything is coated with the olive oil.
Dump the works onto the lined cookie sheet and bake for 25 minutes, stir and bake another 25 minutes or until the potatoes are cooked through.
Remove from the oven and sprinkle with grated cheddar.
Serve with a dollop of sour cream and some salsa.
Serves 2 as a main dish and 4 as a side dish.
---
---