Wild Rice Salad with Cranberries and Almonds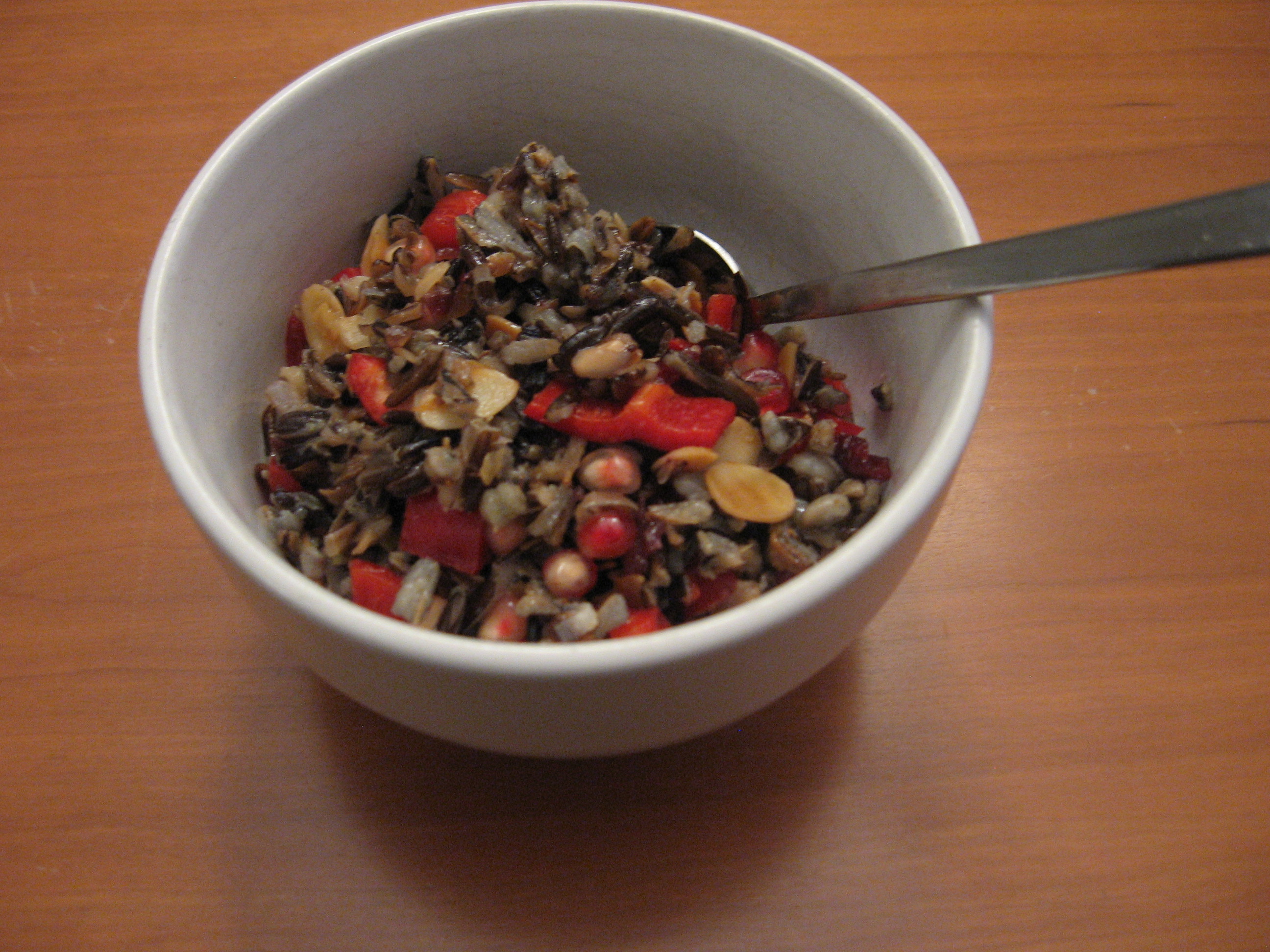 Wild rice salad is a great power packed lunch. It is gluten free and you can add whatever ingredients you have on hand to jazz it up. I saw one recipe that called for seedless green grapes and toasted pecans instead of almonds. Really you can do whatever you like. This recipe is an adaptation of Streaming Gourmet version with ad libs from Jamie Oliver's Wild Rice Salad. I used my Auntie Kaija's quick soak method for the rice because I like the way it turns out. You can just follow the directions on the packet or use a mix of rices.
1 c. wild rice (use quick soak method below)
1 c. toasted almonds (sliced or slivered)
1/2 c. chopped dried cranberries (I used Craisins)
1 1/2 c. chopped red pepper
1 c. pomegranate seeds (optional)
1/4 c. chopped green onion (optional)
Dressing
1 lemon zested and juiced
2 Tbsp orange juice
6 Tbsp olive oil
Sea salt and fresh ground pepper to taste
Quick Soak Method
Wash the rice in cold water and parboil for 5 minutes in 3x the amount of water. Remove from heat, cover and let stand for 1 hour. Drain, rinse and add to 3 c. boiling water and 1 tsp. salt. Simmer covered for 50 minutes until tender. Drain if necessary.
Instructions
Cook the rice using the Quick Soak Method. While the rice is cooking, toast almonds, chop peppers and make Dressing. When rice is finished and still warm, toss with the onion, Dressing and cranberries. Let it come to room temperature and then toss in the rest of the ingredients (or you will cook them and lose the crunch). Let stand for 30 minutes or refrigerate until ready to eat.
---
---