Pan Fried Zucchini Flowers Stuffed with Ricotta and Fresh Oregano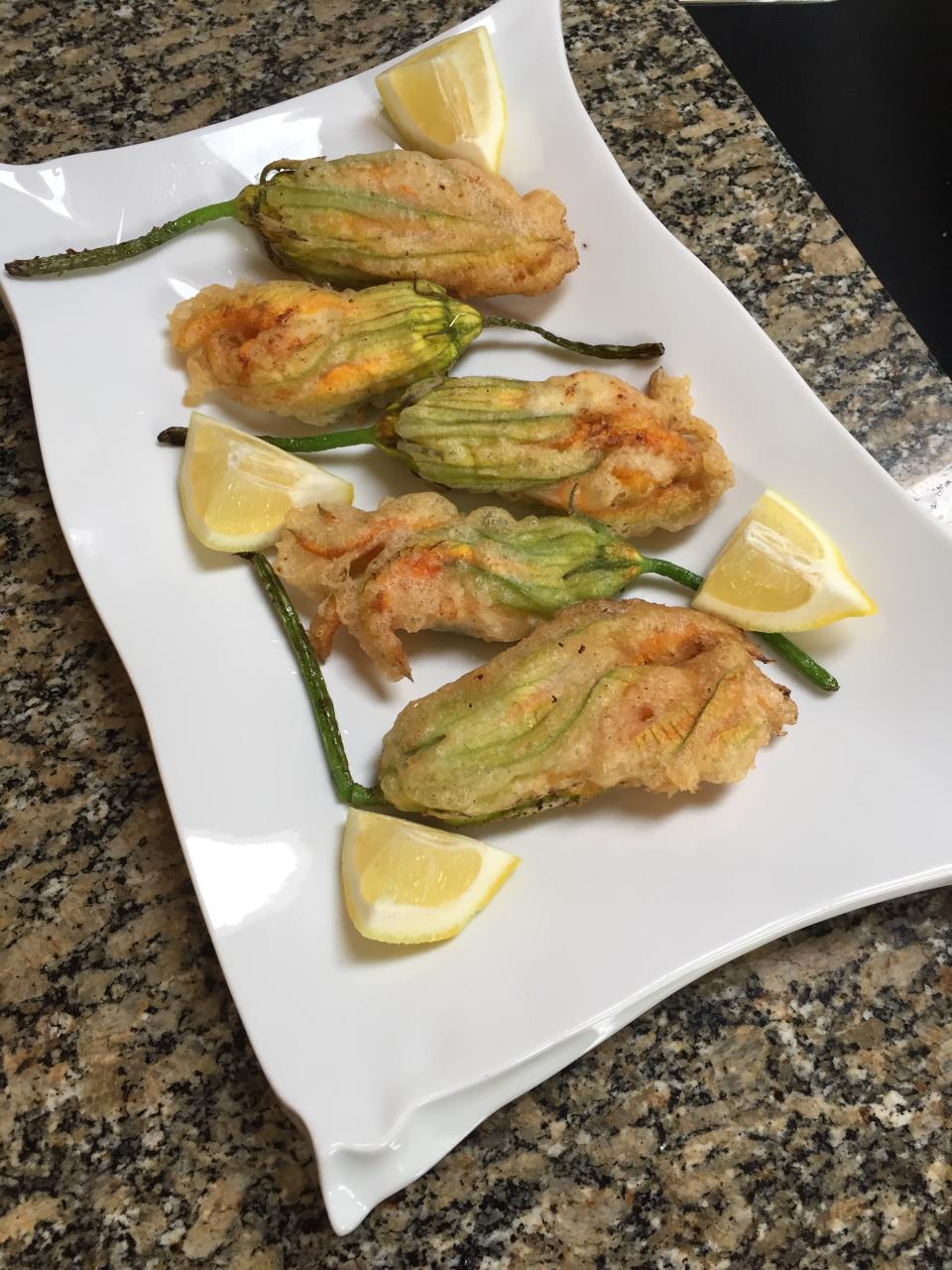 My friend Annabel likes to cook new things (aside from daughters who used to be in dance together, we also have this in common). This week she picked up some lovely zucchini blossoms at the farmer's market and we decided to have a go at cooking them up. We had a look on the internet and the ricotta stuffed flowers looked and sounded pretty appealing. The original recipe is from Jamie Oliver's Crispy Zucchini Flowers Stuffed with Ricotta and Mint but Annabel only had spearmint in the garden so we went with (garden fresh) oregano instead and it was delicious!
Not to worry she made us some Apple Mint Shrub Gin and Tonics so the spearmint did not go to waste!
We only had five zucchini flowers so we cut down on the batter and then made Corn and Green Onion Fritters with the leftovers (waste not want not!). The extra ricotta filling from the zucchini blossoms was great slathered on top.
Ingredients
250 g ricotta cheese
1/4 tsp ground nutmeg
1/4 C freshly grated Parmesan
zest of 1 lemon, plus lemon wedges for serving
4-5 springs of fresh oregano leaves, finely chopped
1 small fresh red chili, halved, seeded and very finely chopped
Sea salt and freshly ground black pepper
1 C self-rising flour
1 1/4 C sparkling water
5-8 zucchini flowers
Light tasting oil for frying (we used Canola oil)
A small piece potato, peeled, to test the oil is hot enough
Directions
Lightly rinse the zucchini flowers, drain and pat dry.
Gently open the flowers up and remove the middle stamen (they taste bitter).
Mix ricotta in a bowl with the nutmeg, Parmesan, lemon zest chopped oregano and chiles. Season with salt and pepper, to taste. Remember that self-raising flour has some salt in it already.
Put the flour into a mixing bowl with a good pinch of salt. Whisk in the sparkling water until thick and smooth (like heavy cream).
Spoon the ricotta into a small sandwich bag and snip off the corner to make a piping bag.
Gently open the flower and gently squeeze the filling into each until just full (it's easiest with two people, one holding the flower open and the other piping). Carefully press the flowers back together around the mixture to seal it in. Then put the flowers aside. (We used the leftover ricotta on the Corn and Green Onion Fritters we made with the leftover batter).
Heat about 1″ of oil in a good-size frying pan. Have tongs handy for turning the flowers and lifting the out of the oil.
Prepare a plate with a double layer of paper towels for draining.
Heat the oil up and drop in your piece of potato. When the potato turns golden and floats you are ready to go. Remove potato from the pan.
One by one, dip the flowers into the batter, making sure they're completely covered, and gently let any excess drip off. Carefully release them, away from you, into the hot oil. Quickly batter another 1 or 2 flowers and add them to the pan being careful not to crowd the pan.
Fry until golden and crisp all over, then lift them out of the oil and drain on the paper towels.
Remove to a plate or board and sprinkle with a good pinch of salt. You can let them cool 5-10 minutes and then squeeze  some lemon juice on them before eating.
Really, really delicious!
---
---