Corn and Green Onion Fritters with Savoury Ricotta Slather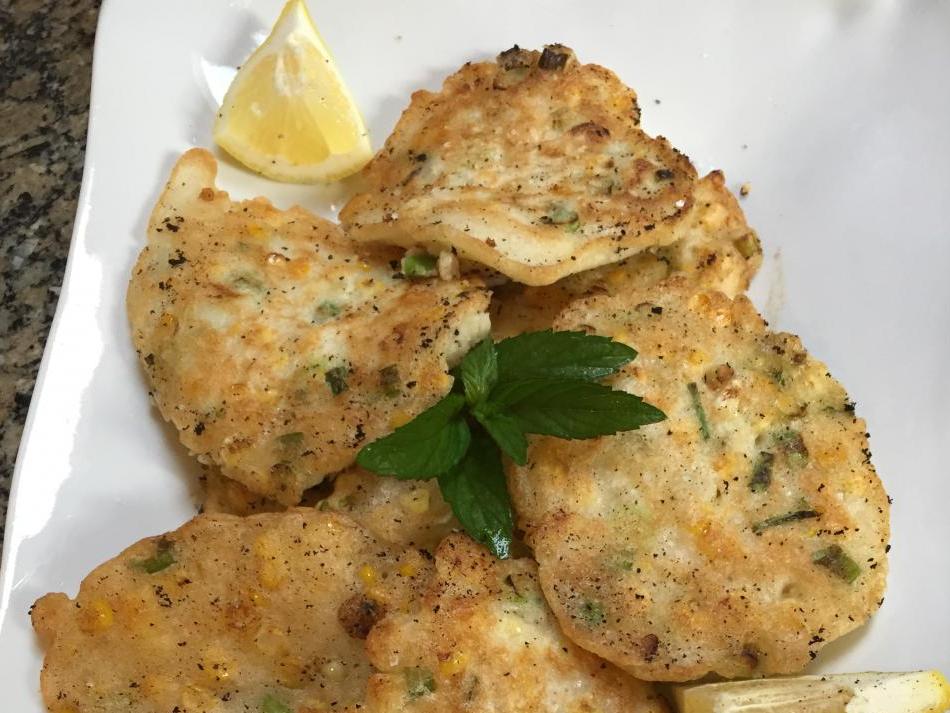 This long weekend my friend Annabel and I made Pan Fried Zucchini Flowers Stuffed with Ricotta and Oregano. They were phenomenal, but we had left over batter so we decided to mix in some cooked corn and chopped green onions and make fritters. We used the left over filling from the zucchini flowers as a slather. Pretty damned delicious for something made up on the fly.
Ingredients
1 C self-raising flower
Healthy pinch of salt and a good grind of fresh black pepper
1 1/4 C sparkling water
1 cob's worth of cooked corn cut off the cob
3 green onions, whites and greens, chopped
1-2 Tbsp light tasting oil for frying
See the Pan Fried Zucchini Flowers recipe for the Ricotta slather, or you can make your own topping. We thought they'd be good with a light crab salad (next time!).
Method
Make the Ricotta slather to let the flavours meld.
Mix the flour, salt and pepper together.
Whisk in the sparkling water until you have a batter like heavy cream.
Stir in the corn and chopped green onion.
Heat the oil in a medium to large sized saute pan.
Aim for about a 1/4 C of batter per fritter and leave enough space between them so you can flip them easily.
Saute until golden on both sides.
Drain on paper towels.
Top with Ricotta slather or anything you like.
Makes 8-10, 3″ fritters.
---
---