Morning Glory-ish Muffins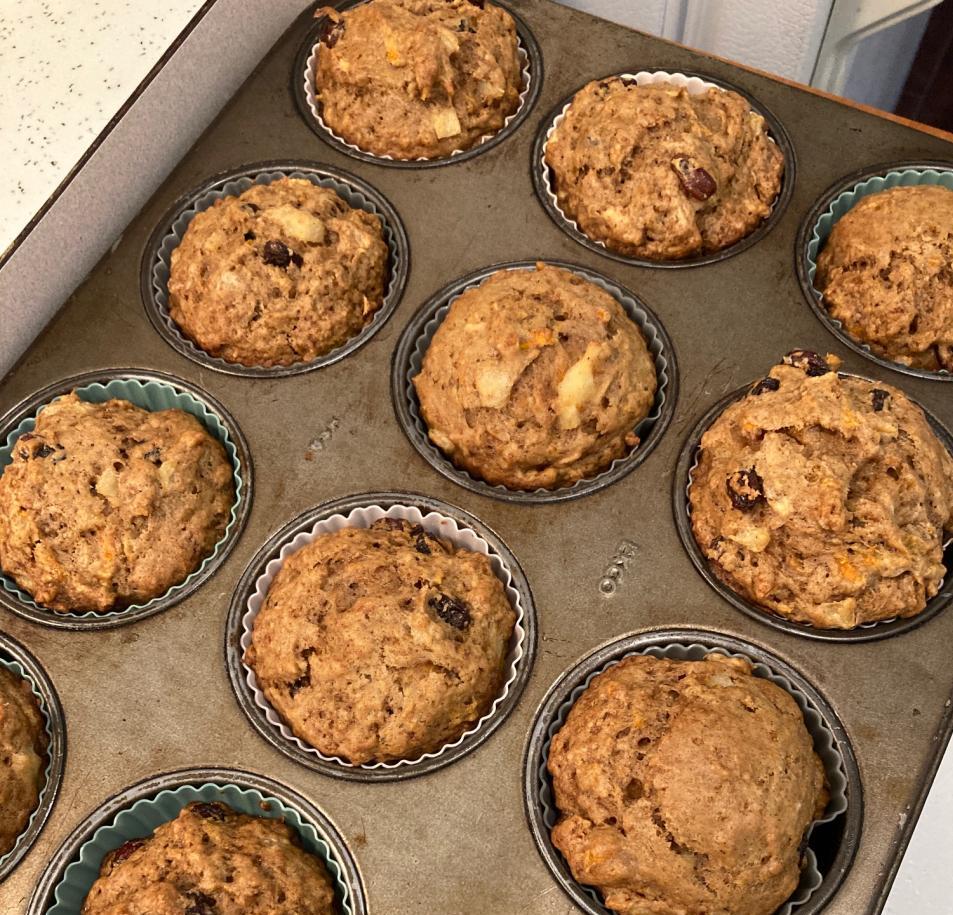 This recipe is a melange of a bunch of different recipes for Morning Glory Muffins and Pineapple Carrot Muffins. I mixed these by hand (a mixer is not necessary). I used white flour but you could use whole wheat or a mix of the two. They are not super sweet and the orange zest really shines through.
Ingredients
1 1/2 cups all purpose flour
1/2 cup coconut sugar
1 tsp baking powder
1 tsp baking soda
1/2 tsp salt
1 tsp cinnamon
1/2 tsp ground ginger
1/2 cup grated carrot
1 small apple cored and grated
1/2 cup raisins
Zest of one orange
1/2 cup crushed pineapple (drained)
1/2 cup sunflower oil
1/4 cup buttermilk
2 eggs
1 tsp vanilla
Method
Preheat oven to 350 F.
Mix the dry ingredients together in a large bowl.
Grate the carrot and apple and toss them into the dry ingredients and give them a good mix (this ensures an even mix throughout the muffin batter).
Stir in the raisins.
Whisk the oil, buttermilk, vanilla and eggs.
Stir in the crushed pineapple.
Make a well in the dry ingredients and pour in the wet.
Mix until just combined (try not to over mix).
Line 12 muffin tin with liners or grease and fill 2/3rds full.
Bake for 20-22 minutes or until a cake tester comes out clean.
Cool on rack for 5 minutes then remove from tin.
These freeze well.
---
---