Triple Ginger Scones with Apricots – #Yasss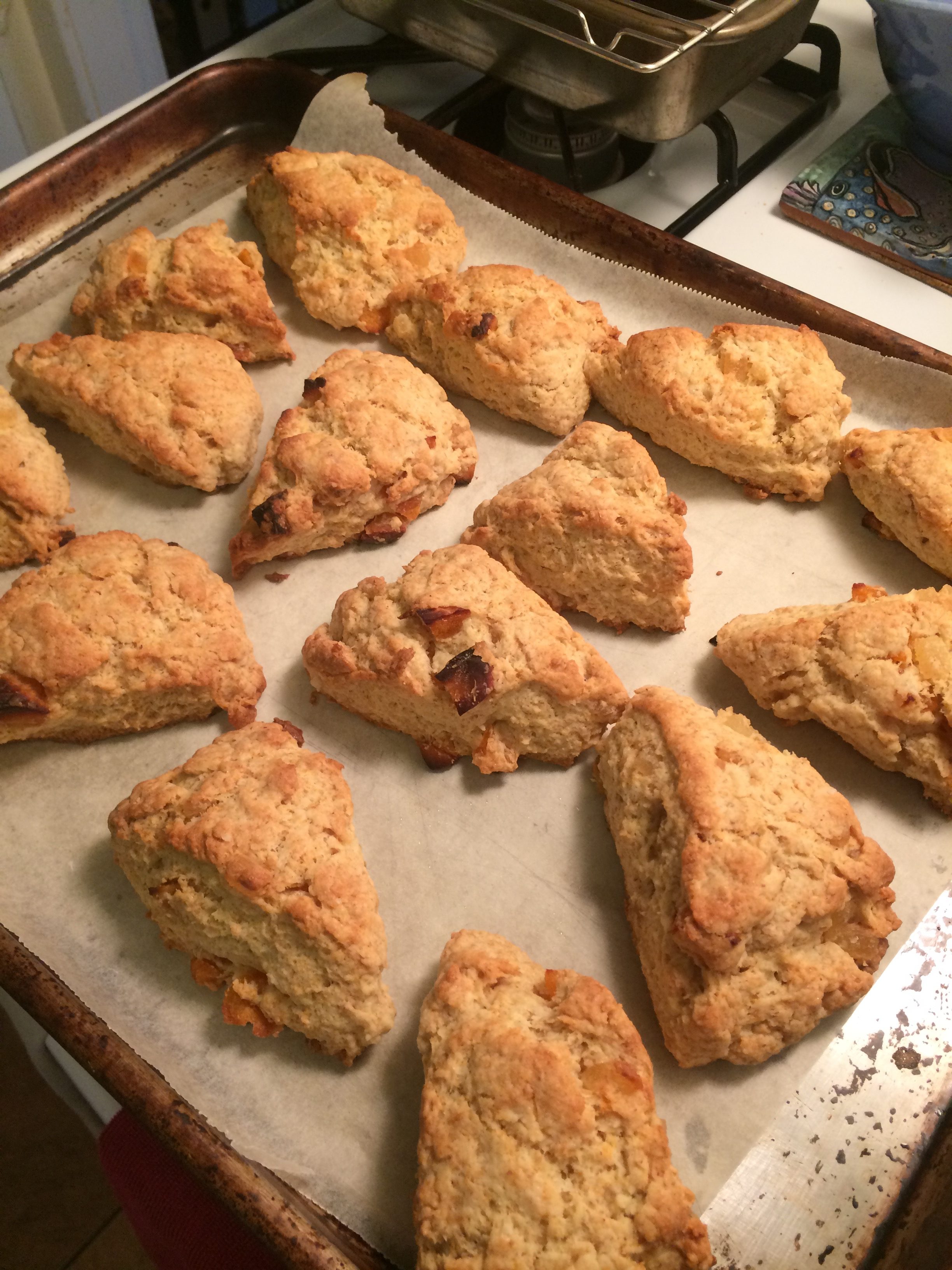 If you don't like ginger, don't make these scones. Back in the day, I had the pleasure of managing Urban Yarn's first location in Point Grey. One of the perks of the job (besides a dangerous yarn discount) was that the shop was just down the street from the original location for Mix The Bakery. I wandered in there one day intent on getting a pain au chocolat, but they were sold out. Tragic, I know. What they did have left was a fresh batch of triple ginger scones. I tried one. I never ordered a pain au chocolat again. They were a little bit of culinary heaven, and I've been thinking about trying to replicate them for some time now.
I searched around the web, and I've combined the two recipes that I liked; the recipe on ikneadfood and this one from SimplyRecipes. I wanted the ground ginger but not the extra cream (I'm getting dumpy enough as it is, although if I really cared I supposed I'd stop baking – ha!). I have included the links in case you want to try them out. I also decided to add dried apricots.
My version is as follows:
Triple Ginger Scone Ingredients
2 C all-purpose flour
1 C whole wheat flour
3/4 C sugar
1 tsp baking soda
1/2 tsp baking powder
1/4 tsp salt
3/4 C candied ginger (chopped in 1/4″ dice or finer)
12 dried apricots (chopped in 1/4″ dice, it's about 1/2 c – more won't hurt anything)
Zest of one whole lemon (not sure why everyone skimps on the lemon zest, 1 Tbsp…pah, do the whole thing)
1 Tbsp grated fresh ginger
1 tsp ground ginger
3/4 C buttermilk*
10 Tbsp unsalted butter, melted (if all you have is salted, don't sweat it, nothing terrible will happen)
It's worth getting buttermilk for this recipe, but if you don't wanna, you can substitute with a Tbsp of lemon juice and 3/4 C minus one tablespoon of regular milk.
You can also make a simple glaze from icing sugar and lemon juice, but I don't think they really need any embellishment. If you disagree, then add lemon juice to 1/2 c. of icing sugar until you get the drizzly consistency you want and embellish away.
Method
Preheat oven to 400°F. Line a large cookie sheet with parchment paper.
In a large bowl whisk together the flours, sugar, baking soda, baking powder, ground ginger, and salt. Stir in the candied ginger, lemon zest, chopped apricots, ground and fresh ginger until evenly mixed.
Create a well in the center of the flour, pour in the melted butter and the buttermilk. Gently mix with a wooden spoon until the flour mixture is just moistened. Don't over-mix (or you will end up with a Starbuck's scone). The mixture should look very shaggy.
Divide the mixture into 2 balls, and flatten each onto a floured surface into a 1-inch thick, 6-inch wide circle. Slice each round into 8 wedges.
Transfer to the parchment paper-lined baking sheet, spacing at least an inch apart. Sprinkle with coarse sugar.
Bake at 400°F (or 200°C) for 18-20 minutes. Cool on a rack for 5 minutes before eating.
To store, allow first to cool to room temperature, then seal in a freezer bag.
---
---