Pumpkin Mini Scones aka Not Starbucks Hockey Pucks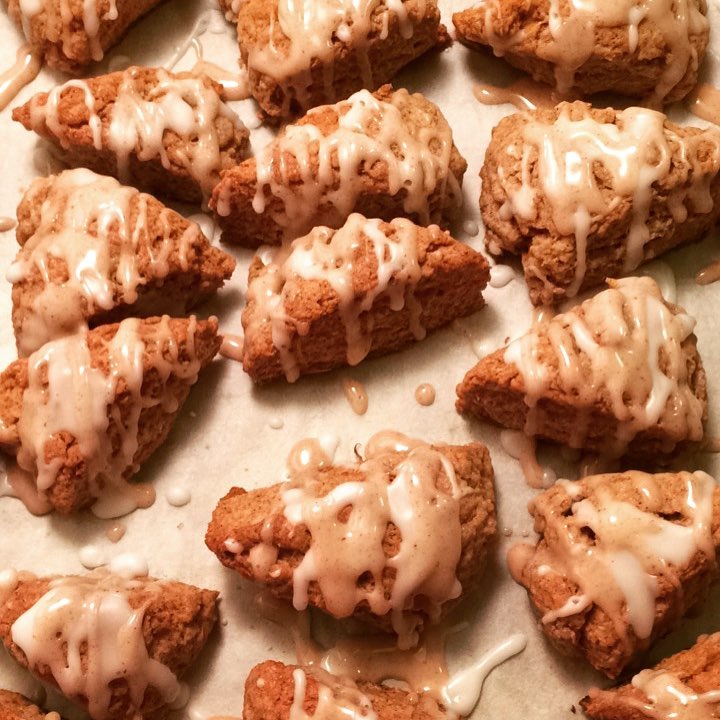 I hate Starbucks' scones. Ok, maybe "hate" is a bit strong but they typically suffer from over mixing. Therefore, they end up akin to little chunks of concrete rather than what a scone should be which, IMHO, is crumbly, light, and melt in your mouth delicious. However, I DO like the taste of their pumpkin scone. So, I set out to make a version that meets my exacting texture standards. Yes, I know that makes me sound like a twat, but some things (like scones) are sacred. I am also very fond of the "mini" scone (less guilt involved) so I decided to make my pumpkin scone a mini version.
Caution: I am one of those people who loves a LOT of spice in her pumpkin pie. If you prefer a milder flavour then by all means feel free to half the spice quantities in this recipe to your taste. No point baking something you don't like is there? No, and quite right too.
Pumpkin Mini Scone Ingredients
2 C all-purpose flour
1 C whole wheat flour
3/4 C sugar
1 tsp baking soda
1/2 tsp baking powder
1/4 tsp salt
1½ tsp ground cinnamon
1 tsp ground ginger
½ tsp ground cloves
½ tsp ground allspice
½ tsp ground cardamom
½ C pumpkin puree
1/4 C buttermilk
10 Tbsp unsalted butter, melted (if all you have is salted, don't sweat it, nothing terrible will happen)
Method
Preheat oven to 400°F (or 200°C). Line a cookie sheet with parchment paper.
In a large bowl whisk together the flours, sugar, baking soda, baking powder, ground spices, and salt until evenly mixed.
Whisk the buttermilk with the pumpkin puree and the melted butter.
Create a well in the center of the flour, pour the wet mixture into the dry. Gently mix with a wooden spoon until the flour mixture is just moistened. Don't over-mix (I have to confess I failed a bit on this one but learn from my mistakes grasshoppers). The mixture should look very shaggy.
Divide the mixture into 4 balls, and flatten each onto a floured surface into a 1-inch thick, 6-inch wide circle. Slice each round into 8 wedges.
Transfer to the parchment paper-lined baking sheet, spacing at least an inch apart.
Bake for 18-20 minutes. Cool on a rack completely before glazing.
Plain Glaze
1 C and 1 Tbsp icing sugar
2 Tbsp milk (I used Buttermilk)
Whisk together until smooth and use a pastry brush to paint each cooled scone. Allow to dry at least an hour before drizzling on the spiced glaze.
Spiced Glaze
1 C and 3 Tbsps icing sugar
¼ tsp ground cinnamon
1/8 tsp ground nutmeg
pinch of each of ginger, cloves and cardamom
2 Tbsp milk (again I used Buttermilk)
Whisk together and drizzle over scones. Allow to dry.
To store, allow first to cool to room temperature, then seal in a freezer bag.
Makes 32 lovely mini scones.
Thank you Percy the Pumpkin (again).
---
---