Gluten-free, Dairy-free Flapjacks aka Vegan Pancakes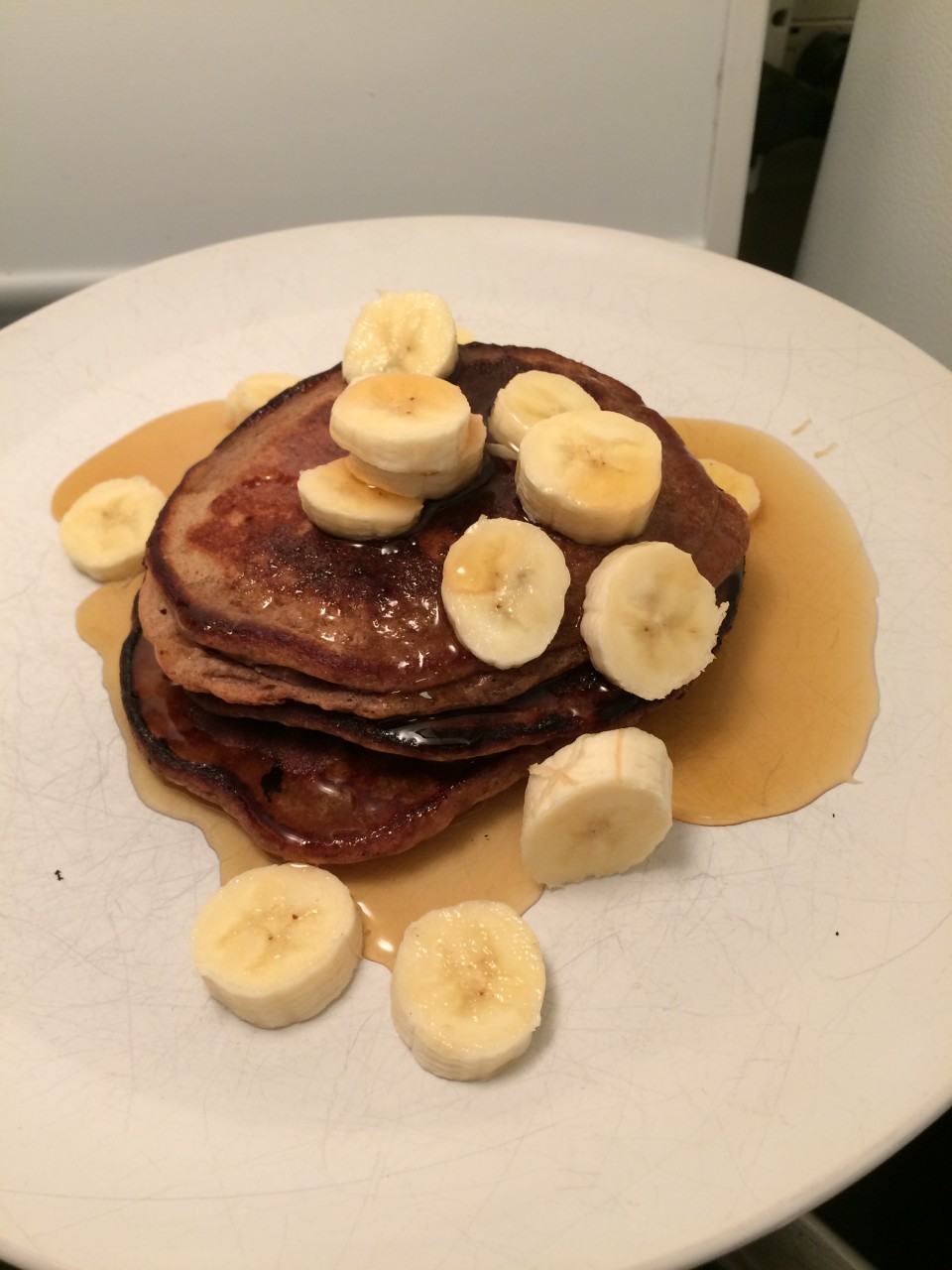 I finally got around to trying out some gluten-free, dairy-free flapjacks.  At our house flapjacks are not something we normally have. Our "go to" has always been crepes (aka skinny pancakes aka lattua or Finnish crepes) so this is a bit of a departure. From what I've read, applesauce is the key to replacing the wonder of eggs in flapjacks.
I adapted the recipe (not much frankly) from the lovely Laura of MOMables.com (thank you Laura!). The original recipe is here and it's much, much healthier than mine because I can't resist brown sugar ;).
So, the verdict on taste…they were great. They are loaded with cinnamon and the texture is good albeit not quiet as light and fluffy as a "gluten" version BUT it was pretty good nonetheless.
Ingredients
1 C gluten-free all-purpose flour (I used Bob's Red Mill)
1/4 tsp xanthan gum
1 Tbsp ground flaxseed (flax meal – 2 1/2 tsp flax seed ground fine in the coffee grinder)
2 tsps baking powder
2 tsps  cinnamon
1/4 tsp salt
2 Tbsps brown sugar
1 tsp vanilla
1/4 C unsweetened applesauce (I used raspberry applesauce because it's what I had)
1 1/4 C almond milk
Method
If you are vegan than use coconut oil to grease a cast iron frying pan (or whatever you usually use to cook your flap jacks).
In a large bowl whisk together, the flour, ground flax, baking powder, cinnamon, brown sugar and salt to get as many lumps out as you can.
In a 2 C measuring whisk the apple sauce together with the almond milk, and vanilla.
Make a well in the dry ingredients and pour in about half the wet ingredients, whisking as you go to minimize lumps.
Slowly whisk in the remaining ingredients and add additional almond milk if you think that batter is too thick. Keep whisking until you get a smooth, pourable batter.
Pour 1/4 C of batter into your well greased pan (make sure you grease between pancakes).
Cook for 1-2 minutes or until bubbles start to form in your pancake and the edges look booked. Flip and cook for another 1-2 minutes.
Place in a warm oven while you do the rest.
Serve with maple syrup because…maple syrup!
Makes 8 good sized pan cakes.
---
---