Granola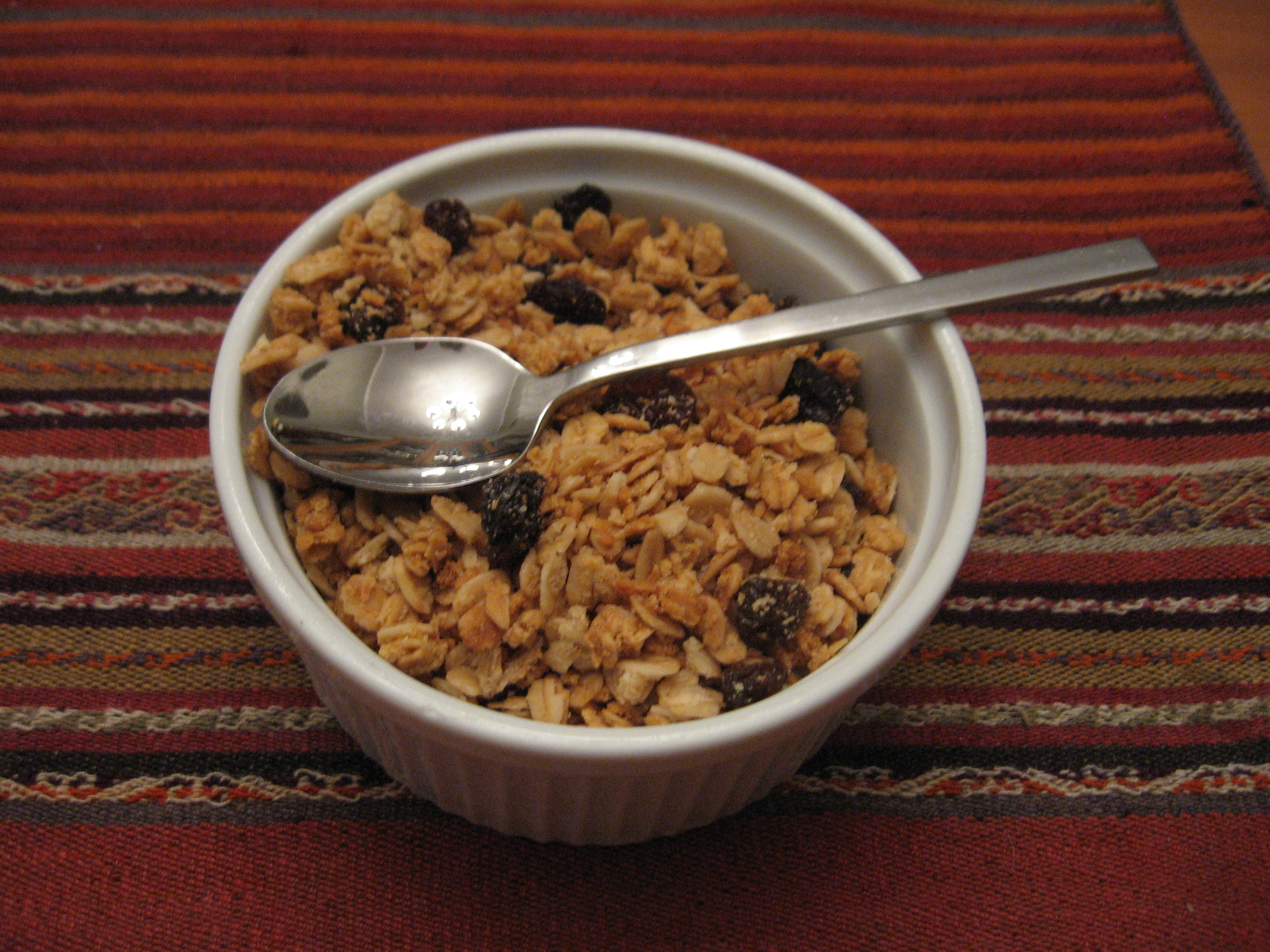 This is a quick granola recipe that you can doctor up according to your family's likes and dislikes. I've seen lots of recipes that add in ground flax, oat bran, barley flakes and so forth but if you don't use these regularly they just go bad in your cupboard so I stick with what I normally have on hand. There aren't really any rules.
You will need:
3 c. large flake oats
1 c. ground almonds
1 c. unsweetened coconut (shredded or flaked – it doesn't matter)
1/2 tsp salt
1 c. chopped nuts (pecans, hazelnuts, almonds or a combination)
1/2 c. sunflower seeds (unsalted if you are watching your salt intake)
1/2 c. vegetable oil
1/4 c. water
2/3 c. maple syrup (you can use honey if you prefer)
1 tsp vanilla
1 1/2 c. dried fruit (whatever combo you like -we like dried cranberries and apricots). Or you can leave the fruit out until you are ready to eat.
Preheat oven to 250 F.
Combine the dry ingredients in a large bowl (except the fruit…don't bake the fruit, it justs get hard…learn from my mistakes grasshoppers).
In a medium sized bowl whisk together the wet ingredients.
Combine the wet with the dry ingredients and stir well.
Spread the mixture in a thin layer on two heavy gauge baking sheets lined with parchment paper (not necessary but makes for easier clean up).
Bake for 30 minutes stirring half way through. When the mixture starts to dry out and has turned golden remove from the oven.
Cool and stir in the dried fruit (or leave it to add in later).
Store in a glass jar or sealed container. Should keep for up to 1 month. I haven't tried freezing this but I see no reason why you couldn't particularly if you leave the dried fruit out.
Makes the equivalent of a big bag of granola.
My kids like this plain with milk or stirred into yogurt. I think it would also be good added to a fruit crumble topping.
---
---