Chocolate Quinoa Cake – Gluten Free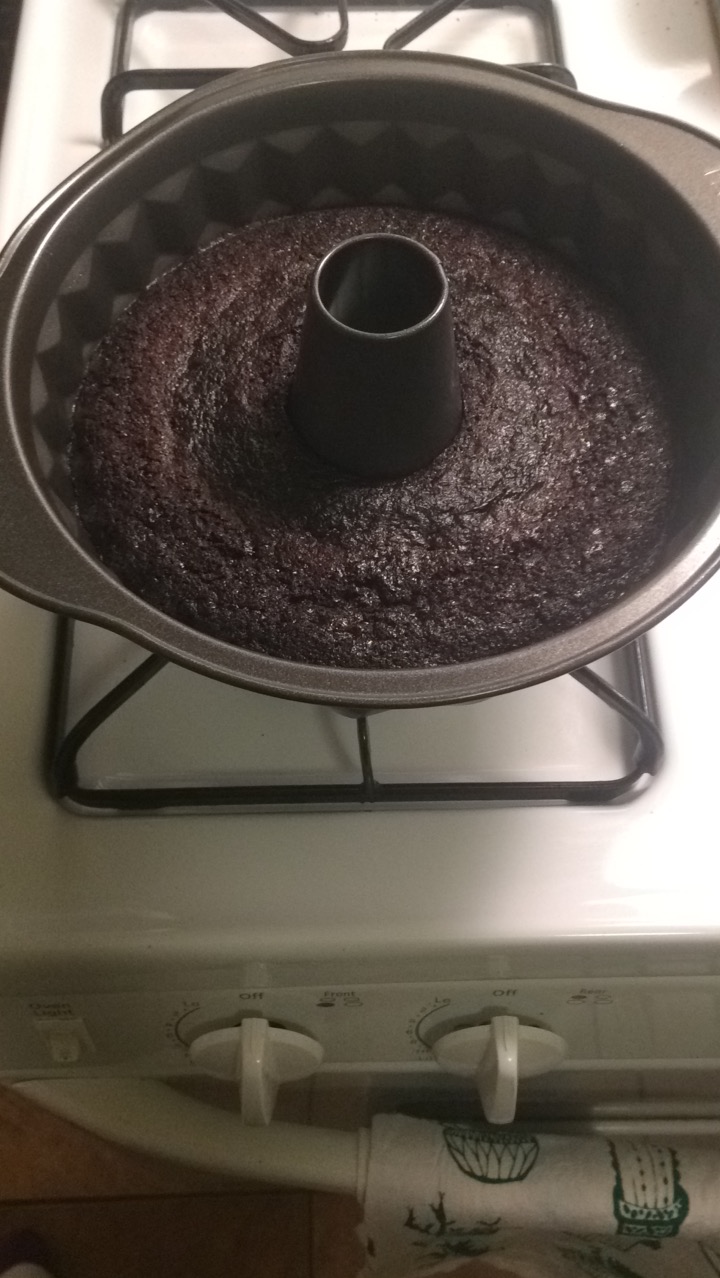 Chocolate Quinoa Cake is moist, chocolatey, gluten free and dairy free (if you want it to be).
It's a combination of Best Ever Quinoa Chocolate Cupcakes from Epicurious and Chocolate Quinoa Cake from Lorraine Elliott's blog, Not Quite Nigella, with a bit less sugar and the substituting some coconut oil for some of the butter.  I also made this in a Bundt pan but should have greased and floured the pan. It was a bit of a fail getting it out of the pan but since I'm not adverse to chocolate quinoa pudding, it didn't really matter. I like this plain but you could frost it with a chocolate ganache or whipped cream. Pro tip: heat it up and it's even better.
Ingredients
2 C cooked quinoa*, cold
1/3 C Almond Breeze (you could use milk)
4 large eggs at room temperature
1 tsp pure vanilla extract
1/4 C coconut oil, melted and cooled (if you don't have coconut oil just use more butter)
1/2 C butter, melted and cooled (if you want to go dairy free substitute coconut oil)
1 C sugar
1 cup unsweetened cocoa powder, any old kind will do
1 1/2 tsp baking powder
1/2 tsp baking soda
1/2 tsp salt
*To cook quinoa, rinse 1 C quinoa in cold water for 2-3 minutes. Boil 1 1/4 C water, add 1/2 tsp salt, add quinoa. Bring it back to boil, cover, reduce heat and cook 15 minutes. Turn of heat and let sit with lid on for another 5 minutes. Fluff with a fork and allow to cool.
Method
Cook the Quinoa and let it cool.
Preheat oven to 350F.
Grease and flour a Bundt pan.
In a food processor or kitchen aid, beat eggs, milk and vanilla together until well mixed.
Add cooked and cooled quinoa, coconut oil, butter and and whiz again.
Add sugar, cocao powder, baking powder, baking soda and salt and blitz briefly until combined.
Pour into the prepared Bundt pan and bake for 40-50 minutes until a skewer inserted comes out clean.
If the top starts to burn shield with tin foil.
Allow to cool completely in tin before trying to get it out of the pan (I found this out the hard way). When I made this is was very moist and wouldn't come out of the bundt pan (probably because I was too lazy to prep it properly…next time I will grease and flour it and I didn't let it cool long enough).
Try covering it with saran wrap and leaving it in the fridge overnight.
Remove from pan and ice or eat plain. Personally, I like it heated up a bit.
It's really very good, nice and chocolately without being too sweet.
---
---