Liz's Aunt's Boozy Christmas Fruit Cake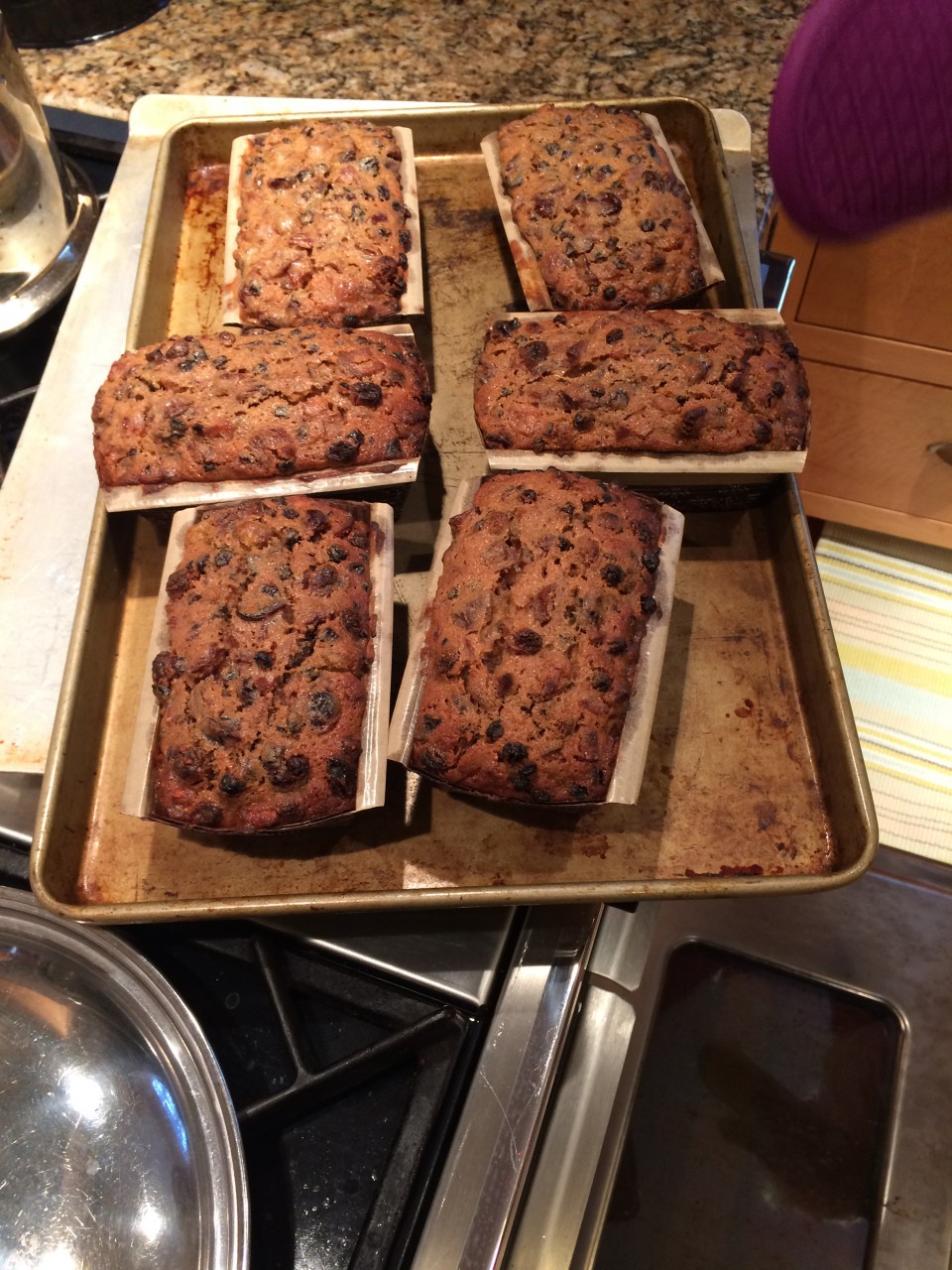 I learn lots of things at book club. Two of them are that my friend Liz reads more books than anyone else I know and that she hates Christmas cake made with that nasty industrial candied fruit just like I do. But we both love Christmas cake made with real dried fruit. As luck would have it, Liz had a recipe for it that her mom has been making for the last few years (complete with her own candied orange peel). I made this recipe last year and it was really (really) good.
Liz says, "This is a really delicious boozy fruit cake – no nuts (although you can add them). It can be eaten almost right away…. The cake is neither dark nor light – it is kind of caramel." And she was absolutely right!
Make this about a month before Christmas and fed it with booze to keep it moist.
Ingredients
2 C chopped dried apricots
2 C dried cranberries or cherries
2 C chopped dried pineapple
2 C chopped pitted prunes
2 C yellow raisins
2 C Thompson raisins
1 C candied orange peel (recipe follows – do this 2 days ahead)
1 C chopped dried figs
2/3 C rum
2/3 C port
2/3 C brandy
2/3 C Cointreau
2/3 C water
2 tsp Angostura bitters
1 3-inch cinnamon stick
1 tsp ground cinnamon
1 tsp fresh ground nutmeg
1/2 tsp ground cloves
1/2 tsp ground allspice
1/2 tsp salt
2 C unsalted butter, softened
3 C Demerara sugar
8 large eggs, beaten
3 C self-rising flour (or substitute 3 C all-purpose flour, 1 Tbsp baking powder and 1 tsp salt)
2 tsp vanilla extract
Method
1. Combine fruit in a large pot. Stir in rum, port, brandy, Cointreau, water and bitters. Add cinnamon stick, cinnamon, nutmeg, cloves, allspice and salt. Bring mixture to a boil, reduce heat and simmer gently for 10 minutes. Remove fruit mixture to a large bowl (I used a big stainless steel pasta pot), cover with plastic wrap and let sit for five days, tossing it once per day.
2. Prepare cake tins. This is a large amount of cake and will fill eight gift-sized loaf pans, four 8-inch square pans or any combination of other pans. Butter pans and line with parchment paper. This bit is seriously tedious but necessary to get that damn stuff out once baked.
3. Preheat oven to 275 F. Beat together butter and sugar until well mixed. Gradually beat in eggs a little at a time, adding some of the flour if the mixture starts to curdle.
4. Stir in remaining flour. Add fruit mixture with liquid* to flour and egg mixture. It is usually easiest to use your hands to do this. Spoon into prepared pans and smooth the surface. Loosely cover top with a double layer of parchment paper. Bake for about 2 hours for small pans and up to 3 hours for large ones. Test with a toothpick.
*Note: when I did this I ended up with about 3 C extra of spiced boozy liquid. I kept it and used it to "feed" the cakes once they were baked and cooled. You do this by poking holes in them with a wooden skewer and spooning the booze over them once a day until it's all gone. See the video below.
5. Cool pans completely on rack. Leave the cakes in the pans and when completely cool use a wooden skewer to poke about a dozen holes (don't go down any further than half the height of the cake).
Candied Orange Peel
6 thick-skinned oranges
2 C sugar
2 tsp corn syrup (white)
1 C water
1. Cut peel from orange and remove some of the white membrane. Cover peel with cold water and boil 5 minutes. Drain. Repeat 3 times. Cut into thin strips.
2. In large saucepan, combine sugar, corn syrup and water. Add orange strips. Boil gently uncovered 40 minutes or until most the syrup is absorbed by the oranges.
3. Drain. Roll peel in granulated sugar. Let dry 2 days. Store in covered container.
—
---
---