Chicken Francaise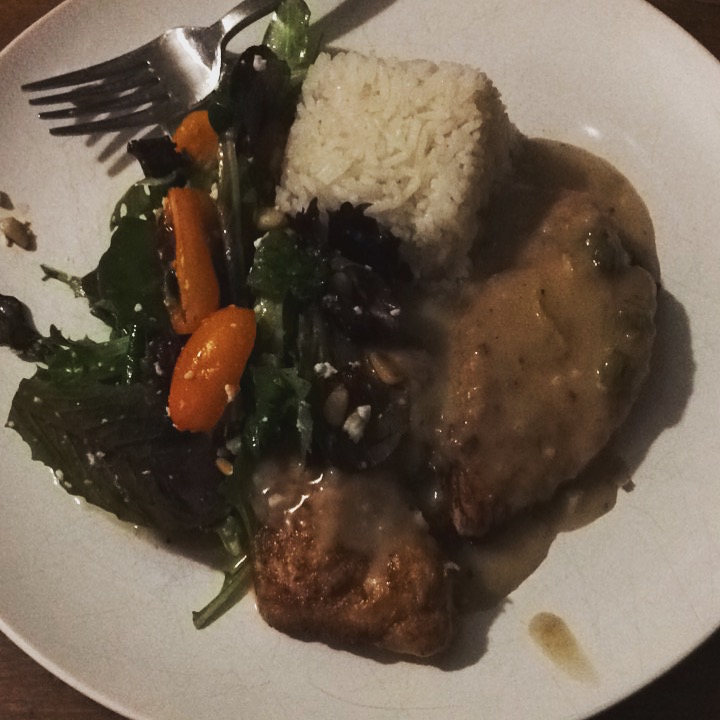 The new family favourite Christmas alternative to turkey is Chicken Francaise. I used to make this years ago and discovered, much to my dismay, that I'd misplaced the recipe (serves me right for not putting it on the blog!). Anyway, I found this version of Chicken Francaise that looked similar from Aaron McCargo Jr. (thanks Aaron!) and adapted it a wee bit.
Ingredients
4 boneless and skinless chicken breast halves pounded to 1/2 inch thick
1/2 C flour, for dredging
Salt and freshly ground black pepper (at least 1 tsp)
4 eggs, beaten
1/4 cup olive oil, divided
4 tablespoons butter, cold, divided
2 tablespoons minced garlic
pinch of crushed red pepper flakes
1/2 C white wine
2 C chicken stock
1 lemon, zested
2 lemons, juiced
2 Tbsps capers (optional)
Method
Using parchment paper or plastic wrap and a meat mallet (a rolling pin will do in a pinch), pound chicken breasts to to 1/2-inch thickness. Cut each breast in three (makes for more coating which my kids say is the best part).
Mix flour, salt, pepper and paprika in a shallow dish (I used a pie plate). Reserve about 1 Tbsp for thickening the sauce.
In a second shallow dish, beat the eggs.
Heat 2 Tbsp olive oil and 2 Tbsp of butter in a large, high sided, saute pan over high heat.
Dredge each chicken piece in flour and then the egg mixture, coating all sides.
Place the coated chicken into the hot pan with enough room to cook (don't jam them together). You'll likely have to do this in a couple of batches depending on the size of your saute pan.
Cook for 3 minutes, undisturbed. Flip and cook until the chicken has cooked through, another 2-3 minutes. Remove the chicken from the pan and repeat until all your chicken is cooked. I heated up the serving dish in the oven, turned the oven down to low, and added the pieces to the dish as I went.
Once all your chicken is done, using the same pan turn the heat to medium, and add the remaining 2 tablespoons olive oil, garlic, red pepper and the reserved seasoned flour. Cook until the garlic becomes aromatic, about 1 minute. Start whisking in the white wine and chicken stock and continue to cook for another minute. Add the lemon zest and lemon juice. Remove the pan from the heat and stir in the remaining 2 tablespoons butter to thicken the sauce. Stir in the capers and adjust seasoning to your taste.
Remove the warm dish with the chicken from the oven and pour the sauce over top. Serve immediately.
I served this with coconut rice and a simple tossed green salad. It was…very good.
Serve 4.
---
---