Cardamon Bread Pudding with White Chocolate and Grand Marnier Sauce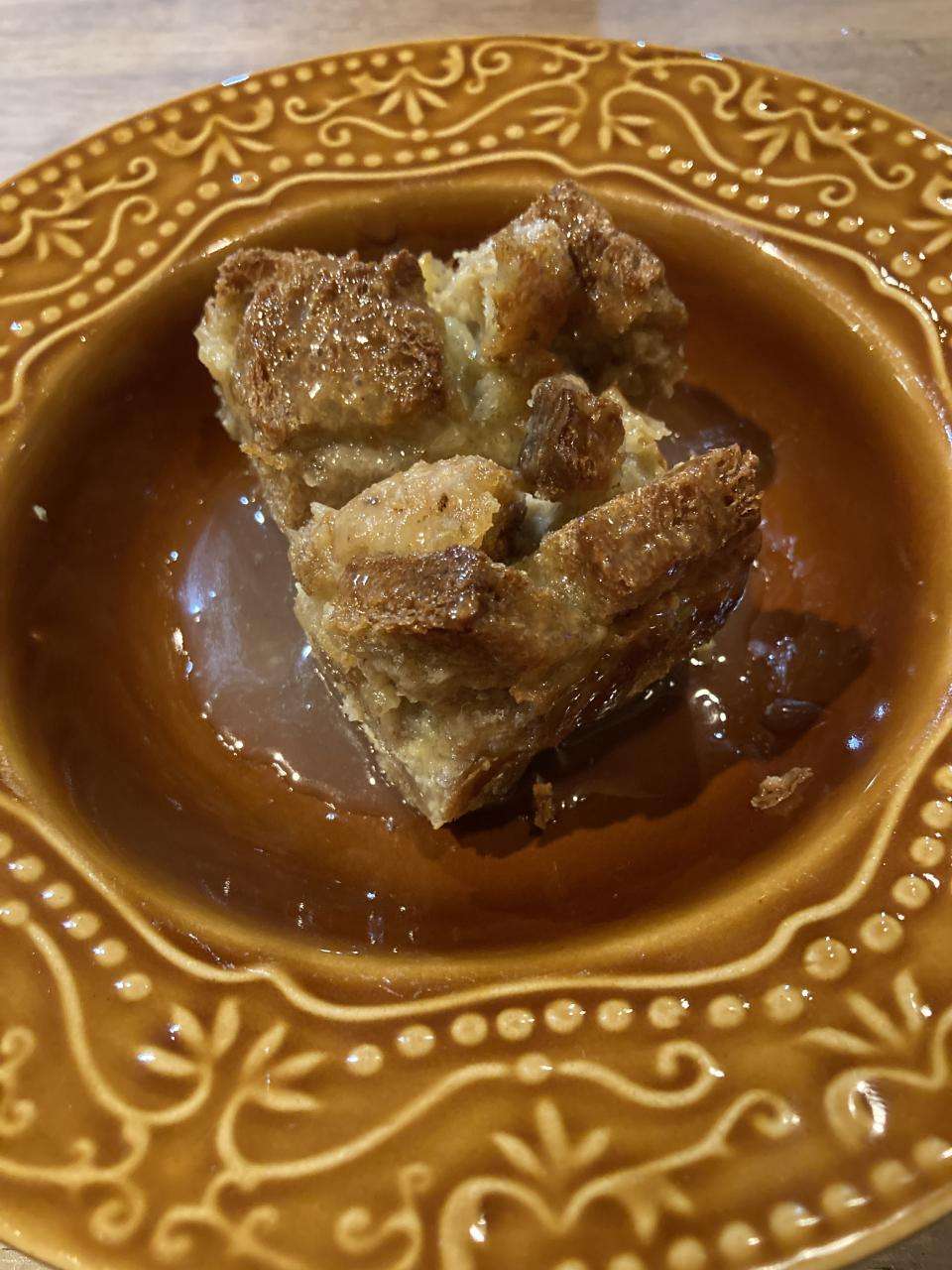 Cardamon Bread Pudding came about this year because I was going to make Gingersnap Bread Pudding but the gingersnaps didn't get made (2021 strikes again). We also had a bunch of whipping cream that need to be used up so I had to improvise.
Ingredients
1 cup whipping cream
1 cup water
1/4 cup butter (plus some to grease the pan)
1 tsp vanilla
1/3 cup sugar
1 tsp ground cardamon
pinch of salt (or use salted butter)
2 cups of cube stale brown bread (I used leftover bread that I had cubed for stuffing)
1 cup white chocolate chips
3 eggs beaten
Method
Preheat oven to 350F.
In a medium-sized pot warm the whipping cream, water, butter, vanilla, sugar and salt and ground cardmon over low heat.
Continue heating until the butter has melted then allow it to cool.
Butter a 4-6 cup baking dish.
Cover the bottom with a mix of the bread sprinkle in 1/3 of the chocolate chips, repeat until bread and chips are used up.
Add a bit of the warmed cream mixture to your eggs and whisk.
Add the egg mixture back to the warm cream mix and whisk to combine.
Pour egg and cream mixture over the bread and chips layers and press down so the bread starts to absorb the liquids.
Bake for 50 minutes until it's still a bit wobbly and the edges of the bread have browned.
Remove from oven and serve warm at room temperature.
Instead of Bourbon Sauce, I made a Grand Marnier sauce (followed the same recipe, just swapped in Grand Marnier for the Bourbon).
Grand Marnier Sauce
1/4 cup butter
1/2 cup sugar
3 tablespoons whipping cream
2 tablespoons Grand Marnier
Melt butter in small saucepan over medium heat. Whisk in remaining ingredients. Simmer until thickened, whisking often, about 3 minutes. Cool slightly before serving.
Makes about 1/2 cup of sauce.
Server pudding warm.
---
---