Gingersnap Bread Pudding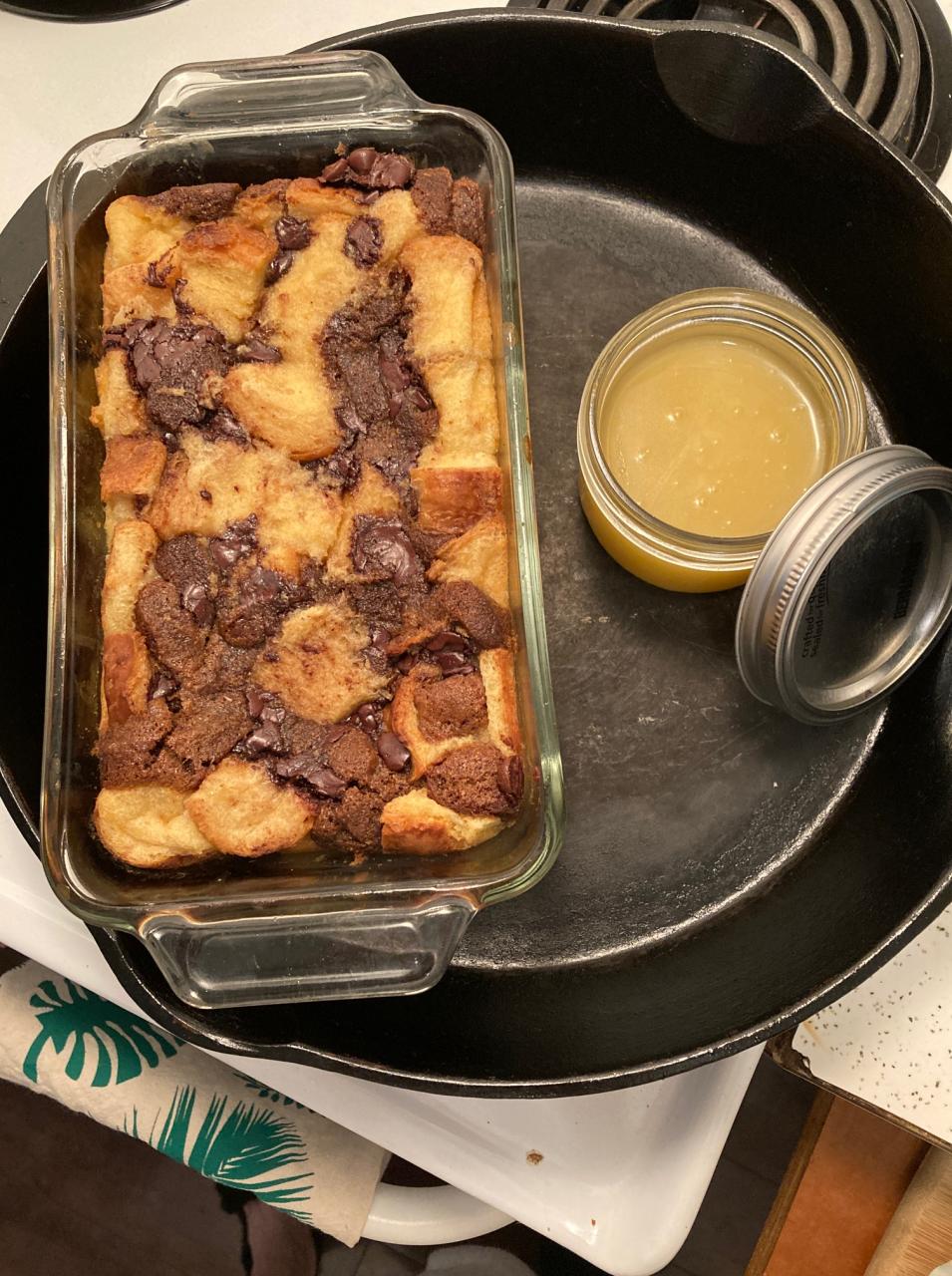 Out of steam from holiday prep and 2020 generally? Need a quick and easy dessert? Bread pudding is always a win. I adapted the NYT Times recipe for Simple Bread Pudding to include gingersnaps and chocolate chips (if I'd had any dried fruit I would have soaked it in Bourbon and added that, because…well…Bourbon).
Ingredients
2 cups milk (or 1 cup milk, 1/2 cup cream and 1/2 cup water)
1/4 cup butter (plus some to grease the pan)
1 tsp vanilla
1/3 cup sugar
pinch of salt (or use salted butter)
1/4 loaf of white bread (challah and brioche would be awesome but plain old white bread will do)
12 gingersnaps (or use 1/2 loaf of bread) chopped up
3 eggs beaten
1 cup chocolate chips
Method
Preheat oven to 350F.
In a medium-sized pot warm the milk, butter, vanilla, sugar and salt over low heat.
Continue heating until the butter has melted then allow it to cool.
Butter a 4-6 cup baking dish.
Cover the bottom with a mix of the bread and gingersnaps, sprinkle in 1/3 of the chocolate chips, repeat until bread, gingersnaps and chips are used up.
Add a bit of the warmed milk mixture to your eggs and whisk.
Add the egg mixture back to the warm milk mix and whisk to combine.
Pour over your bread and gingersnap mix and press down so the bread and gingersnaps start to absorb the milky egg mixture.
Bake for 45-50 minute until it's still a bit wobbly and the edges of the bread have browned.
Remove from oven and serve warm at room temperature.
I recommend serving warm with a Bourbon Sauce, whipped cream or ice cream.
Serves 6-8 (it's rich).
---
---