Cuban Flan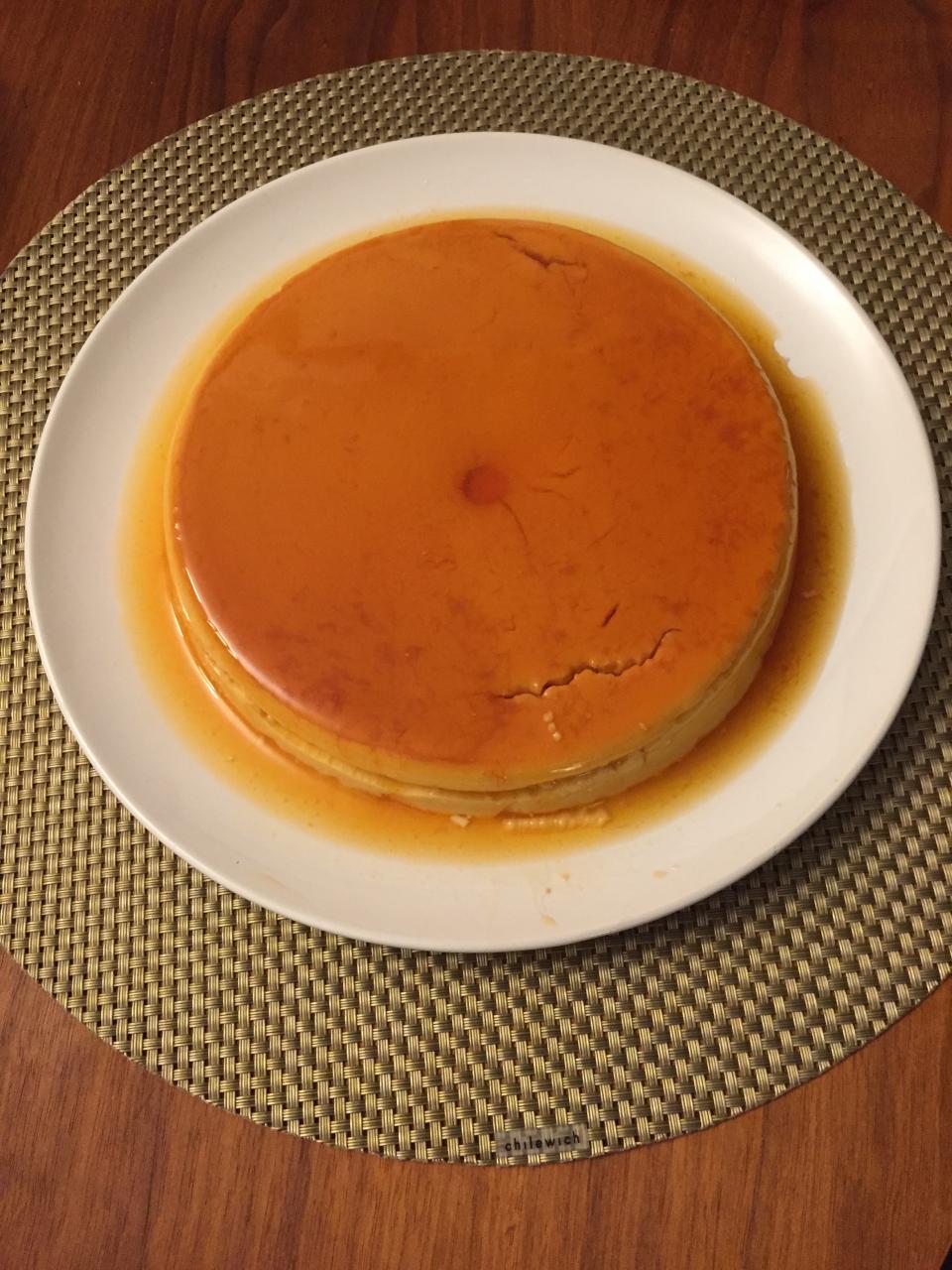 I absolutely love flan, but have never actually tried to make one, so when it came about that I will be co-hosting a holiday party for the lovely people taking salsa classes with Julio Montero, I thought I had better practice before the actual day. This is my first attempt at flan, Cuban or otherwise. Yes, it has a bellybutton and an appendectomy scar, but what's a flan without a little personality? That's my story and I'm sticking to it. On another note, if you are looking for a fantastic Cuban experience, check out Julio's new project 7daysinCuba. I had the chance to go with a group led by Julio and his lovely partner Rita, this past March and it was amazing.
Anyway, back to the kitchen. I settled on this recipe, from MinatheBrat, for Delicious, Easy Cuban-Style Flan which I found on Food.com. There were a bunch of recipes that were pretty similar. Some called for 1 egg and 5 egg yolks, one for 3 eggs and two yolks, and one just 4 whole eggs. I didn't have plans to make anything with egg whites. That was until I started looking at uses for leftover egg whites and realized I had limes that needed to be used (lime curd pavlovas anyone?). So, I tweaked the recipe and went with 4 egg yolks and 1 whole egg (plus I only had 5 eggs and was too lazy to go to the grocery store.
I also didn't have a flanera (I might have to get one), so I used a round oven-proof casserole dish and made a bain Marie which is a fancy name for cooking in a water bath. Gotta love the French, they make everything sound sexy.
Ingredients
1/2 cup white sugar
4 egg yolks and 1 whole egg
1 can sweetened condensed milk
1 can evaporated milk
2 tsp vanilla
Method
Melt the sugar in a saucepan over medium heat until it caramelizes and is nice and golden.
Pour the caramel into an oven proof dish and swirl to coat the bottom (work fast because the sugar cool quickly).
Set aside to cool and make the custard.
Preheat oven to 350 degrees.
Whisk the yolks and egg together, add the condensed milk, evapourated milk and vanilla.
Pour the custard mixture into the caramel lined baking dish.
Place the custard dish into a larger oven proof dish and fill the dish with hot water (be careful not to get the water in your custard!).
Cover the custard and put in the oven.
Bake 45 minutes, turn off the oven and leave it in for another 15 minutes.
Remove from the oven and the water bath and let cool completely.
Run a knife around the outside edge of the flan. Put a plate big enough to catch the liquid caramel and invert (praying a little that it won't stick might help – I did).
Put in the fridge to chill for at least an hour before serving.
Notes: It should come as no surprise that this is super sweet. A small sliver will go a loooong way.
---
---