Mom's Apple Crisp with Gluten-free Option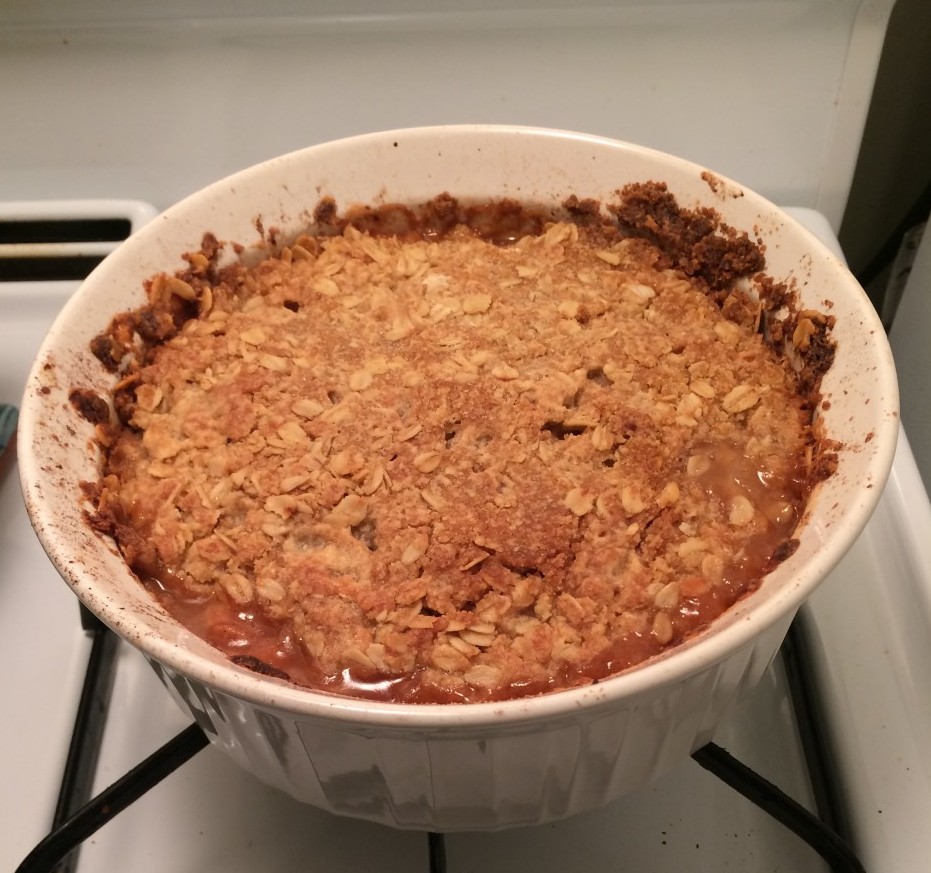 The "Mom" in this Mom's Apple Crisp is me. This is my Go To apple crisp recipe when I want something sweet without a big fuss. There is no special pan required, you can use whatever apples and oats you have on hand and you can throw it together in under hour. The one thing I would not omit is the lemon zest and juice. There is just something special about the way that lemon zest mingles with cooked apples. In this case, Mom knows best.
You can easily make this gluten-free by changing the flour to a gluten-free option and making sure your oats are gluten-free. I suppose you could make it dairy-free…naaaah.
Ingredients
4 medium sized apples, cored an sliced thin (1/4″ will do). If they are organic don't worry about peeling them.
Zest of 1 lemon and juice of half the lemon
1 Tbsp cinnamon sugar
1 C flour (or gluten-free flour, I used Bob's Red Mill All Purpose Gluten-free flour)
1 C brown sugar
3/4 C chill butter cut into pieces
1/ 2 C quick cook oats (gluten-free if you are avoiding gluten)
Method
Preheat oven to 375 F.
Zest the lemon into a baking dish (any medium-sized shallow pan will do) and add the lemon juice.
Wash, core and slice the apples into the baking pan and toss with the zest and juice.
Sprinkle the apple mixture with the cinnamon sugar, toss if you want or just leave it be.
Mix the flour and brown sugar together in a medium sized bowl. Add the butter pieces and use your fingers to work the butter in until you get a crumbly mix (think making pie dough).
Add the oats and work them into the butter a bit.
Pour crumble on top of apples to cover the surface and pat down gently.
Bake for 30 minutes or until crumble topping is golden brown and the apples are bubbling.
Serve warm with ice cream or at room temperature.
Serves 6-8 people.
---
---