Orzo Pasta Salad with Chicken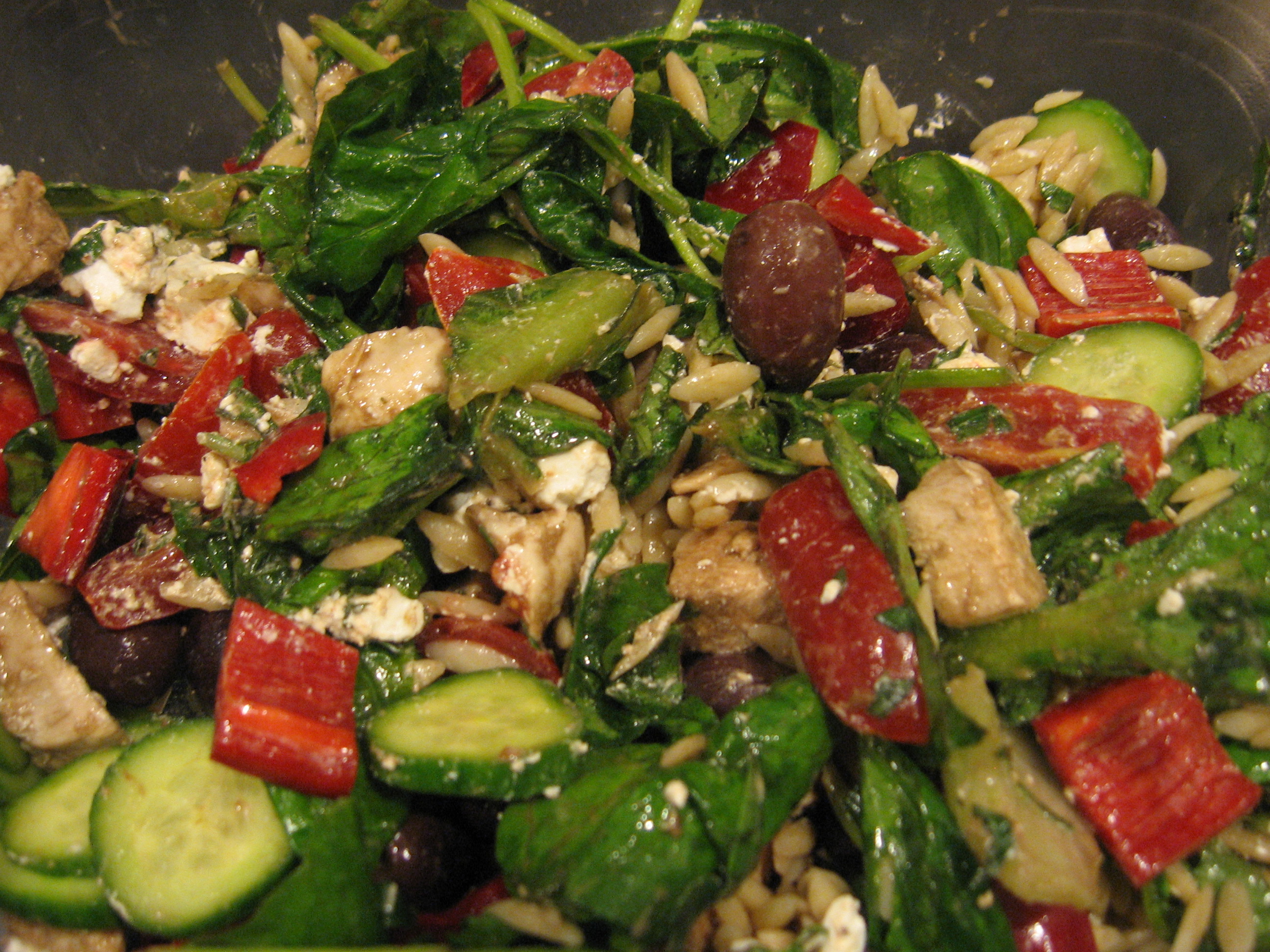 I thought it might be time for a summer dinner salad so here's a variation of the Layered Orzo Salad in Company's Coming Meal Salads that adds chicken for protein and substitutes delicious Bulgarian feta (hat tip to Jordan and Emma) instead of bocconcini cheese. The result is a light and tangy salad that is also a balanced meal. I brought this over to my friend Paula's house and we paired it with new roasted potatoes and petite pan squash from her garden…and a bottle of Malbec (the fruit course).
Orzo:
Note: Israeli couscous would also work well in this salad.
8 c. water
1 tsp salt
1 c. orzo
Dressing:
1 clove garlic crushed with 1/2 tsp salt (I use a mortar and pestle)
3 tbsp balsamic vinegar (or you can use red wine vinegar)
1 tsp dijon mustard
9 tbsp olive oil
Salad:
1 c. chopped feta (I used Bulgarian feta which is made with sheep's milk and has a lovely creamy texture)
1 c. chopped tomatoes (I used marzano tomatoes … they were on sale)
1/4 c. basil (chiffonade). Click for Youtube video on how to chiffonade basil.
1/2 tsp fresh ground pepper
4 poached chicken breasts chopped (put chicken breasts in a large frying pan, cover with water and simmer covered for 10 to 12 minutes until no longer pink) Drain and chop … makes about 2 cups.
4 c washed and spun mixed greens (I used romaine and spinach but arugula would also have been good)
1 c. diced Japanese cucumbers
1 c. red pepper chopped (I used Windset Farms sweet pointed peppers). I did not roast the pepper, 1) because I'm lazy and 2) because I like the crunch of sweet red pepper but you do what you want.
1/2 c kalamata olives
Bring water and salt to a boil. Add orzo and boil uncovered 8 to 10 minutes stirring occasionally until tender but firm. Drain and rinse with cold water and return to sauce pan.
Whisk together the dressing ingredients and stir 3 tbsps of the dressing into the drained orzo and put into a large glass bowl.
Combine the next 4 ingredients and spoon over orzo.
Combine next set of ingredients and toss with the remaining dressing.
Serves 4.
---
---