Quinoa and Veggie Salad with Fresh Herbs and Olives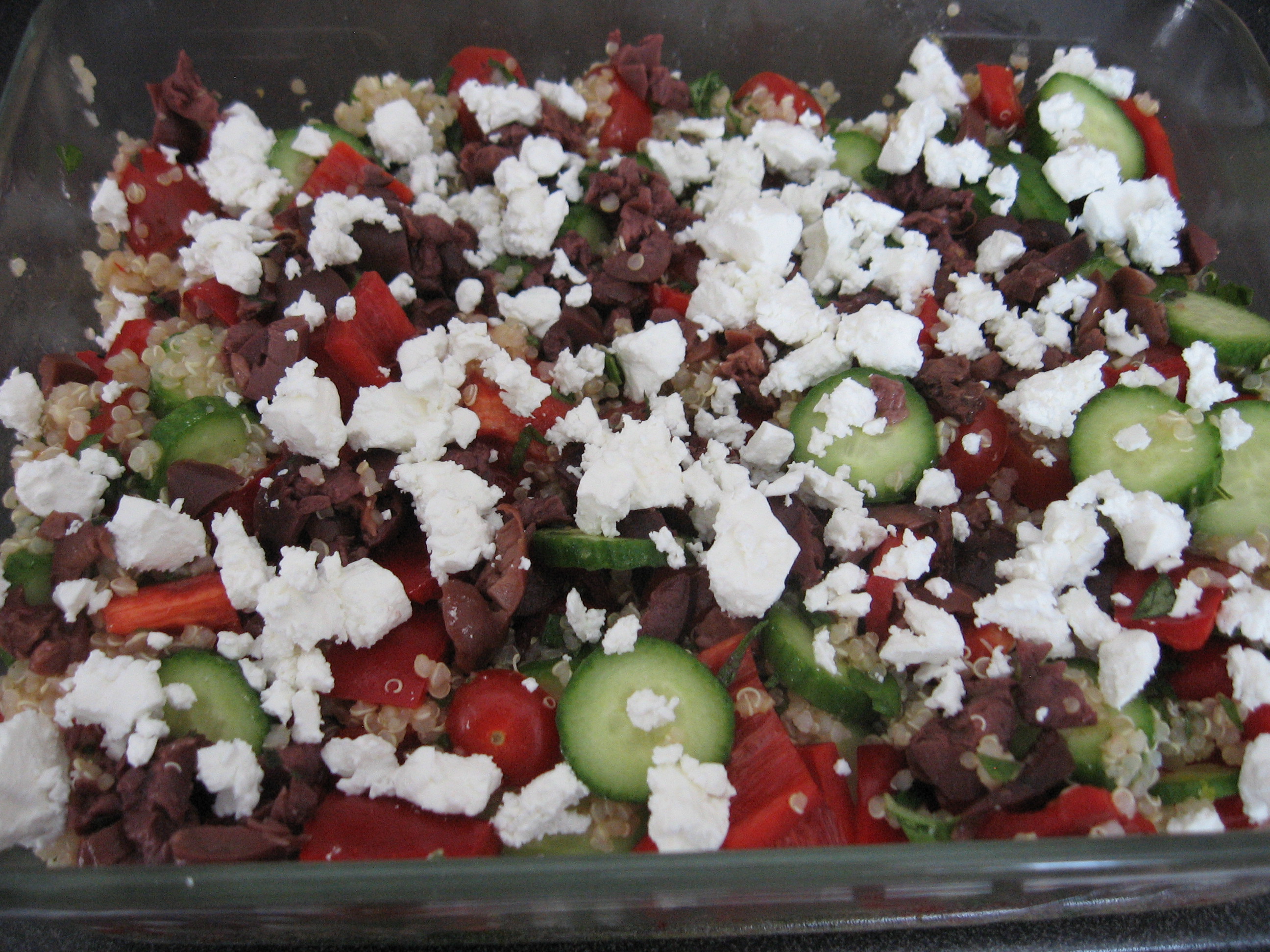 Here's another yummy quinoa salad for a summer supper.
Ingredients:
1 c. quinoa
1 1/2 c. water
1/2 tsp salt
Juice and zest of 1 lemon
Equal amount olive oil to lemon juice
1 clove garlic
Salt and pepper to taste
12 marzano tomatoes cut in rounds
1 sweet red pepper chopped in chunks
3 Japanese cucumbers cut in rounds
Handful of fresh basil leaves cut in chiffonade (wash, spin, stack, roll like a cigar, cut in fine strips cross grain)
Handful of fresh mint leaves chopped fine
1/2 cup pitted and chopped kalamata olives
1/2 c chopped or crumbled feta cheese (I like Bulgarian feta best)
Wash quinoa in cold running water in a fine mesh sieve (I count to 60). This removes the bitter taste so don't skip this step.
Bring water to a boil in a small pot.
Add quinoa and salt and return to a boil. Cover and reduce to a simmer for 15 minutes. Turn off the heat and remove from heat (keep covered) and let stand for 5 minutes. Strain off excess liquid (if any) and spread in a shallow dish to cool.
While the quiona is cooling peel the garlic and cut in half. Rub a glass bowl with the cut side of the garlic and chop up the rest (fine).
Chop the tomatoes and put into the glass bowl.
Add the chopped garlic clove and toss.
Chiffonade* the basil and toss in with the tomatoes. Click for Youtube video on how to chiffonade basil.
Zest in the lemon and toss.
Add some salt and pepper, toss.
Juice the lemon into a small bowl and whisk with olive oil to make a dressing. Add to the tomatoes, toss.
Chop the mint leaves and toss in with tomatoes.
Add cooled quinoa and toss gently.
Add additional salt and pepper to your taste.
Gently fold in the chopped red pepper and cucumbers.
Sprinkle the chopped olives and some chopped feta (optional) over top.
Put in the fridge for an hour or more to let the flavours develop. The longer this sits the better it gets.
Serves 4 as a meal or 6 as a side. This is a good one to pack as it doesn't need to be refrigerated.
---
---