Adventures with Graavilohi aka Gravlax aka cured salmon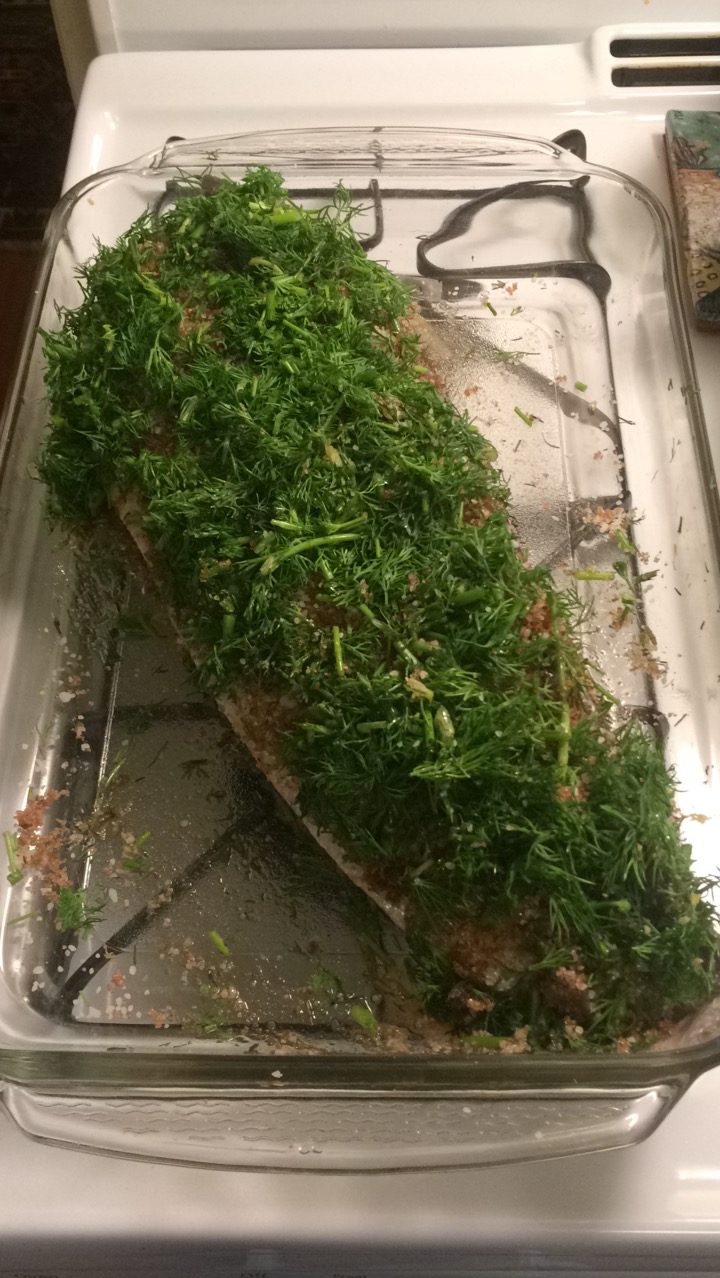 As part of a project on international holiday traditions, being orchestrated by Jeanette Kathryn Schramm of Apartmenteats.com (coming soon), I agreed to contribute some Scandinavian recipes. My Mom is Finnish and my Dad is Scottish, so they both like salmon. Together they have made a mean gravlax (not me).
My Mom (bless her Pagan heart) can't follow a recipe to save her life. She just can't help herself. It has got to the point where the kids hide the ginger root and I hide the garam masala whenever she comes to visit. Apparently, I am my mother's daughter. This recipe is a combination of the gravlax recipe from Sheila Lukins' All Around the World Cookbook and Jamie Oliver's Easy Salmon Gravlax. I had fully intended to follow Sheila Lukins' recipe, but I would have had to buy a $33 bottle of Pernod for one Tbsp and I am also my Father's daughter apparently, so I opted for Vodka instead.
If you end up with leftover gravlax use it to make a delicious Gravlax Cream Cheese Slather with lemon and dill.
Ingredients
2 fresh salmon fillets, pin boned (I used wild sockeye) – 1lb each and the same size, skin should be left on. Don't cheap out, get the good stuff.
50 mL Vodka* (one of those little bitty bottles)
¾ C brown sugar
8 Tbsp coarse salt
1 Tbsp white peppercorns, coarsely crushed
Zest of 1 lemon
1 large bunch of fresh dill (about 2 ounces), coarsely chopped (reserve a couple sprigs for garnish)
Equipment
8x13x2 Pyrex baking dish to keep the salmon in while it's curing. Whatever you use needs to be non-reactive and deep enough to catch the water that will be released from the fish as part of the curing process.
Plastic wrap
Tin foil aka aluminum foil
A platter or cutting board and some cans (or a brick!) to weight down the salmon while it's curing. The salt draws out the liquid from the fish and the weight helps this process.
Method
Wipe the fillets with a damp paper towel and remove any remaining small bones (pin bones) with tweezers. You find them by running your hand up the salmon fillet.
Sprinkle the flesh side of the fillets with the Pernod and rub it in well.
Combine the sugar, salt, and pepper in a small bowl. Sprinkle one-third of the sugar mixture on the bottom of a non-reactive (e.g., glass) baking dish just large enough to hold the salmon in two layers. Cover with one-third of the chopped dill.
Lay one of the fillets, skin side down, on top of the dill.
Sprinkle half the remaining sugar mixture on the flesh side of the fillet and pat firmly.
Sprinkle with half the remaining dill and cover with the remaining fillet (flesh side to flesh side).
Sprinkle with the remaining sugar and dill.
Cover tightly with plastic wrap and then a sheet of tin foil.
Weight the salmon down by placing a cutting board (or platter) with several heavy cans or a brick on top. Marinate in the fridge for 36-48 hours, turning the salmon every 12 hours.
To serve, scrape the marinade off the fillets. With the skin side down, slice the fillets on the diagonal and with the grain using a long, thin, super sharp knife. If you want to see how to slice gravlax check out Slicing Smoked Salmon with Gordon Ramsay. Don't slice your fingers off…that'll wreck the gravlax for sure ;).
Serves 10-12 (about 4 slices per serving)
Serve on Finnish sweet bread (Limppuleipa) and Sweet Dilled Mustard Sauce (recipes follow).
Notes: Gravlax freezes really well. Wrap leftover pieces individually and tightly in Clingfilm, seal, label, and freeze for up to 2 months.  To serve, partially thaw the frozen salmon for about an hour before slicing. Don't freeze the mustard sauce…make that fresh.
Sweet Dilled Mustard Sauce
This is the classic accompaniment to gravlax.
Ingredients
2 Tbsp Dijon mustard (use the smooth kind)
2 Tbsp cider vinegar
2 Tbsp white sugar
Salt and coarsely ground white pepper to your taste
½ C vegetable oil (or light tasting oil – not olive oil)
2 Tbsp chopped fresh dill
Method
In a small bowl, combine vinegar and sugar and stir to dissolve. Whisk in the mustard, salt, and pepper. While whisking constantly, slowly drizzle in the oil until the mixture emulsifies (it will get thick and creamy). Stir in the chopped dill. You can store this in an airtight container until you are ready to use it. Bring it to room temp and whisk again before serving.
---
---