Lingcod with Lemon and Capers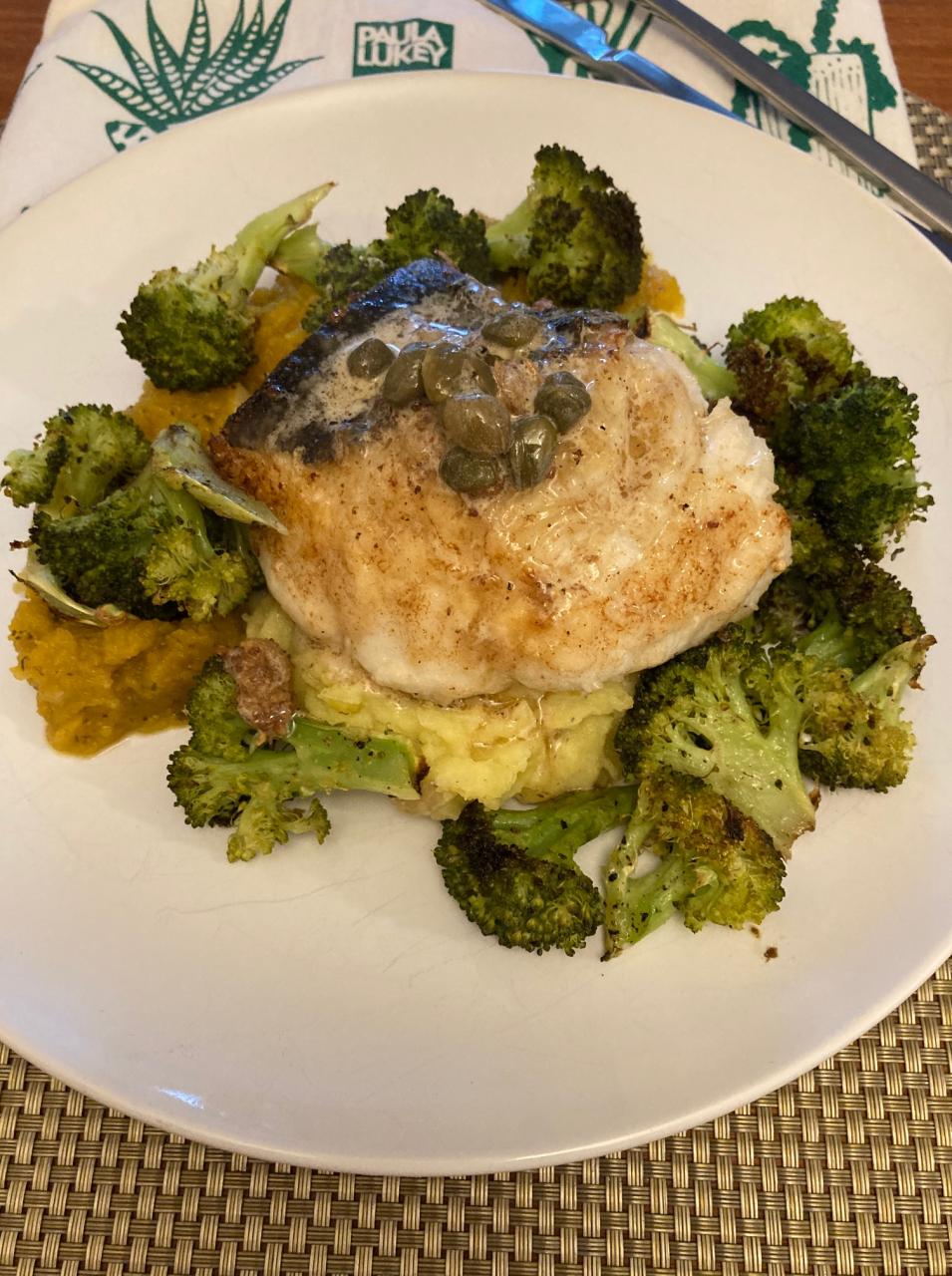 Quick and easy Lingcod recipe perfect for 1 or two fillets. I got my Lingcod from Skipper Otto's a local Community Supported Fishery here in Vancouver. It's perfectly portioned and perfectly delicious.
Ingredients
8 oz ling cod (1 or 2 fillets)
1 Tbsp flour or gluten free flour
salt and pepper to taste
1 Tbsp olive oil
2 Tbsp butter, divided
1 lemon, juiced
1 Tbsp capers, chopped
Method
Wash and pat lingcod fillets dry.
Dust with flour, and shake off excess.
Season both sides with salt and pepper.
In a cast iron pan add the olive oil and 1 Tbsp butter.
Heat to medium-high until butter is melted, then turn the heat down to medium.
Place the fillets skin side down in the pan and cook about 4 minutes. Don't touch the fillets until you are ready to flip. If you can slide the spatula under the fish without the fish sticking to the pan, it's ready to flip. If the fillets won't release, give them another 30 seconds. They'll release when they've finished cooking.
After flipping, divide the remaining butter over fillet(s).
Cook fish another 3-4 minutes until done. Fish will be golden on both the top and bottom and opaque all the way through when finished cooking.
Transfer the fish to plates, leaving the excess butter in the pan. Cover fish to keep warm, or set fish in a 200ºF oven.
Reduce heat to medium.
Add the lemon juice and capers, and stir with a wooden spoon.
Serve fish hot with pan sauce and either rice, mashed potatoes and roasted veg.
---
---