Fresh Salmon Cakes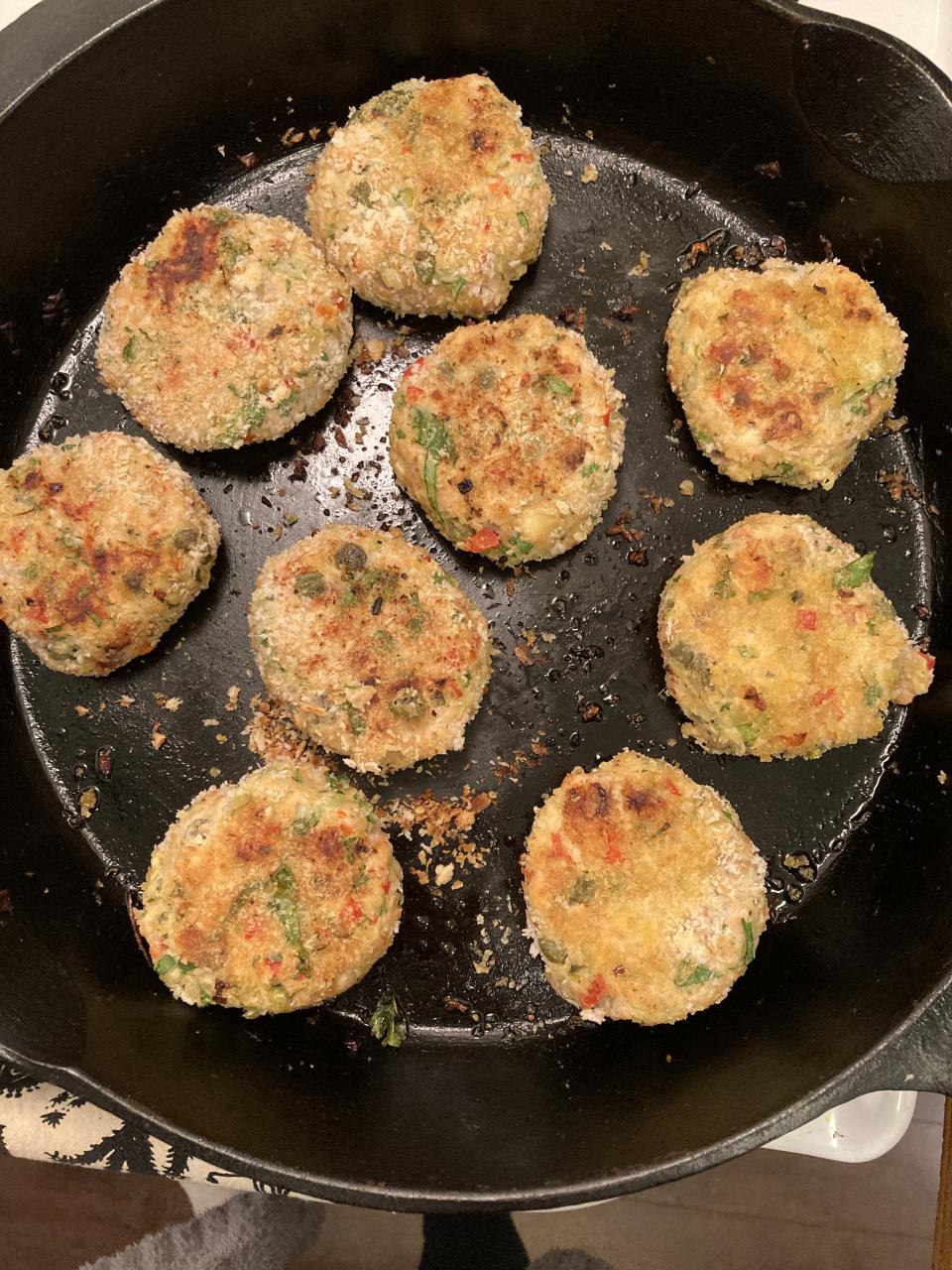 These salmon cakes are the product of salmon fillets from Skipper Otto that I bought just before the holidays thinking I was going to make a tonne of gravlax…nope, didn't get to it. So, now I'm playing with ways to use up eight rather large fillets. I may still make some gravlax but I have to find a whole whack of fresh dill and replenish my kosher salt supply first!
I found a couple recipes for salmon cakes made from fresh salmon but the one I liked best was from Marie at prouditaliancook.com. See her original recipe for Healthy Fresh Salmon Cakes. I tweaked it a bit.
Ingredients
1-1/2 lbs. fresh (or defrosted frozen) salmon filets, skin removed and hand chopped into small chunks. Do NOT use a food processor, you'll lose the texture.
1 celery stalk, minced
1 small onion, minced (about 1/2 cup)
2 green onions, finely sliced
1 half large red pepper, minced
zest of 1 lemon
2 Tbsps capers, rinsed and dried
1 tsp teaspoon Old Bay seasoning – if you don't have any you can either make your own (Old Bay DIY) or use another fish seasoning you like.
2 garlic cloves, minced
handful of Italian flat leaf parsley, chopped
⅓ cup mayo
⅓ cup panko bread crumbs with extra to coat the top and bottom of the cakes
1 tablespoon of Djon mustard
olive oil
salt and pepper
Instructions
Sauté all the minced onions, peppers, and celery in a bit of olive oil until translucent. Turn off heat and add the garlic and green onions. Let the mixture cool down completely.
Into a large bowl add the hand chopped salmon, the cooled veg, mayo, lemon zest, Panko, Dijon, Old Bay, parsley and salt and pepper to taste.
Gently fold the ingredients together until well mixed.
Form your salmon cakes into 3×1 inch deep patties and place on a tray lined with baker's parchment.
Refrigerate uncovered for at least 2 hours.
Preheat oven to 450F.
Drizzle the bottom of an oven-safe frying pan with olive oil.
Coat your fish cakes in a little extra Panko and place in the heated frying pan.
Sauté the cakes until lightly golden (3-4 minutes per side) and finish them off in the oven (6-8 additional minutes).
Serve with Rémoulade or tartar sauce or a fresh squeeze of lemon juice. I served this up with Carrot fries, brown basmati rice, and a simple green salad.
---
---