Salmon Cakes Take 2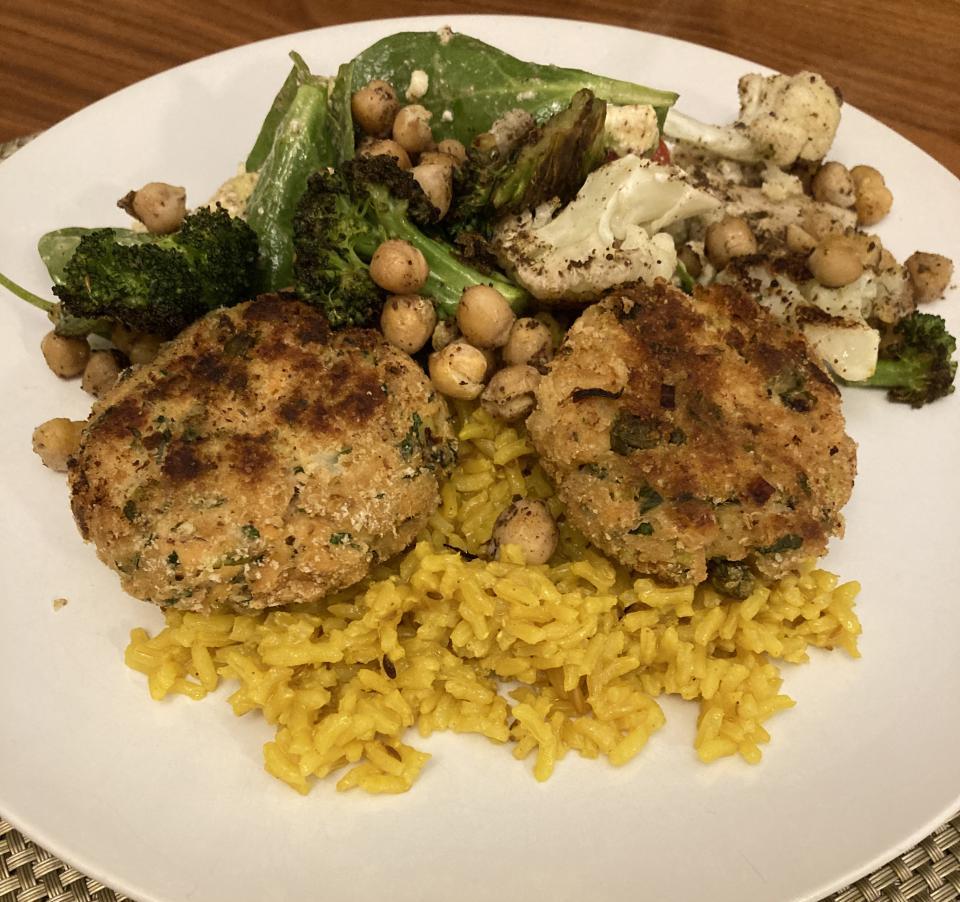 Salmon cakes can made from fresh or cooked salmon. Last time I made Fresh Salmon Cakes. This time I baked up a salmon filet that I had in the freezer and used that. This would also be a great recipe for using up left over baked salmon.
The recipe is based on Salmon Cakes from Natasha's kitchen but I adapted it to what I had on hand.
Ingredients
1/2 lb salmon filet (if frozen, defrost in the fridge the night before)
Lawry's seasoning salt
fresh ground black pepper
Olive oil
2 small onions, minced
1 stick celery, minced
1/2 Panko bread crumbs
1/2 cup Pastene Italian seasoned bread crumbs
1 large egg beaten
2 Tbsp real full fat mayonnaise
1 tsp Dijon mustard
1 Tbsp capers, chopped
handful of fresh parsley, chopped
Method
Preheat Oven to 425˚F. Line a rimmed baking sheet with parchment or a silpat. Place salmon skin-side down, brush with olive oil and season with garlic salt and black pepper.
Bake uncovered for 10-15 min or just until cooked through (my thinner cut wild salmon was closer to 10 minutes). Remove from oven, cover with foil and rest ten minutes. Discard skin, flake salmon with forks, remove any bones, and cool to room temp while prepping remaining ingredients.
Heat a frying pan over medium heat with 1 Tbsp olive oil. Add and minced onion and celery. Sauté 2-3 minutes .
Drain, rinse and pat the capers dry and add to the frying pan. Sauté until onions and celery are soft. Remove from heat and let cool.
In a large mixing bowl, combine cooled flaked salmon, sautéed veg, bread crumbs, 1 beaten eggs, 3 Tbsp mayo, 1 tsp Dijon mustard, salt and pepper to taste, and the fresh parsley fresh parsley.
Stir to combine pop the mixture in the fridge for at least an hour.
Remove from fridge and then form the mixture into 3″ patties thare about 1/2″ thick.
Pour some bread crumbs onto a plate and press the patties into the crumbs on both sides.
Heat a couple tablespoons of olive oil in a non-stick pan (add 1 Tbsp of butter if you feel like it) and once the oil is sizzling start frying off your salmon cakes 2-3 minutes per side – you are looking for a golden crust. You may need to do this in batches to avoid crowding the pan.
Pop the fried salmon cakes back into a an oven preheated to 425˚F  and bake for 5-6 minutes to finish.
Serve with whatever sauce you like.
These freeze really well! To freeze pop them on a cookie sheet and put them in freezer for at least an hour before transferring them to a freezer-proof container.
To reheat from frozen: preheat the oven to 275˚F (low and slow is the key). Place frozen salmon cakes on baking sheet lined with a silpat or baker's parchment and heat through (takes about 20 minutes from frozen).
I served them with some roasted veg, tumeric rice and a spinach and tomato salad.
---
---