Porchetta, Porchettaaaaah for "Turkey Day"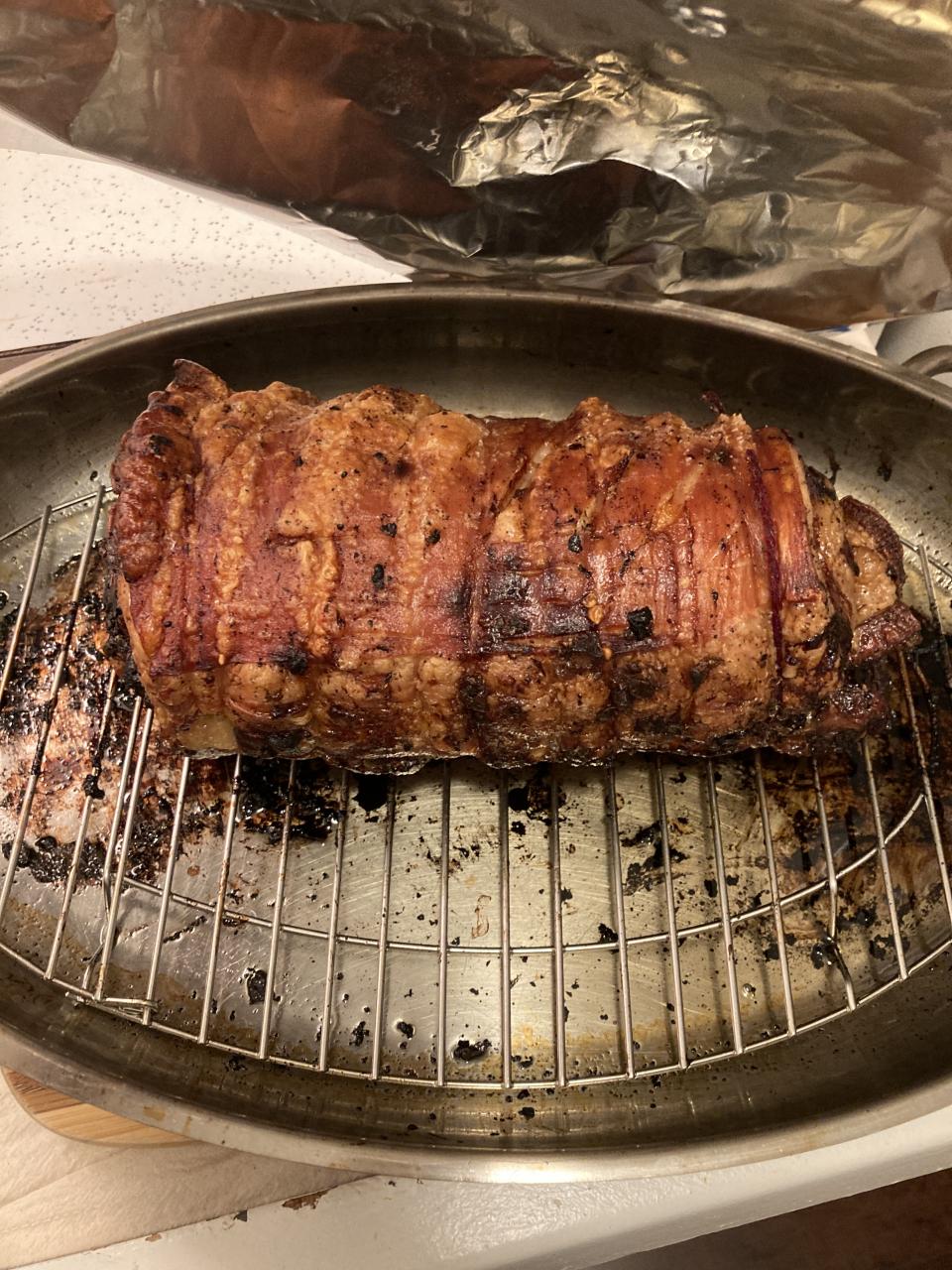 My kids and I rarely make turkey for Thanksgiving. We normally have meatloaf (recipe here if you are so inclined: " We don't need no stinkin' turkey" meatloaf). This year I decided I'd do something a little different and thought I'd try my hand a making porchetta, because…well porchetta!  This recipe is a combination of the "All-Belly Porchetta" recipe from Serious Eats and anecdotal advice from the folks at Market Meats who had just finished making 3 of them when I went to pick up the pork belly. They both sounded good so why not double the good.
Ingredients
1 whole boneless, rind on pork belly 5.4 lbs
1 Tbsp fresh rosemary, chopped
1 Tbsp fennel seeds roasted
4 tsps whole black pepper corns
1 tsp crushed red pepper
1/2 larg sweet onion, finely diced
1 fresh fennel bulb, diced (optional)
Whole clove of garlic, crushed
zest of one whole lemon
1 Tbsp Kosher salt
1 tsp baking powder
1 cup white wine
Method
Place pork belly rind side down and using a sharp knife, score it in a 1″x1″ cross hatch pattern.
Toast the pepper corns and fennel seeds in a cast iron skilled over medium-high until aromatic. Cool and then grind with a mortar and pestle or in a spice grinder.
Season the meat side of the pork belly liberally with salt (I forgot to do this and added the salt after, oops), sprinkle with ground pepper and fennel mixture, chopped rosemary, garlic, onion. Rub the mixture into the cross-hatched pattern.
Roll the pork belly into a tight log and place seam side down, secure every 1″ with kitchen twine (see here for how to do that:  https://www.youtube.com/watch?v=gZkLKVYG3WYl). I found this veerrrry fiddly, a second pair of hands would help.
Combine the Kosher salt and baking powder and rub the mixture over the entire surface of the rind.
Wrap tightly in plastic and refrigerate at least overnight.
Take the marinated porchetta out of the fridge about 1 hour before you want to start roasting it.
Place oven rack onto the lower middle position and preheat oven to 300 degrees F.
Place pork on a rack in a rimmed roasting pan, pour over the white wine, and roast until internal temperature reaches 160 degrees F (you'll need an oven-safe thermometer), about 2 hours, basting with pan drippings every half hour. Continue roasting until a knife or skewer inserted into the roast shows little resistance aside from outer rind, about another 2 hours.
Remove from the oven and let rest. Then increase the temperature to 500 degrees F, return the roast to the oven and roast until completely crisp and blistered, about 20-30 minutes. Keep an eye on it so it doesn't burn.
Remove from oven and tent with foil and allow to rest at least 15 minutes.
Slice with serrated knife into 1″ disks and serve with mashed potatoes, cranberry sauce, roasted brussel sprouts and stuffing.
---
---