Quinoa and Spinach Salad with Chickpeas and Lentils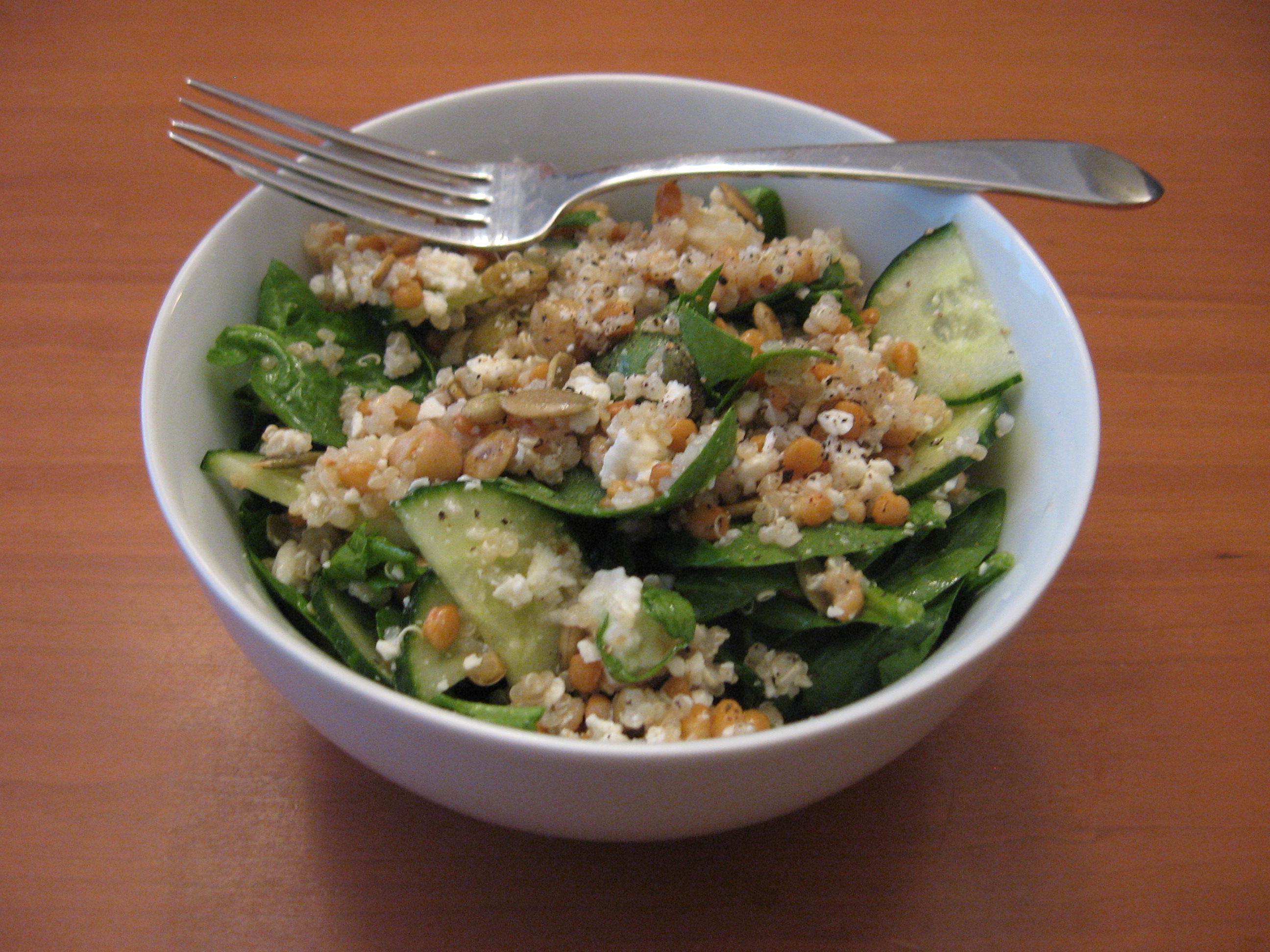 The Lost + Found Cafe makes a delicious quinoa and spinach salad and this is my attempt to replicate it at home.
Ingredients:
1 bunch baby spinach washed and spun
1 c. quinoa cooked and cooled*
1 can chickpeas rinsed and drained
1 can lentils rinsed and drained
1 c. sliced cucumber
1 handful of pumpkin seeds
1/4 c crumbled feta
herbed vinegrette (or whatever vinegrette you prefer) to taste
Fresh ground pepper
*Cooked Quinoa:
1 c. quinoa rinsed for 1 minute under cold water
1 1/2 c. water
1 tsp salt
Bring the water to a boil in a 2 quart pot. Add the rinsed quinoa and the salt and return to boil. Reduce heat to low, cover and simmer for 15 minutes. Turn the heat off and let quinoa stand covered another 5 minutes. Strain if necessary. Spread in a shallow dish and let cool.
Salad
You can make these as individual salads during the week by keeping the ingredients separate until you are ready to toss them with the dressing.  Toss the quinoa, chickpeas and lentils together. Chop the cucumber. When you are ready to make your salad toss a handful of greens with 1/2 c of the quinoa mixture. Add some cucumber and dress lightly. Sprinkle on some pumpkin seeds and crumbled feta and grind some fresh pepper over top.
---
---