Gluten-free, Dairy-free, Double Chocolate Protein Muffins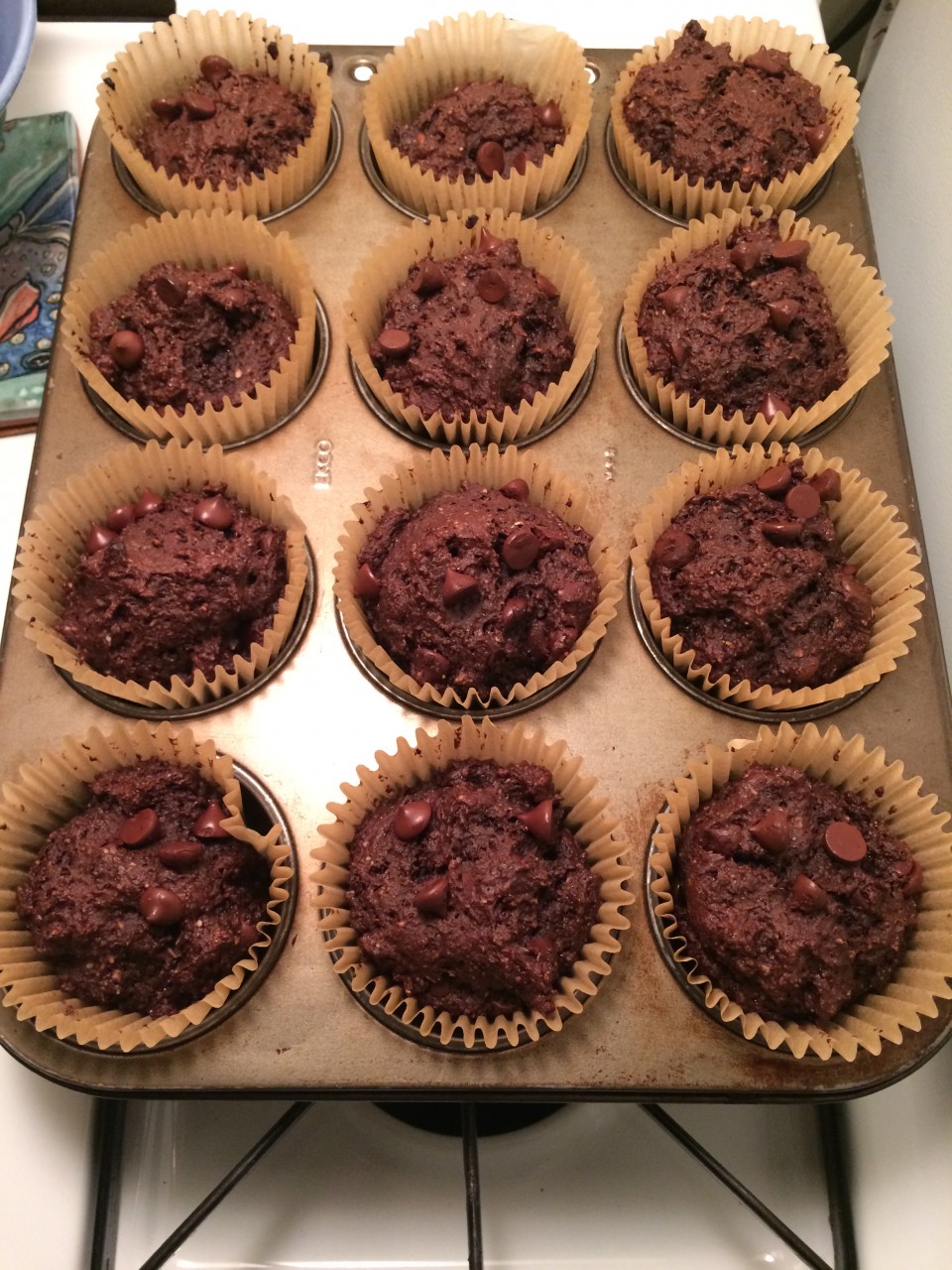 This recipe is a shout out to Movement Coach Pax Frias at Restore Human in Vancouver who graciously listens to my whining with a big smile and then make me do another set anyway.  He generously supplied the gluten-free protein powder – I'm not even going to ask what's in it. I suspect he might have had ulterior motives after I brought him a few of Experiment #2 (my Gluten-free Browned Butter Chocolate Chip Cookies) but I will give him the benefit of the doubt (just in case it inclines him to leniency on the reps front).
I based the recipe on the Low Carb Double Chocolate Protein Muffin recipe from Maya at Wholesomeyum.com (thank you Miss Maya) with a few changes to incorporate ingredients I had on hand. Maya's are way more healthy than these ones and she's got some good advice on collagen protein. Me, I don't care that much about whether they are keto this or that or sugar-free. If you do, then give Maya's recipe a try. They look awesome.
Ingredients
1 C gluten-free flour (I used Bob's Red Mill)
3/4 tsp xanthan gum
1 C almond meal
2/3 C brown sugar
1/2 C cocoa powder
1/4 C protein powder of your choice
1 1/2 tsp baking powder
1/4 tsp sea salt
1/3 C coconut oil (melted and cooled)
1 C Rice dream, almond milk, Silk or coconut milk (unsweetened)
3 Tbsp ground organic flax seed whisked with 9 Tbsp water (or 3 large eggs if you eat eggs)
1 tsp vanilla
3/4 C dark chocolate chips
Method
Preheat the oven to 350 degrees F.
Line a 12 muffin tin with parchment liners.
In a large bowl, stir together the gluten-free flour, almond meal, sugar, cocoa powder, protein powder, baking powder and sea salt.
In a medium-sized bowl, whisk the melted coconut oil with the Rice Dream. Whisk in the flax eggs and then the vanilla.
Add the wet ingredients to the dry ingredients and mix until combined (the batter will be very thick).
Fold in the chocolate chips.
Spoon batter into muffin cups and sprinkle the tops with extra chocolate chips because…extra chocolate chips (d'uh).
Bake for about 25-28 minutes or until a toothpick inserted comes out clean. You know they are getting there when the kitchen smells like Willy Wonka's chocolate factory (heavenly).
Remove from oven and cook completely.
Soooo good.
---
---