Gluten-free, Dairy-free Rosemary, Apricot, Almond and Cranberry Crackers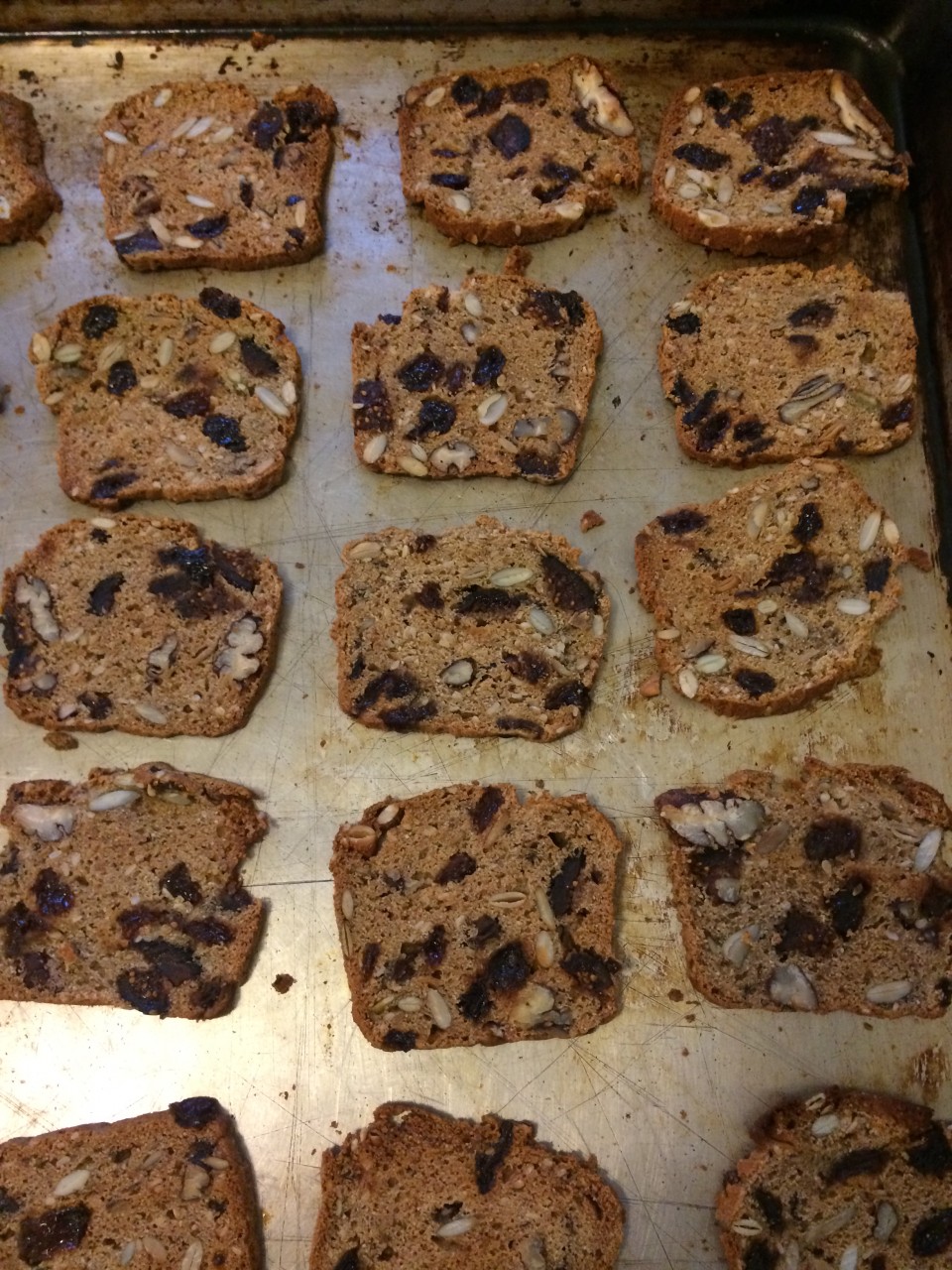 These bad boys are a gluten-free, dairy free take on my Rosemary Pecan Raisin Crackers. They are the result of a request from my "brothers" Joshua and Joel Corea who happen to own a hip little wine and small plates bar called Archive 909 on Dundas West in Toronto. Josh and Joel were looking for a satisfying gluten-free cracker to serve as an option with their meat and cheese plates. I also have a friend who doesn't do dairy so I thought I'd take a look to see whether there was a dairy-free replacement for buttermilk and low and behold…there was. Just mix soy or almond milk with apple cider vinegar and you are good to go (1 C : 2 Tbsps of vinegar).
I am super pleased with how these turned out. They are delicious!
The coconut flour means the batter is not nearly as sticky as the regular crackers which is actually kind of nice. You could play with any combination of gluten-free flour alternatives that you like. Got a favourite? Try it and let me know how it turns out.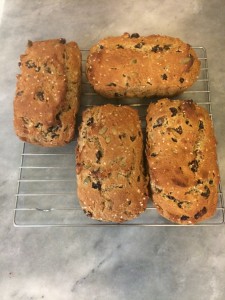 Ingredients
1 C Bob's Red Mill Gluten-free 1 to 1 Baking Flour (has xanthan gum in it already)
1/2 C corn flour
1/2 C coconut flour
2 tsp baking soda
1 tsp salt (I used sea salt)
2 C almond milk mixed with 1/4 C apple cider vinegar or buttermilk if you are ok with dairy
1/4 C brown sugar
1/4 C honey
1 C raisins
12 chopped figs
1/2 C toasted chopped pecans or almonds*
1/2 C roasted pumpkin seeds** (optional – I opted for)
1/4 C black sesame seeds
1/4 C flax seed, ground (I just bought whole flax seed and whizzed them through a coffee grinder)
1 Tbsp dried rosemary
*To toast almonds, spread on a cookie sheet and pop into an oven preheated to 350° F for about 5 minutes (watch them so they don't scorch – that would be sad).
**To roast raw, shelled pumpkin seeds (pepitas) spread them on a cookie sheet lined with parchment paper and roast in at 350° F for about 7 minutes. If you start to hear them "pop" turn the heat down to 325° F.
Method
Preheat oven to 350° F.
In a large mixing bowl, stir together the flours, baking soda, salt and brown sugar.
Add the buttermilk and honey and stir a few strokes.
Add the raisins, figs, pecans, pumpkin seeds, sesame seeds, flax seed and rosemary and stir just until combined. The batter will be quite wet.
Spoon the batter into 4 greased mini loaf pans 3 x 5.
Bake for 40-45 minutes, until golden and springy to the touch. Check at 40 minutes to see how the loaves are doing.
Remove from pans and cool on a wire rack.
When completely cooled, wrap the loaves in tin foil and put into the freezer for at least 30 minutes. If you don't want to bake them up all at once, then wrap the loaves in parchment paper and then tinfoil, so they don't get freezer burn.
Once frozen, using a sharp, serrated knife, turn the loaf upside down and slice the loaves as thin as you can (it's easier to eyeball a thin slice from a flat bottom).
Place the slices in a single layer on an ungreased cookie sheet.
Reduce the oven heat to 300° F and bake them for 10-12 minutes, then flip them over and bake for another 10-12 minutes, until crisp and deep golden brown – check at 10 minutes to make sure they aren't burning.
Each loaf should slice into 24 crackers.
---
---