Extra Spicy Pumpkin Pecan Pie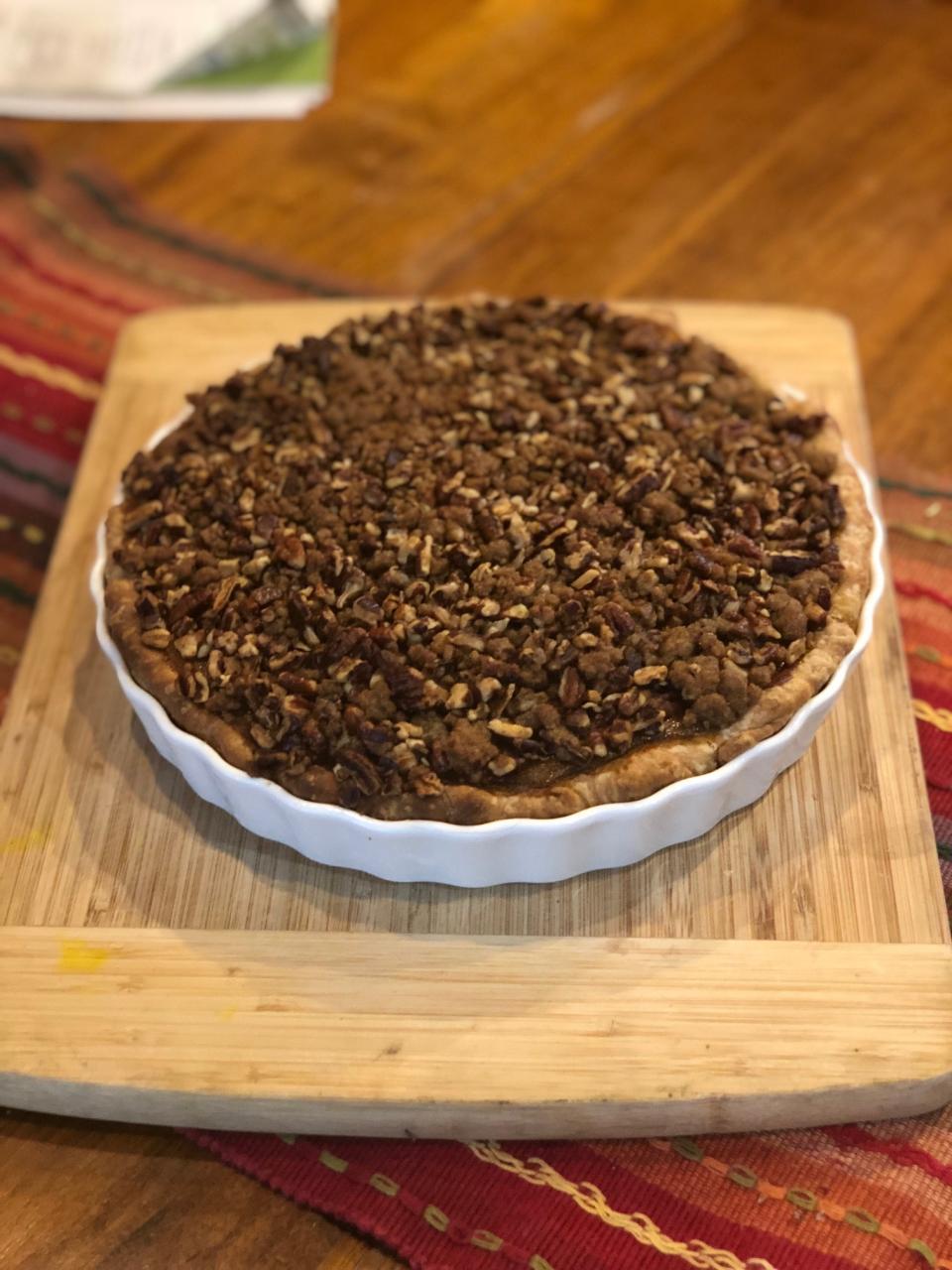 The original for this recipe comes from Pumpkin Pecan Crunch Pie a House & Home recipe. However, at our house we use only butter in pie crusts (it's a taste preference) and we have found that most recipes under-spice the pie filling (no wimpy pumpkin pie please). The best recipe I've found, that does not wimp out on the spice, comes from one of the Silver Palate Cookbooks (classics from the early 1980s). This recipe is a friendly collaboration between the two.
Ingredients
Crust
1 1⁄4 cups all-purpose flour, sifted, plus more for rolling
1 tbsp granulated sugar
1⁄4 tsp salt
8 tbsp unsalted butter, cold, grated
1⁄4 cup ice water
Topping
6 tbsp dark brown sugar, packed
1⁄4 cup all-purpose flour, sifted
3 tbsp unsalted butter, cold, grated
1 1⁄4 cups pecan halves, toasted, chopped
Pie Filling
3 large eggs
1/2 C dark brown sugar, packed
2 C pumpkin puree (plain)
1/2 C whipping cream
1 teaspoon ground ginger
1 1/2 teaspoon ground cinnamon
1/4 tsp grown nutmeg
1/2 teaspoon ground cloves
1/2 teaspoon ground allspice
1/4 teaspoon ground cardamom
1/2 tsp salt
1 tsp vanilla
Method
Make Pie Crust
Combine all ingredients except water in large bowl.
Mix with fingertips until mixture resembles coarse meal with some pea-size pieces of butter.
Gradually stir in water with fork.
When mixture starts clumping, form dough with hands.
Roll into a ball and flatten into a disk. Cover with plastic wrap and refrigerate 1 hour.
On floured work surface, roll dough into 13″-diam. circle. Line 9″-diam. pie plate. Trim excess and crimp edges. Cover and refrigerate 30 minutes.
For Topping
Combine brown sugar, flour and butter in small bowl.
Mix butter in with fingertips until mixture resembles coarse meal.
Mix in pecans to coat. Cover. Refrigerate until ready to use.
Filling and Putting it all Together
Preheat oven to 375°F.
Whisk eggs and brown sugar in large mixing bowl.
Whisk in pumpkin until smooth.
Whisk in remaining ingredients.
Place pie shell on baking tray.
Pour filling into shell. Bake on lower shelf until filling is slightly wobbly in middle, 50 to 60 minutes.
Remove from oven. Sprinkle pecan mixture evenly over top.
Bake until lightly brown, 12 to 15 minutes.
Remove from oven and let cool completely.
Serves 8-10. Add a dollop of whipped cream or a scoop of vanilla ice cream.
---
---