Beef Empanada Pie with Gluten Free Dough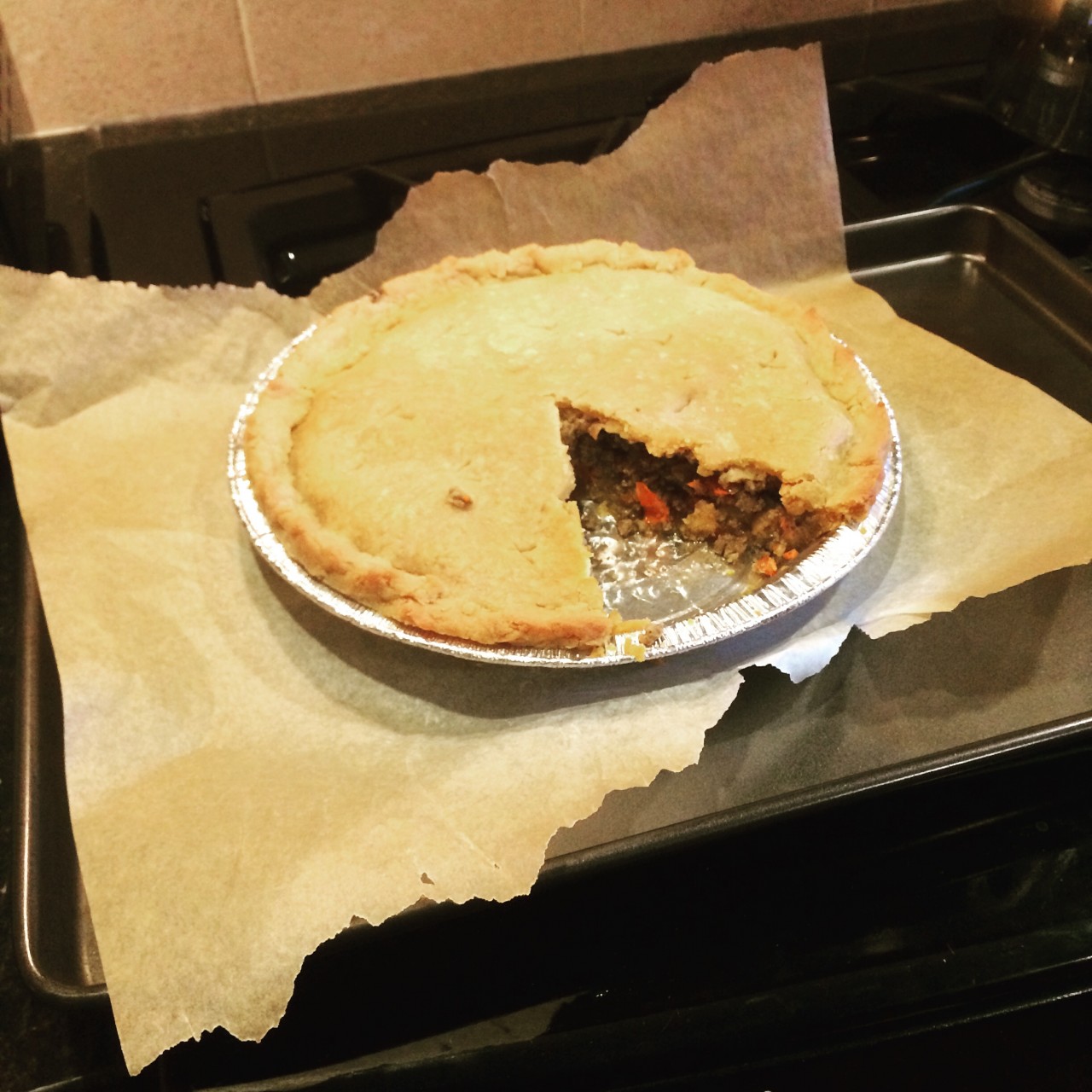 I started out making this recipe with beef empanadas for a picnic in mind. However, gluten free dough is a little trickier to work with than I bargained for. I made three little ones, cursed (a lot), and then rolled the remaining dough into a double pie crust using parchment paper. It may have been that I used baking mix instead of all-purpose gluten free flour. I'll have to make the dough again and see. For now I can say that the empanada pie worked out very well, or at least the people I fed it to didn't leave anything behind. I take that as a good sign.
I adapted this recipe from Saveur's recipe for Empanadas de Carne (I love that site). The dough takes a bit of time (has to chill for 2 hours) and while it was finicky to work with, it did taste like regular pie crust (two thumbs up, high fives all around).
Dough
1 C water
3⁄4 C vegetable shortening
2 3⁄4 C gluten free flour (I used Bob's Red Mill Baking Mix), plus more for dusting
2 tsp. sea salt
Empanada Filling
3 Tbsp olive oil
1 lb. ground beef
salt, to taste
1 large red bell pepper, cored, seeded, and finely chopped
1 large yellow onion, finely diced
1 1⁄2 tsp cumin
1 1⁄2 tsp Spanish smoked paprika (you could use regular paprika or chili powder)
1 tsp crushed red chili flakes
1⁄2 tsp ground white pepper
2 eggs, hard-boiled, peeled, and finely chopped (leave out if you don't eat eggs)
Instructions
For the Dough
Heat water and vegetable shortening in a 1-qt. saucepan over medium heat until shortening has melted; let cool slightly.
Whisk gluten free flour and salt in a large bowl; make a well in the center of flour mixture. Slowly stir in shortening and water mixture until a wet dough forms.
Knead until dough is smooth.
Wrap dough in plastic wrap and chill for 2 hours.
---
---