Sour Cream Apple Pie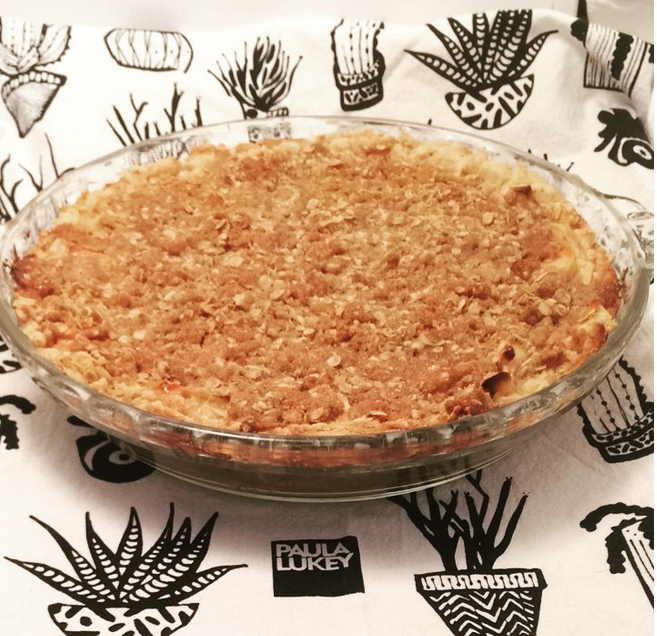 Sour cream apple pie is easy and delicious.
Crust:
You can make your own pie crust using your favourite recipe (the one off the Crisco box works perfectly well) or use store bought. If you want a quick an easy recipe use this Pastry Dough from Epicurious. Pastry with butter always tastes better but a vegetable shortening or lard crust is just fine in my opinion.
Filling:
3 C peeled, quartered and sliced apples (any old kind will do)
Zest and juice of one lemon
2 Tbsp flour
1 C white sugar
1 C sour cream
1 egg
1 tsp vanilla
Topping:
1/4 C brown sugar
1/4 C flour
1 tsp cinnamon
3 Tbsp cold butter
1/4 C Oats
Method:
Preheat oven to 375F.
Slice up the apples and toss with the lemon zest and juice.
In large mixing bowl, whisk the sugar and flour together and then whisk in the sour cream, egg and vanilla.
Fold in the apples and gently mix to coat.
Pour apple mixture into your unbaked pie crust.
Bake @375 F for 15 minutes.
While the pie is baking mix the brown sugar, flour and cinnamon together and cut in the butter and work it into the mixture until you get a cornmeal consistency (you can use a couple of knives, a pastry cutter or your fingers).
Add the oats and mix until you have a nice crumbly mixture.
Remove the pie from the oven and sprinkle topping evenly over the top.
Return the pie to the oven for another 20-25 minutes (check it at 20 and if it's set remove it)
Remove from oven and cool completely. Pop it in the fridge until ready to eat.
Serves 8.
---
---