Cuban Pork Roast de Julio Montero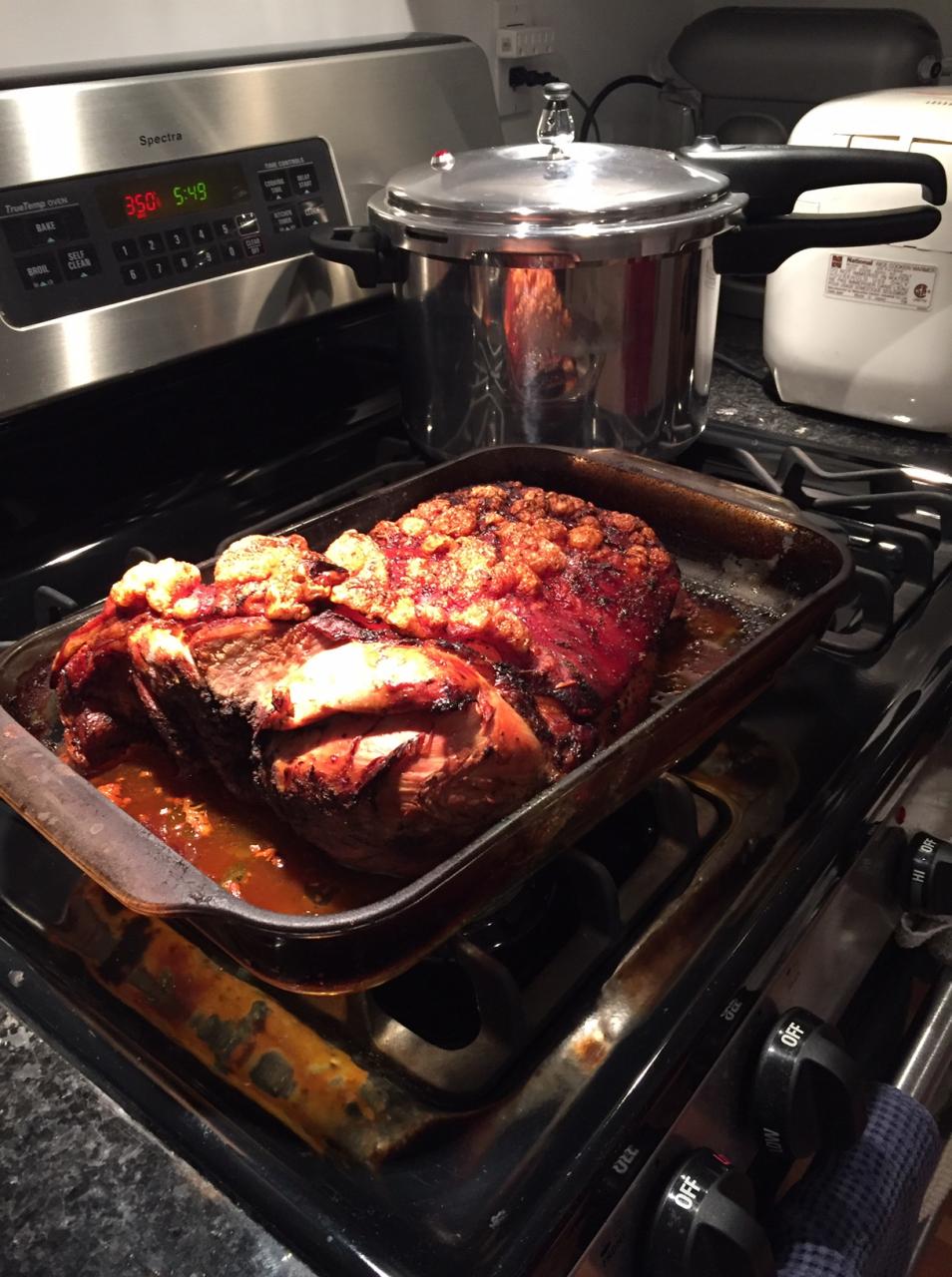 This recipe arrives on the blog courtesy of my friend and salsa instructor Julio Montero. This year, we co-hosted a party for the lovely people who took salsa classes with Julio and he treated us to Cuban pork roast. If you've got a crowd of hungry people (dancing or not) to feed, assuming they eat meat, this is a good one. It takes a good chunk of the day but es muy, muy bueno. Like many home cooks, Julio doesn't measure stuff…sigh. Either that or he was pulling a Martha and holding out on us! So, I did the best I could to cross examine him to figure out the recipe. I will actually try making this on my own over the holidays. My son the carnivore is going to love it. I'll make my friend Rana's vegan spring rolls for my daughter (as soon as I can coax Rana to part with the recipe).
Ingredients
Large (say 10lbs) pork leg, bone out, fat ON.
Juice of 4-6 limes (don't be stingy with the lime juice)
3 Tbsp crushed garlic
1-2 Tbsp ground cumin
1-2 Tbsp ground allspice
Salt and pepper to taste
Method
Preheat the oven to 450 F.
Crosshatch score the fat on the pork.
Mix all the "fixings" together and coat the pork liberally.
Place the pork in a large roasting pan with sides high enough to catch the drippings. Use the middle rack of your oven.
Cover the pork with foil and bake for 1 hour.
Lower the heat to 350 F, remove foil and roast for another 2 hours.
Remove the roast from the pan and pour off the drippings into a separate bowl or jar to let the fat separate. Skim off the extra fat.
In the meantime, heat up your broiler on high.
Return the roast to the pan and broil the crackling (the fat) until it starts to puff up. You need to watch it so it doesn't burn.
Remove the roast from the oven and let it stand for at least 5 minutes.
Remove the crackling and take off the extra layer of fat (it will come way easily).
Shred the meat and pour on the defatted dripping, give it a good stir and  keep warm until serving.
Serve with rice and black beans or black eye peas.
P.S. If you live in Vancouver (or you're visiting!) you can take classes with Julio by visiting his website at Vancuba.ca. Dancing is good for the soul, join us!
---
---