Slow Cooker Jambalaya (No Shrimp)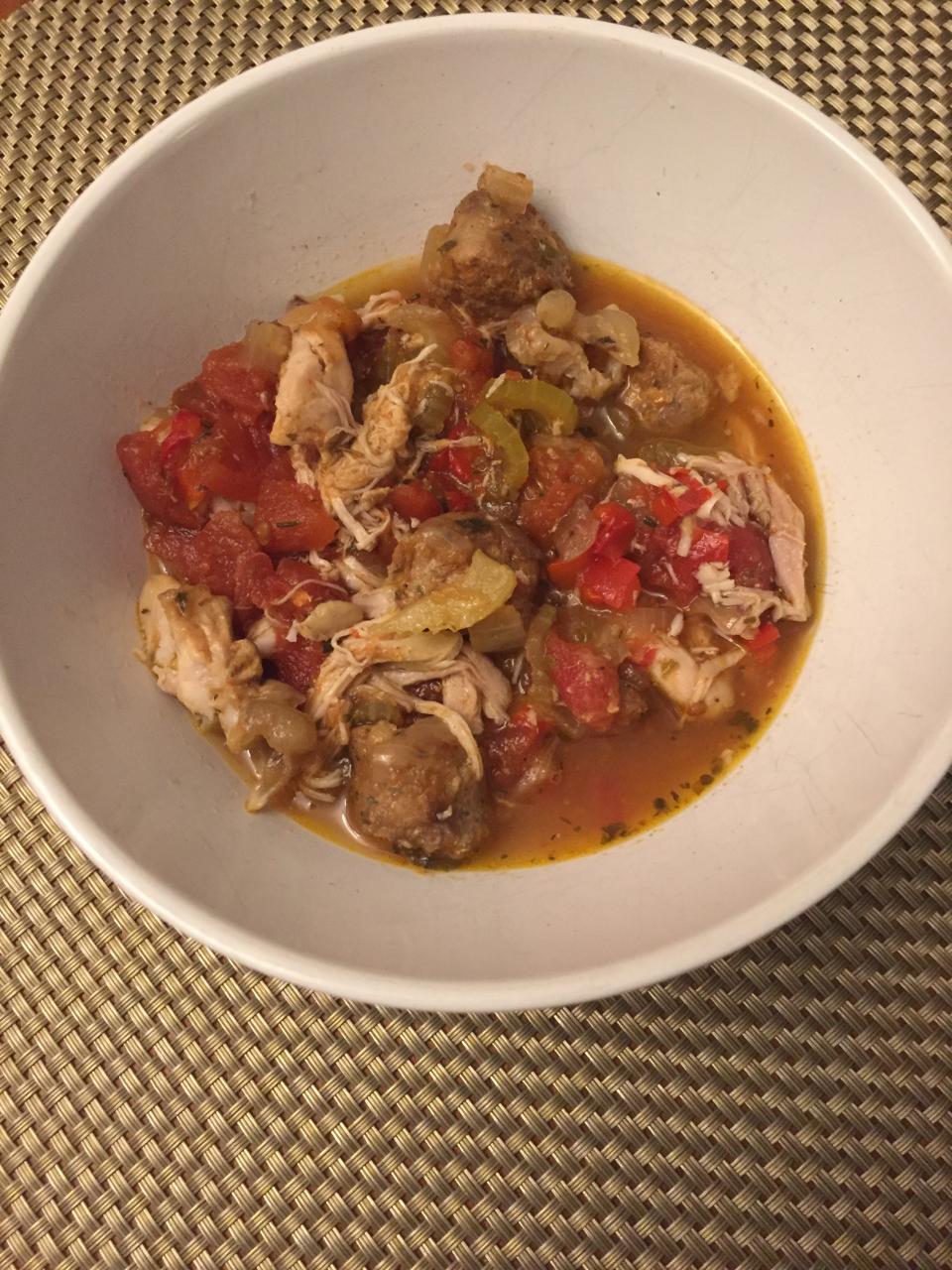 It's a cold and rainy weekend in Vancouver, so I thought I'd go for some comfort food. I've been wanting to try Jambalaya in the slow cooker for awhile so that's what I settled on. I combined this recipe for Slow Cooker Jambalaya from the Recipe Critic and Rachel Ray's Everything Jambalaya from Food.com. I don't like chicken breasts done in the slow cooker so I swapped them for chicken thighs and I didn't see any need to get skinless, boneless thighs since that's where half the flavour is! I left out the extra cayenne  because I didn't want it to end up too hot (turns out that was good call). I also omitted the shrimp because I haven't found a good fish monger yet and didn't want to risk ruining the batch with "fishy" shrimp (ugh). You could just throw everything in the slow cooker and walk away, but I decided to brown the andouille sausage (fresh house made from Market Meats – thanks guys!) and saute the onions in that. I added the spices to give them a bit of depth and then used chicken stock to deglaze the pan. After that, everything got dumped into the slow cooker. It probably would have been fine just to add everything to the slow cooker, stir and turn it on. I might try that next time.
Ingredients
1 lb chicken thighs, skin on, bone in
2 fresh andouille sausages, casings removed and cut in chunks
1 large yellow onion, diced
1 can 28 oz can diced tomatoes
1 red bell pepper, diced
2 stalks clearly, thinly sliced
1/2 tsp dried thyme
2 tsp dried oregano
1 Tbsp Creole seasoning (I made my own, see below)
1 large bay leaf
1 tsp Worchestershire sauce
1 cup chicken stock (I had some bone broth left over and just used that)
Method
Remove the casings from the sausage, and chop in chunks.
Brown the sausage chunks until they render their oil. Remove with a slotted spoon and add to the slow cooker.
Saute the onions for a couple minutes, add the Creole seasoning, thyme, oregano and stir until aromatic.
Add onions and spices to the slow cooker.
Pour the chicken stock into the onion pan and deglaze it to get up all the good stuff. Add the liquid to the slow cooker.
Add the remaining ingredients, give it a good stir, slap the lid on.
Cook on low for 8 hours.
Serve over rice.
I decided I'd try making my own creole seasoning with a little help from Allrecipes Creole Seasoning Blend. However, since I'm not sure I'll like it, I decided to cut the recipe in half. Also, I didn't have any plain paprika so I used smoked.
DIY Creole Seasoning Ingredients
1 Tbsp onion powder
1 Tbsp garlic powder
1 Tbsp dried oregano
1 Tbsp dried basil
1.5 tsp dried thyme
1.5 tsp ground black pepper
1.5 tsp ground white pepper
1.5 tsp cayenne pepper
2.5 Tbsp paprika (I used smoked paprika)
1.5 Tbsp salt (used sea salt)
Mix all the ingredients together in a small bowl and put any leftovers in an airtight container.
---
---