Egg-free, Gluten-free Potato Croquettes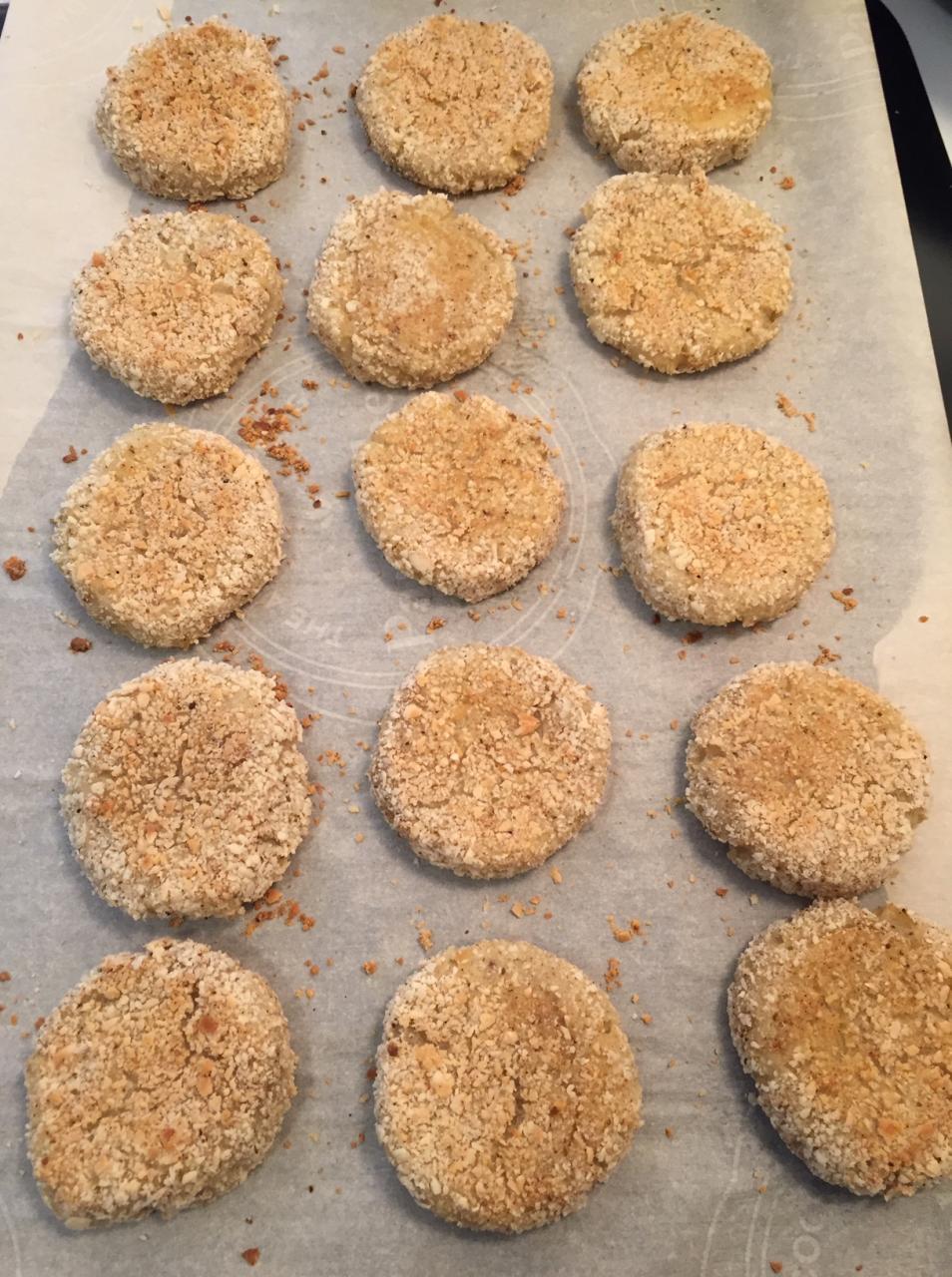 Egg-free, gluten-free potato croquettes are a tasty and easy treat (think Tatter Tots without the crap in them). If you've got left over mashed potatoes or potatoes that need to be used before they go off, this is a great recipe.
Ingredients
4-6 cups russet potatoes (peel them if they are old)
Enough to cover the potatoes in a large pot by at least an inch
1 bay leaf
1 tsp salt
1 allspice ball
1/4 cup butter (or butter substitute if you don't do butter)
1/4 cup almond milk or enough to make a smooth mash (you can also use reserved potato water from cooking the potatoes)
1 tsp onion powder (or you 1/2 a grated onion)
1/2- 1 tsp white pepper (to your taste)
1/4 tsp nutmeg
1 tsp garlic powder (optional)
1 egg worth of egg replacer
1/3 cup ground almond meal (or gluten-free coating of your choice for crunch)
1/2 tsp Old Bay Seasoning (if you have a favourite seasoning, use that – it's potato, pretty much anything goes)
Method
Preheat oven to 350 degrees.
Peel and cut potatoes in chunks (don't bother peeling if the skins are fine)
Put potatoes in a large pot and cover by at least an inch of water.
Add the salt, bay leaf and allspice ball.
Bring to a boil and continue on a medium simmer until the potatoes are fork tender.
Remove potatoes from the water using a slotted spoon. Discard the bay leaf and the allspice ball.
Pour the potato water into another container and reserve for other things.
Add the butter to the warm pan, add back the potatoes and mash.
Add in almond milk (or potato water) until you have a smooth mash.
Make the egg replacer and let it sit to thicken.
Add the onion (or onion powder), white pepper, nutmeg, and garlic powder to the potatoes and mash to combine.
Add the egg replacer and combine well.
Leave the mixture to cool so you can handle it.
Line a baking sheet with parchment paper.
Scoop a couple tablespoons of the cooled potato mixture into your hands and make a ball.
Roll the ball in the ground almonds and spice mixture. Place the potato balls on the lined backing sheet, pressing slightly to flatten.
Leave some space so you can flip them easily.
Bake for 30 minutes, flip and bake for another 30 minutes.
Serve with apple sauce, sour cream, salsa verde of whatever you like.
Makes 30-40 depending on how big you make them. The ones pictured are about 1.5″ in diameter.
---
---