Rice Stick Noodle Salads – Be Not Afraid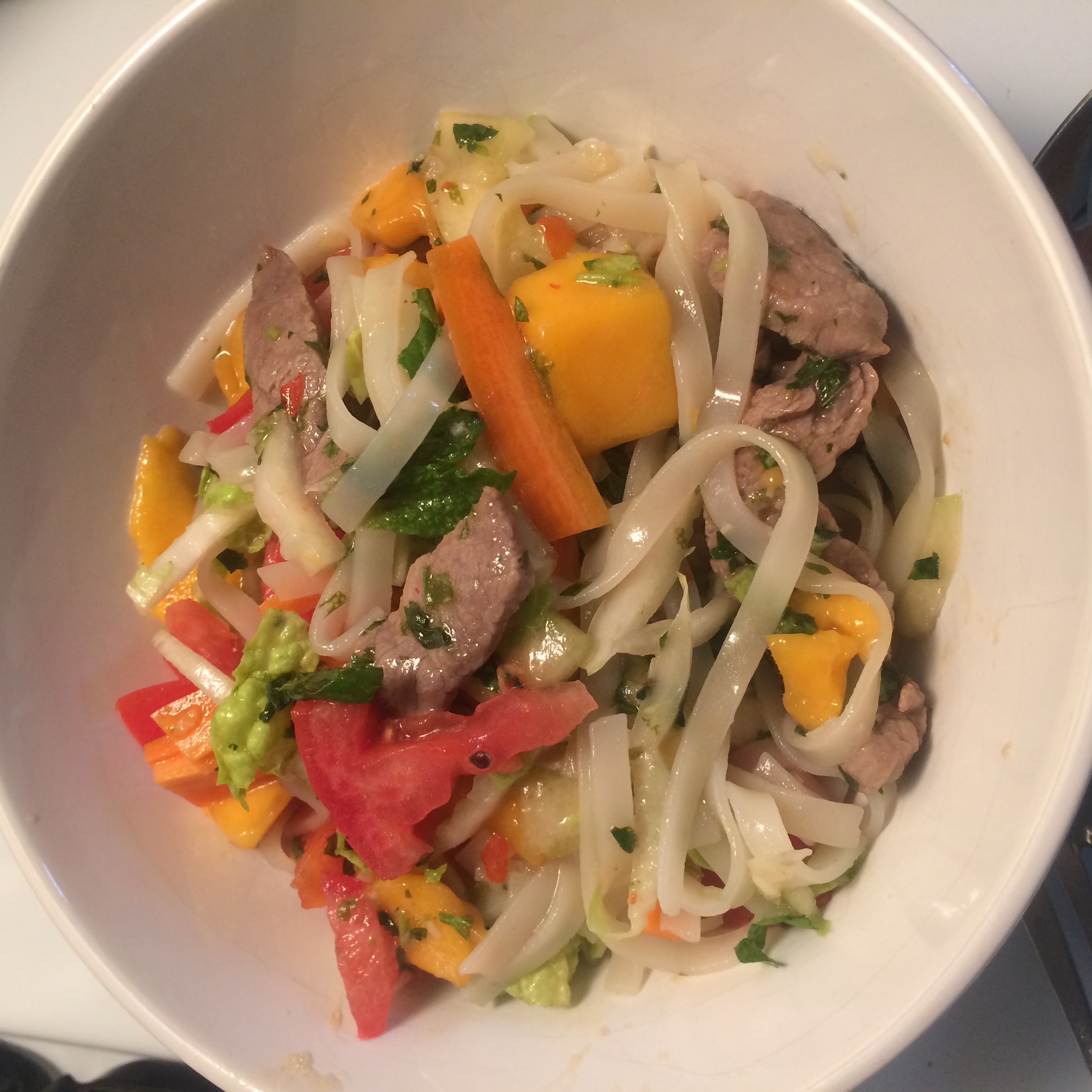 So, I have a bad habit of buying rice stick noodles (the wide ones, not the angel hair type) and never getting around to cooking them because in the past I've always messed them up (usually the ones I buy don't have any English cooking instructions and soaking them doesn't work so well unless you want to wait 45 minutes or so).
Trick is to boil them gently for 4 minutes then rinse under cold water, twice.
Note: I recently tried this out with vermacelli rice noodles…also very good.
I doctored up the dressing based on two different recipes:
I include the links to say thanks to the authors and for the purests among you…me, I go with what I have in the cupboard.
I used the same dressing on both the chicken and beef variants of this salad and it was very good.
My Version of the Dressing (make first so the flavours meld)
4 cloves garlic, minced
2 tablespoons rice vinegar
1 tablespoons brown sugar
4 tablespoons fish sauce, stinks like old socks but my god does it taste good in this salad
Zest and juice of one lime (you could add more if you like)
6 tablespoons light tasting oil (I used grapeseed)
2 tablespoons sweet Thai chili sauce
1/4 cup fresh coriander leaves chopped fine
1/4 cut fresh mint leaves chopped fine
Both recipes said to put all this in the blender…Meh, I say…I just whisked them up in a bowl and all was well and I didn't have to wash the damn blender.
For Beef Salad
Slice 1lb steak (I used a strip loin…I think…I forget…use what you'd normally use for stir fry) into thin strips and toss them with 1/3 of the marinade, set aside while you chop the veggies and cook your rice noodles. 6-8 ounces of rice stick noodles should do it…again…bring a large pot of water to boil, put in your rice noodles, swirl around and let boil gently for 3-4 minutes – test them to make sure they aren't hard as nails – drain, rinse in cold water, rinse again, and set aside.
1lb beef for stir fry
4 large carrots, peeled, chopped in half and then match sticked…if you are really lazy, grate them in your cuisinart
8-10 full leaves of savoy cabbage, chopped in slivers
5-6 leaves ice berg lettuce (or romaine) chopped (as in chopped salad)
1 cup grape tomatoes cut in quarters
1 cup red and yellow pepper cut in match sticks
1 atualfo mango (the flat yellow ones – they are less fibrous)…pitted and cubed. Don't know how to do that without taking a thumb off? Watch this how to cut a mango video
3 green onions chopped – the whole thing.
one large handful of each — cilantro leaves, mint leaves, and basil. Chop the cilantro, tear the mint leaves and  chiffonade the basil (Don't know how chiffonade? Watch this:  https://youtu.be/yJEQFgfv7iw)
Put all your chopped veg in a bowl.
Heat a wok with 4-6 tablespoons of oil and stir fry the beef and marinade for about 3 minutes or until the beef is cooked through.
Toss the veg and meat together with the dressing and toss the works with the cooked rice noodles.
Serve it up.
For the Chicken Salad
It's too hot to cook…go get a roasted chicken from the grocery store, remove the meat from half the bird and chop into bite size pieces and follow the veg and instructions for the Beef Salad minus the beef bit.
I have taken to adding 2 Tbsps of roasted black sesame seeds as well.
Both are even better the second day…this made enough for a 6'3″ active 18 year old and his dumpy mom…for two nights so I'd say it feeds 6-8 regular people for one night.
---
---