Slow Cooker Roast Chicken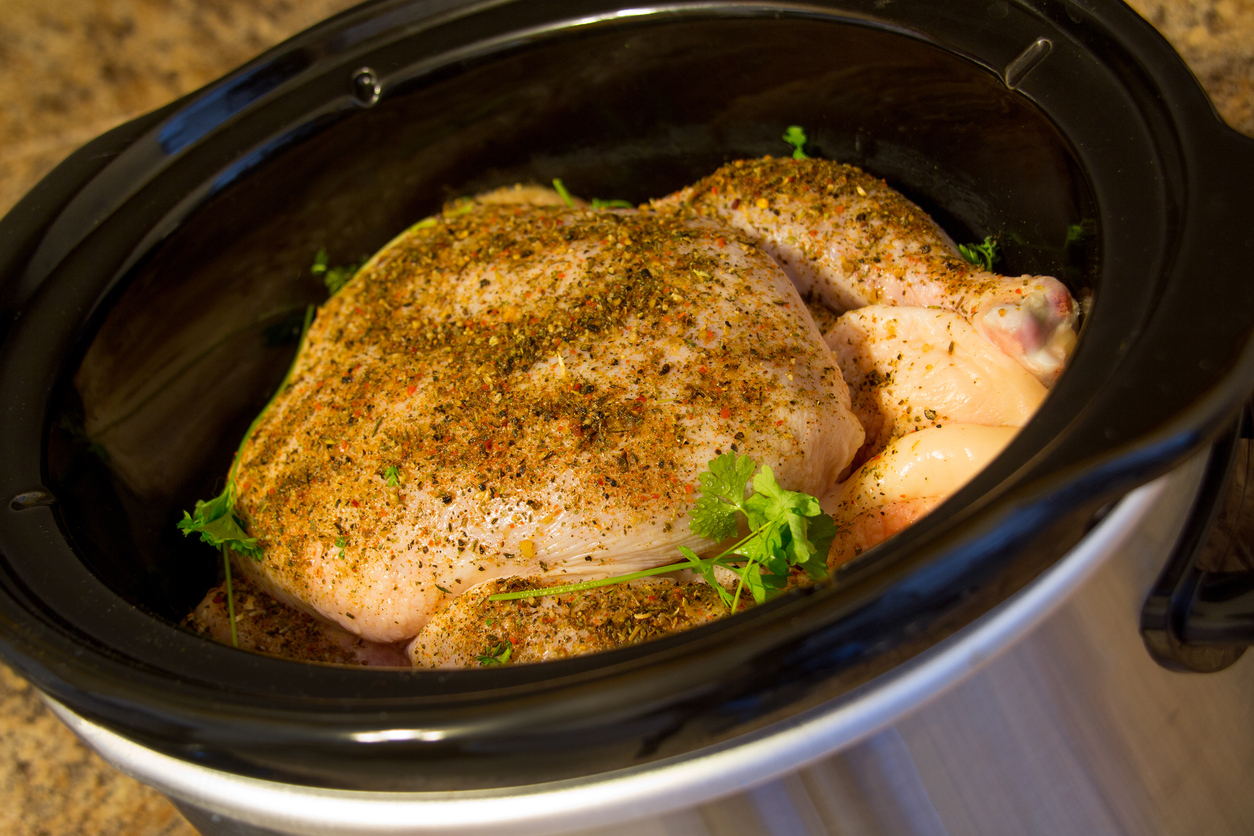 This is my variation on Buzzfeedtasty's slow cooker roast chicken.
The original recipe calls for a whole chicken* but I don't like the texture of chicken breasts that have been in the slow cooker for 8 hours, so I use whole chicken legs or thighs (8-10). Of course if it's cheaper to buy a whole chicken then do that. Newbie cookers…check the price per lb or kg to figure out the best deal.
Ingredients
4-6 whole chicken legs or a packet of chicken thighs (8-10), bone in, skin on or whole chicken – you're aiming for 2.5-3 lbs of chicken)
4 medium potatoes, quartered (cube them if you use larger ones)
2 ribs celery, roughly chopped
1 medium onion, roughly chopped
2 large carrots, roughly chopped
4 whole garlic cloves, smashed and peeled
Put the veg in the bottom of the slow cooker to act as a rack for your chicken.
The Rub
There are no rules to this. Use what you like but I find the following works well:
3 tsp sea salt or rock salt (if you use table salt decrease the amount to 2 tsp or you will end up with something inedible)
1 tsp cayenne pepper (or chili powder…or both!)
2 tsp paprika (if you've got smoked paprika use it)
1 tsp dried thyme
1/2 dried oregano
1 tsp ground white pepper
1/2 tsp fresh ground black pepper
6 cloves minced garlic (or as much as you like – it's not going to hurt anything). If you don't have fresh garlic you can use 2 tsp of garlic powder but if you use garlic salt remember to cut back on the salt
Method
Wash chicken pieces and pat them dry (they should not be wet).
Coat the pieces well with the rub and place them on top of the veg.
Juice 1/2 a lemon over the top, put the lid on the slow cooker and cook on low for 8 hours.
Remove the chicken and let it rest for 5-10 minutes before serving.
Whole Chicken
If you are doing a whole chicken (make sure it will fit in your slow cooker), coat it with the rub and stuff the cavity with 1/2 onion, 1/2 lemon, fresh thyme, rosemary and 4 cloves garlic. Place it on top of the veg, cover and cook on low for 8 hours, remove and let rest 10 minutes before serving.
The advantage to doing a whole chicken is that once you remove the meat you can pop the bones back in the slow cooker (with or without any left over veg), add enough water to cover the bones by at least a 1/2 inch, swack the top on and cook on low for another 8 hours and you will have some of the best bone broth for soup that you have ever tasted.
*Yes, that's a stock photo…I forgot to take photos before I removed the chicken legs from the crock put…next time.
---
---