Warm French Lentil Salad with Bacon and Tarragon Dressing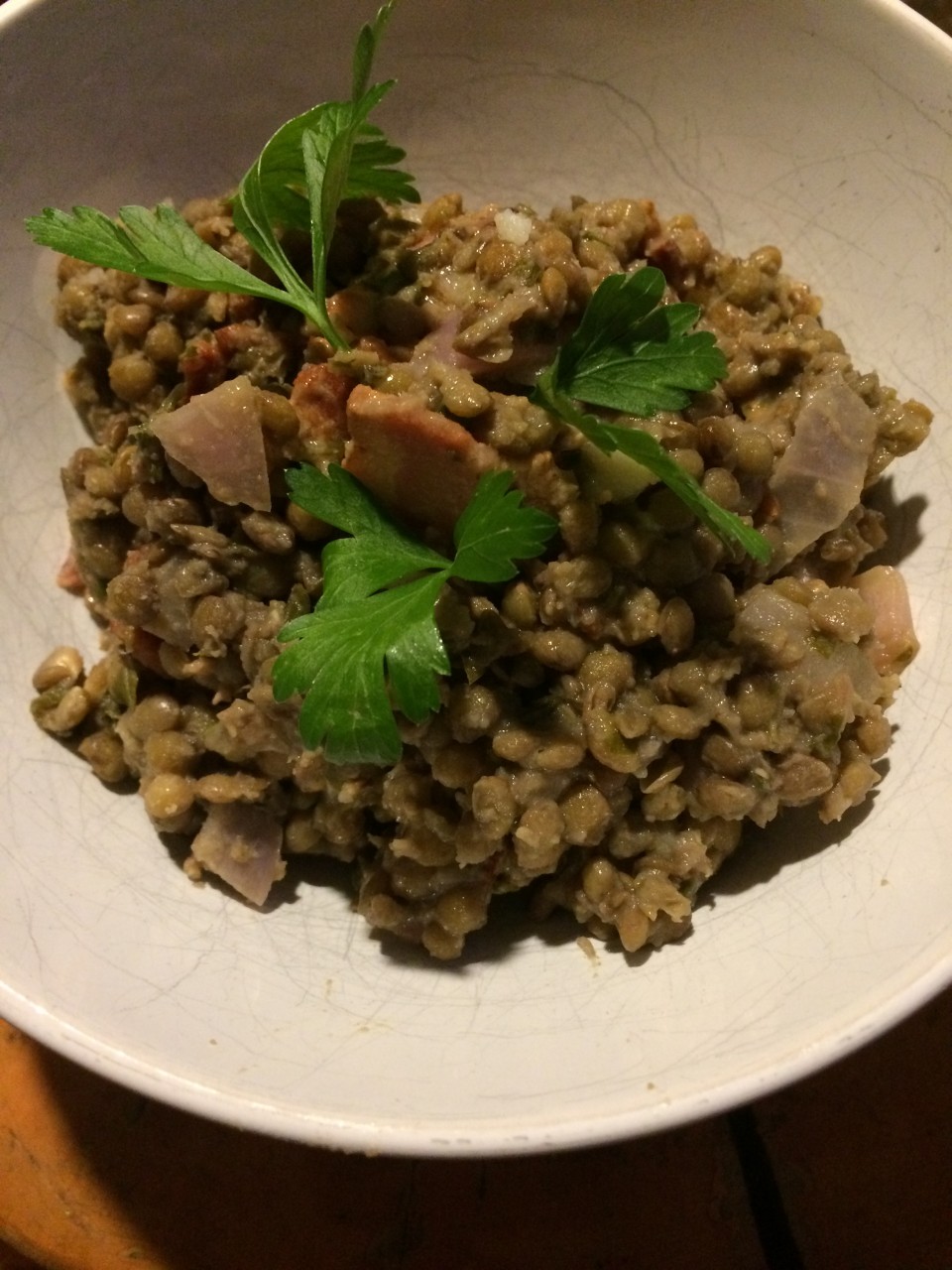 I needed a side dish for beef shanks with gremolata and I had bought some organic French lentils (aka puy lentils) so I decided to make a warm French lentil salad. This recipe is based on this Green Lentil and Bacon Salad I found on the Epicurious website. While it may not look it, it really was delicious and I'll definitely make it again.
Ingredients
6 rashers double-smoked bacon, coarsely chopped
1 shallot, finely diced
6 C water
2 C French green lentils, rinsed, drained
1/4 C chopped fresh parsley
4 teaspoons chopped fresh thyme
1/2 a large red onion diced
Dressing
1/2 C good quality olive oil
1/4 C red wine vinegar
3 tablespoons Dijon mustard
1/4 C chopped fresh parsley
1/4 C chopped fresh Tarragon
Method
Cook bacon in heavy large saucepan over medium heat until brown and the fat has rendered.
Remove the bacon from the pan and drain on paper towels.
Add the shallots to the pan and sauté until  tender, about 5 minutes.
Add 6 cups water and 2 tsps thyme and 1/4 C parsley.
Bring to boil. Reduce heat to medium-low.
Cover and simmer until lentils are tender, about 30 minutes.
While the lentils are cooking make the dressing (see below).
Drain lentils and let cool slightly.
Dressing
In a small bowl, whisk red wine vinegar into the olive oil until it emulsifies.
Whisk in the Dijon mustard and stir in the fresh tarragon.
Transfer lentils to large bowl. Toss with half the dressing (add more to your taste, save the rest if you don't use it).
Stir in the red onion bacon, remaining 1/4 cup parsley, and remaining 2 teaspoons thyme. Toss to combine.
Season to taste with salt and pepper and serve at room temperature.
Makes 12 serves and is great the next day.
---
---