Pork Empanadas with Phyllo Pastry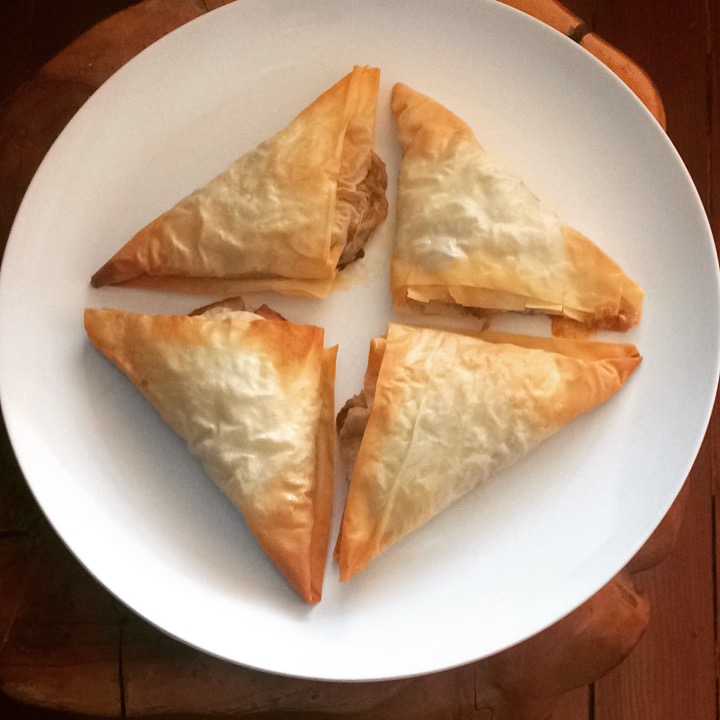 Pork empanadas are spicy and filling. They make a great appetizer or side dish. While they are a bit of work, this recipe makes lots so you can freeze them for later. The filling is a variation of the Pork Enchilada recipe from Canadian Living and the idea to wrap them in phyllo pastry instead of short crust pastry came from the Chilean Empanadas recipe in Sheila Lukin's All Around the World Cookbook.
Note: working with phyllo pastery is not that bad but you do have to work quickly and have all your "stuff" ready before you start wrapping the empanadas.
Ingredients
1  onion diced
5 cloves garlic minced
1 C strained tomatoes (I just used left over spaghetti sauce)
2 Tbsp chili powder
2 Tbsp brown surgar
1 tsp chipotle pwoder
1 tsp cumin
1 tsp dried oregano
1 tsp salt
1/2 tsp pepper
1 lb pork chuck eye steak (or use pork, shoulder or butt)
4 carrots diced
1 head savoy cabbage rough chopped
Zest and juice of 1/2 lime added right before wrapping.
Method
In your trusty slow cooker combine the onion, garlic, tomato sauce, chili powder, brown sugar, chipotle powder, cumin, oregano, salt and pepper. Add pork, rolling in sauce to coat.
Cover and cook on low until pork is tender, 8 to 10 hours.
Remove pork; discard fat and bone. Shred meat with 2 forks; place in bowl, cover and put it in the fridge.
Add the carrots and cabbage to the sauce remaining in the slow cooker, stir well and cook on low for a couple hours or until the carrots are soft.
Toss the veg in with the pork and return it to the fridge until you are ready to make your empanadas.
Prepare phyllo dough. If it's frozen take it out of the freezer and let it defrost in the fridge overnight.
You'll need a clean work surface for wrapping and one for keeping your phyllo covered.
Preheat oven to 350F.
Melt 1/3 C butter and find your pastry brush.
Remove pork mixture from the fridge, stir in the zest of the lime and the juice from one half of the lime.
Unwrap phyllo and lay the sheets on a clean, dry tea towel. Keep covered with a piece of wax or parchment paper and a damp tea towel so they don't dry out while you are working.
On a clean work surface, place one sheet of phyllo in front of you, brush with the melted butter and place another sheet on top, brush with butter again.
Using a pizza cutter, cut the phyllo into four 3″ wide strips (the short way).
Place 1 Tbsp of filling at one end of your phyllo strip, 1″ from the bottom. Fold the corner across the filling to make a triangle and continue to fold the triangle like you are folding a flag to the end of the strip.
Place completed triangles on a parchment lined baking sheet.
Repeat until you have used up all your phyllo and/or filling.
Brush the triangles with more melted butter and bake for 15 minutes until golden.
Serve hot.
If you are making these ahead allow them to cool completely store in a covered container or in the freezer.
Before serving, preheat oven to 350F and bake another 10 minutes to reheat.
Makes 32 good sized triangles.
---
---