Misadventures in Marmalade with a Delicious Ending: Slow Cooker Citrus Melange Marmalade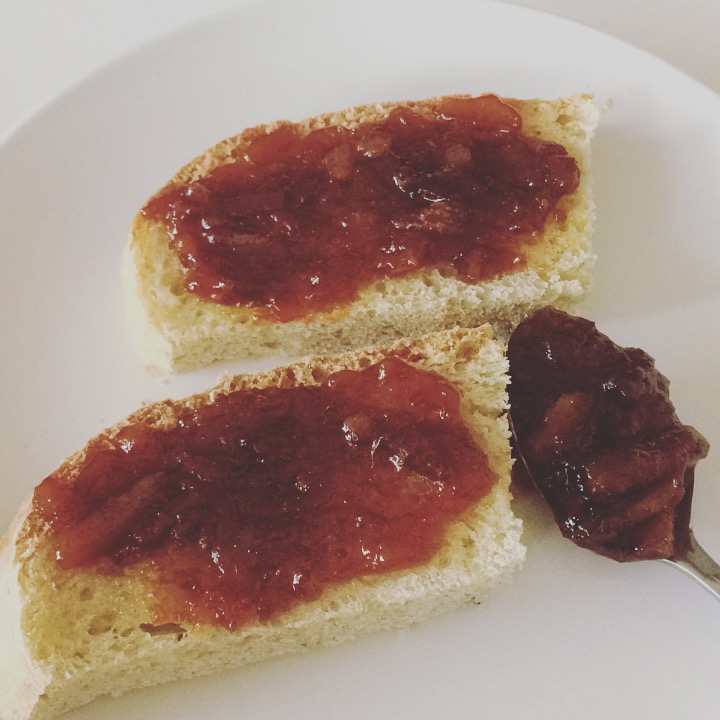 After going to the Autumn Fair 2017 at Kits Neighbourhood House and buying three very interesting jams and looking at Sheila's Easy Delicious Marmalade recipe which she was kind enough to share with me on Facebook's The Cook's Community Forum (thanks, Sheila!), I decided I'd have a go at making marmalade. I'm very fond of marmalade. However, I'm also lazy and didn't want to mind the pot for hours watch for scorching, so I looked for slow cooker marmalade recipes online. I found an adapted recipe for slow cooker Orange Marmalade courtesy of Beth Hensperger's, Not Your Mother's Slow Cooker Cook Book. There were misadventures, but there was also a delicious happy ending.
I wanted to make Seville marmalade but, alas, Valencia oranges are not in season yet. Undeterred, I bought a mix of Murcott mandarins, ruby red grapefruit, and Cara Cara oranges. That seemed a bit more exotic than the California navel oranges on offer.
I followed the method from the original recipe I found on Recipe Link. However, by the next morning (after all night in the crock pot) the damn stuff still hadn't set up. The colour was right, the taste was lovely, thanks very much, but the consistency was all wrong; orange syrop…not jammy at all. So, I took a look online to see what the problem might be and stumbled on Good Housekeeping's Marmalade making tips. The lesson in all of this? Read a bunch before you start. Learn from my mistakes grasshoppers.
Executive Summary
By all means, use a slow cooker (overnight).  It will make the peels nicely translucent, and the citrus flesh liquify, but, unless you want marmalade syrup, you are going to have to finish it off on the stove top. i.e., boiling the bejesus out of it for a good 35 minutes to get it to set up. Or that was my experience. Having said that, it did produce a lovely dark marmalade, so I'm not sorry I made this.
Would I make it again? Unlike my (mis)adventures with gnocchi, Yes. Absolutely. It's really very good.
Ingredients
1 lemon, zest and juice
1 large Murcott Mandarin (these have a tonne of seeds)
1 small Ruby Red Grapefruit
4 medium Cara Cara oranges
4 C water
4 C berry sugar (or super fine) – I read after the fact regular old sugar is best.
Method
I started making this at about 4 pm in the afternoon.
Wash the fruit (you want to get any "wax" off the surface so you may need to scrub lightly).
Peel the fruit in quarters (chopping is less messy if you peel the fruit first). By that I mean run a sharp knife around the orange from top to bottom, turn half way and do it again, so you make quadrants. You should be able to get the peel off in four pieces (see the picture below).
Julienne the peels, add to slow cooker. I didn't go nuts on the thinness (lazy). Mine looked like the middle pic above.
Remove the seeds from the citrus fruits, course chop the flesh and add to slow cooker (last pic above).
Zest and juice the lemon and all together now, "add to the slow cooker."
Add 4 C water, stir, cover and cook on HIGH for 2 hours.
Add the sugar and mix well to dissolve the sugar.
Cover, cook on LOW for 6 hours, stirring every 2 hours to check for consistency. Then I let it cook on LOW overnight.
The next morning I turned the slow cooker to HIGH, and let it cook for another 2 hours. At the end of that, I had nice translucent peels and the citrus flesh was now a syrop but there's no way in hell this was going to set up. It was at this point I turned to the internet for the following fix.
FINISHING
Empty the contents of your slow cooker into a large heavy-bottomed pot.
Bring the works to a rolling boil (stirring occasionally) and let it boil for 15 minutes.
Turn off the heat, do the "wrinkle test" noted in the GH tips article. If it's still not "wrinkling" the way you want, then bring it back to a boil and boil another 10 minutes. Test again…it can take up to 35 minute or more. I found mine started to "look" jammy at the point. Note…be careful when stirring a bubbling pot of marmalade it behaves a bit like a volcano and spits like crazy (I have the marmalade battle scars to prove it).
Once you are happy with the consistency turn off the heat and let it come to room temperature. I didn't bother with the "official canning rules" because I'm pretty confident this stuff will be gone in 2 months (the length of time it's supposed to keep in the fridge without being properly jarred.
 If you want to torture yourself and go through that proper process for preserving your jam, have a look at
Alton Brown's Marmalade Recipe
for instructions – you could even make his recipe instead if that suits you!
Ladle the warm marmalade into clean spring-top glass jars (or use screw tops with new lids); let stand until cool. Store, covered, in the refrigerator for up to 2 months.
Makes 6-7 cups of marmalade (I'm guessing based on the containers I used).
Save
Save
Save
Save
Save
Save
Save
Save
Save
Save
Save
Save
Save
Save
Save
Save
Save
Save
Save
Save
Save
Save
Save
Save
Save
Save
Save
Save
Save
Save
Save
Save
Save
Save
Save
Save
---
---