Butternut Squash Mashup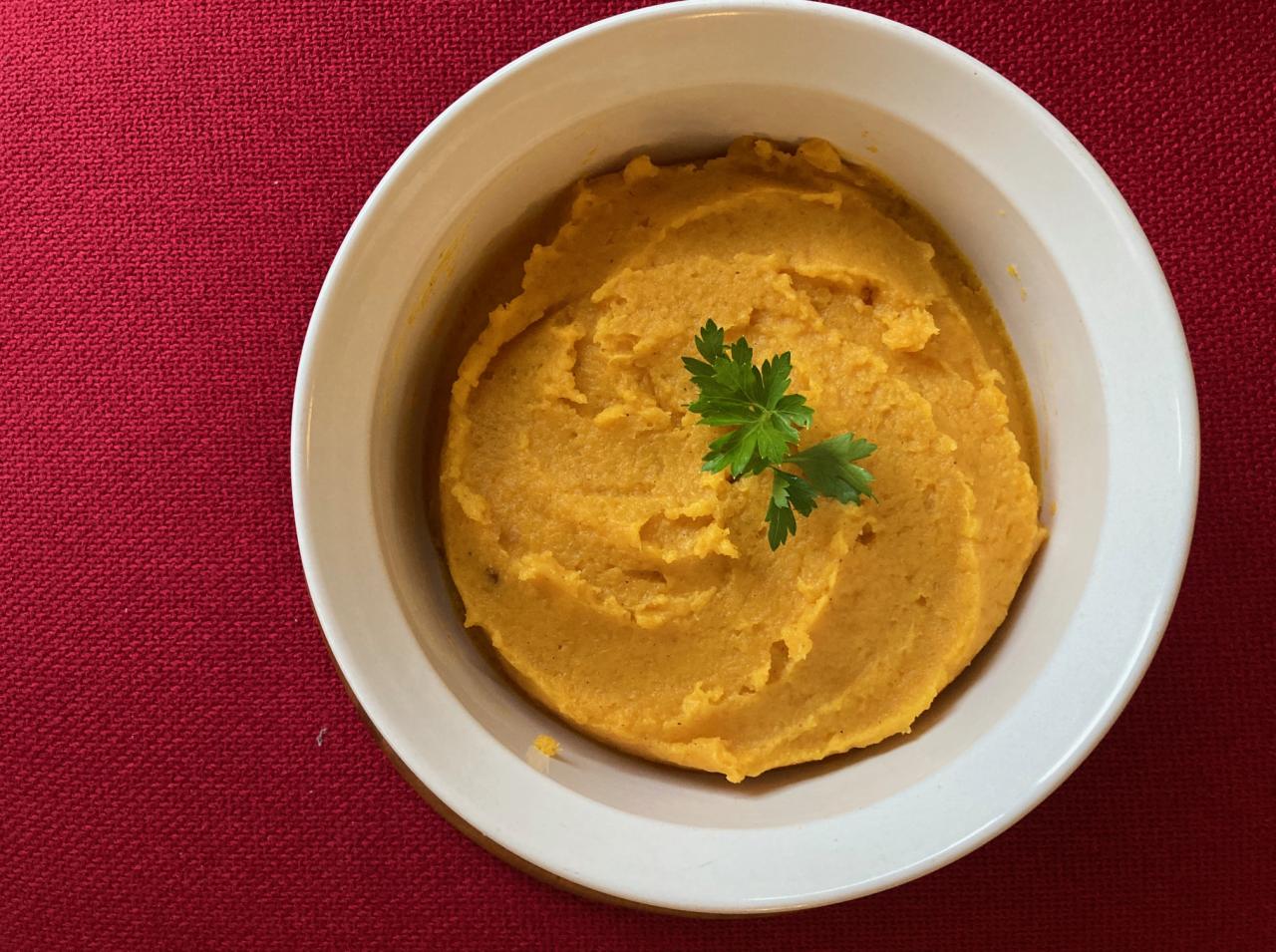 Butternut squash is a fall favourite. It's relatively cheap and stores for ages. It's also super easy to cook. Forget all this nonsense about peeling and cubing it. That is just not necessary. Wash it, poke a good number of holes all over it and bake it whole. Yup, that's right, don't even cut that sucker in half…again, not necessary.
Butternut squash mashup is equally easy.
Ingredients
2 cups roasted butternut squashe (1 small butternut squash or half a 4-5 lb squash baked, peeled, cut in half and seeded (method below))
2 Tbsp butter (or butter substitute, like Earth Balance, if you don't do butter)
2 Tbsp buttermilk (or plant based milk, if that's your thing)
1 Tbsp brown sugar (or maple syrup or honey)
healthy pinch of salt
pinch of white pepper
pinch of nutmeg
pinch of cinnamon
Method
Whole Baked Squash
Preheat oven to 425 F.
Wash squash and poke 6-10 holes in it all over.
Line a baking tray big enough for your squash with baker's parchment (or foil).
Roast for 60-90 minutes or until it pierces easily with a knife or skewer.
Remove from oven and let it cool until it's easy to handle.
Cut it in half and remove the seeds and peel or scrap out the flesh (peeling leaves more of the squash behind).
Butternut Squash Mashup
Mash the squash with butter using a potato masher. I do it right in the bowl I'm going to serve it in.
Add the sugar and mash well.
Add the buttermilk and mash to combine.
Add the remaining seasonings and mash until smooth.
Turn the oven to 350 and heat 10-15 minutes (long enough to warm it through).
Serves 4
---
---