Roasted Carrots with Sumac Yogurt Sauce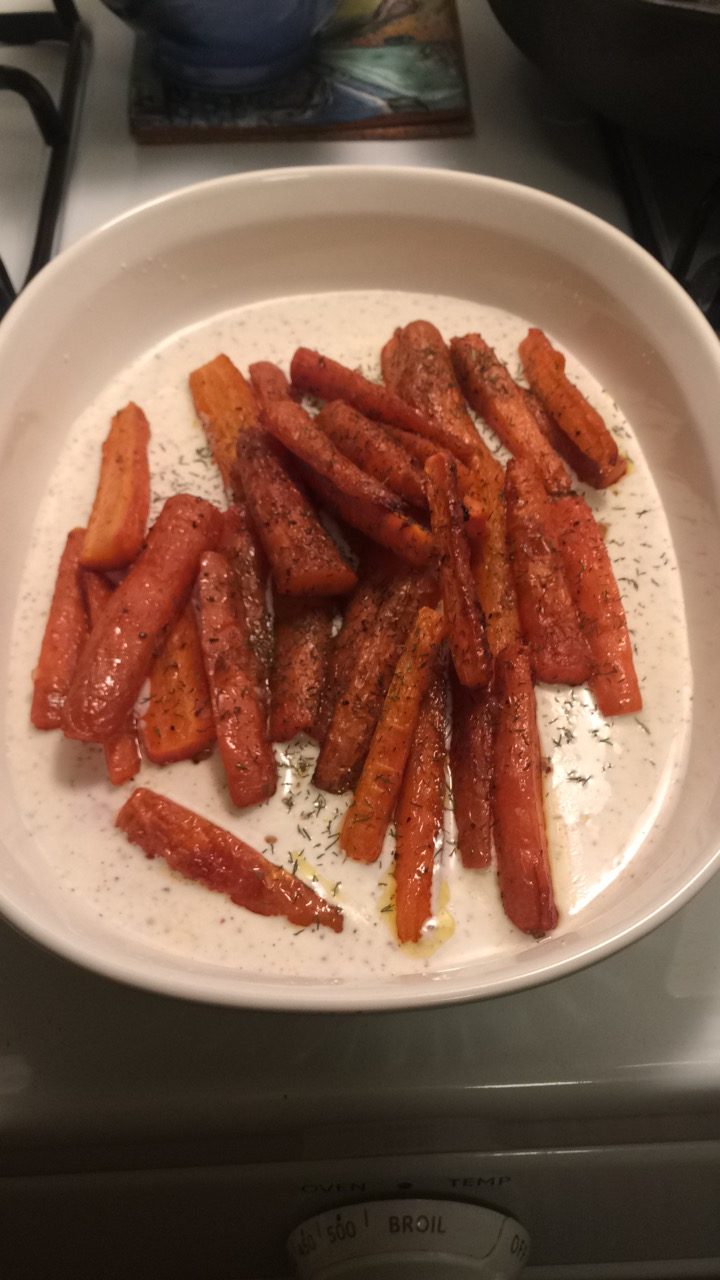 Who isn't trying to eat more colourful vegetables these days?
I got this lovely recipe from Doug Hellman via The Cook's Community Forum Facebook group but Doug also has a YouTube channel (Doug Cooking). Thanks, Doug!
You can watch Doug's video below but he had access to a barbeque whereas I…do not. So I roasted the carrots @400 F instead (10 minutes, turn, 10 minutes) and then broiled them for 3 minutes to get some charring. Everything else was the same.
Ingredients
Sauce
2 Tbsp mayo
zest and juice of 1 lemon
1 C Greek yogurt (the thick stuff, not low or 0% fat)
1 tsp Sumac
1 tsp sea salt
Roasted Carrots
If you have a Barbeque just follow Doug's instructions. If you don't…use your oven and broiler.
6 medium size carrots, halved, then quartered
1 Tbsp olive oil
1 Tsp sea salt
Fresh pepper to taste
Method
Stir the sauce ingredients together and set aside.
Preheat oven to 400 F.
Line a cookies sheet with baker's parchment.
Toss carrots in oil and spread in a single layer.
Salt and pepper the carrots and roast for 10 minutes. Turn and roast another 10 minutes.
Turn the oven to broil and broil 3-4 minutes (keep an eye on them so they don't burn), flip and broil another 3-4 minutes.
Remove from oven and allow to cool slightly.
Plate up by slathering the sauce on a tray and placing the carrots on top. Sprinkle with fresh chives…or dill…or parsley…or all three! I used dill.
Mine did not turn out as lovely and charred as Doug's but the result was a sweet carrot with lovely refreshing, lemony sauce. I can see this pairing really well with fish.
---
---