Blueberry Cardamom Scones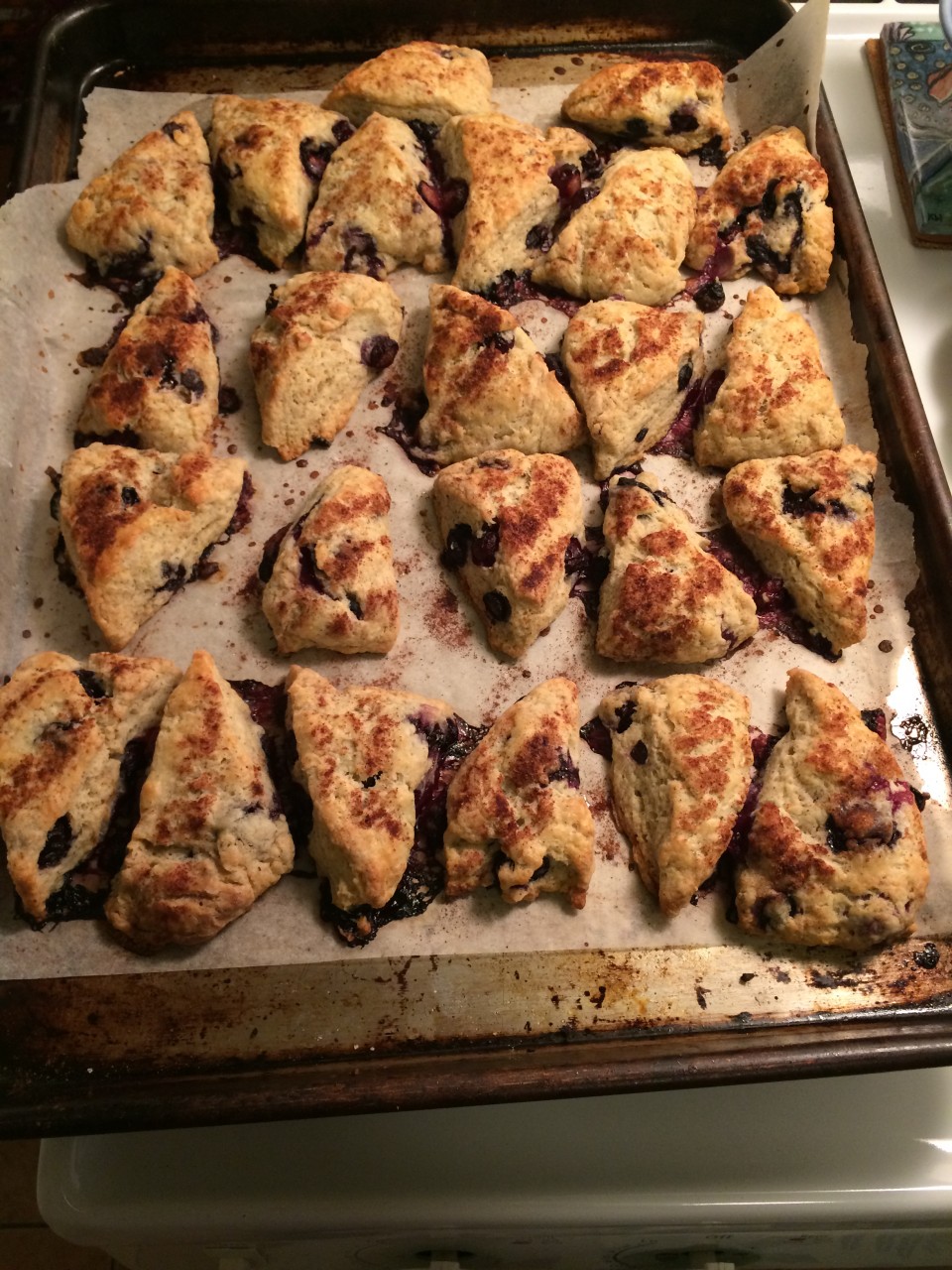 My Mummu used to make these amazing blueberry pies when I was little and because she was Finnish, she always added cardamom to the filling. It seemed to lift the flavour to a whole new level. This recipe is a combination of these Cranberry Almond Scones and this Blueberry Cardamom Breakfast Scone recipe from Tasty Kitchen. However, I upped the cardamom to 2 tsp because it used to drive my Mummu nuts when people skimped on the cardmom in recipes. There shall be NO skimping on the cardamom at my house.
I used buttermilk instead of cream to brush the tops of the scones and I sprinkled them with cinnamon sugar because who doesn't like cinnamon sugar right? Right!
I didn't have any lemons left but if I had… I would have used the zest of a whole lemon to the dry ingredients before combining them with the wet.
Ingredients:
2 1/2 c. flour
1/4 c. sugar
1 tsp baking powder
Zest of one whole lemon (it helps to have a good mandolin grater)
1/2 tsp sea salt
1/2 tsp baking soda
2 tsp ground cardamon
1 c. cold butter
1 c.  fresh blueberrie (in hindsight it would have been easier to mix the dough if they had been forzen)
1 c. buttermilk
1/4 tsp vanilla
1/4 tsp almond extract
Buttermilk for brushing the tops of the scones
Cinnamon sugar for dusting the tops of the scones
Preheat oven to 425F and line a baking sheet with parchment paper.
Mix flour, sugar, baking powder, salt and baking soda and ground cardamon together. Cut the butter into the dry mixture using a pastry blender if you have one use two knives or your fingers and blend until the mixture resembles coarse cornmeal. Stir in blueberries.
Mix the buttermilk with the vanilla and almond extract and add to the dry mixture using a spatula to mix until the dough comes together (don't over mix). Turn dough out onto a lightly floured board and knead it lightly until the wet ingredients are just incorporated.
Divide the dough in thirds and shape into 6-8″ disks about 1″ thick and cut them into 8 even wedges.
Put the scones on your baking sheet, brush with buttermilk and sprinkle with the cinnamon sugar. Make 10 minutes, rotate the pan and reduce the oven to 350F. Continue baking another 15 minutes. Remove from oven and let cool for 5 minutes.
Serve warm with butter and jam…or just plain.
Makes 24 small scones.
---
---