Candied Orange Peel and Citrus Scones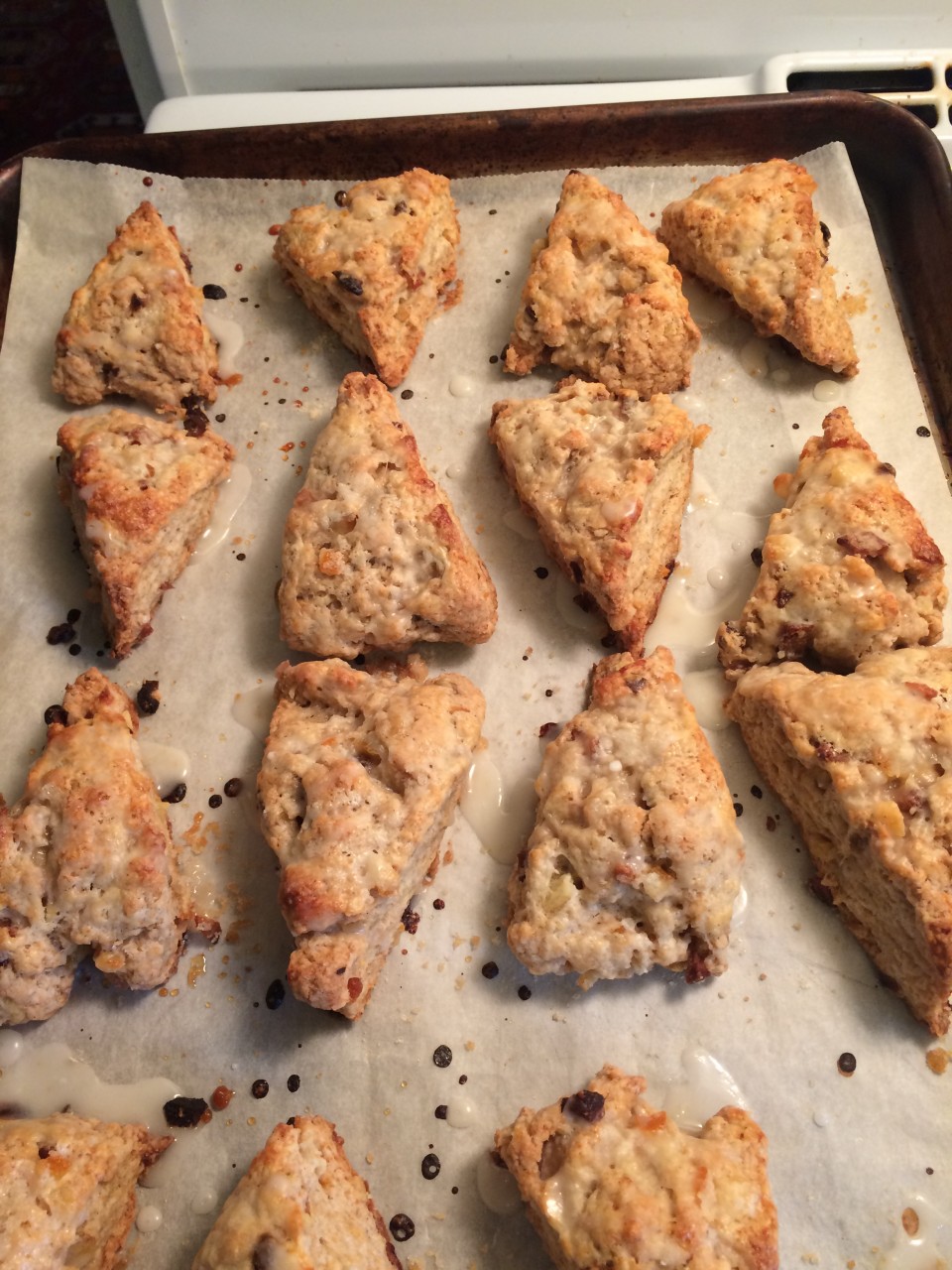 In the build up to Christmas my friend Liz and I decided we'd make her Aunty's Christmas cake recipe which is fantastic. In the doing, I had to make candied orange peel and ended up with lots of extra. Oh, what do to, what to do? I decided it would go very well in scones and possibly shortbread (stay tuned on that one). This recipe is based on Tom Douglas' Cherry Almond Scones from the Dahlia Bakery Cookbook.
Note: The recipe for Candied orange peel is at the end of the the Christmas cake recipe linked above.
Ingredients
2 1/2 C all-purpose flour (next time I will cut the flour to 2 C)
1/4 C sugar (I used the sugar that was left over from the candied orange peel process – Hey, I'm half Scottish, don't judge)
1 tsp baking powder
1/4 tsp baking soda
3/4 tsp kosher salt (or sea salt)
Zest of one whole lemon (reserve lemon juice for drizzle)
3/4 C candied orange peel (chopped fine)
12 dried apricots (chopped in 1/4″ dice, it's about 1/4 c – more won't hurt anything)
1 C buttermilk*
1 tsp vanilla
1/4 tsp Cointreau or Grande Marnier
10 Tbsp cold butter diced
*If you don't have buttermilk, you can substitute with a Tbsp of lemon juice and 3/4 C minus one tablespoon of regular milk.
You can make a simple glaze from icing sugar and lemon juice by adding lemon juice to 1/2 c. of icing sugar until you get the drizzly consistency you want. I didn't want to waste the lemon so I did.
Method
Preheat oven to 425°F. Line a large cookie sheet with parchment paper.
In a large bowl whisk together the flours, sugar, baking soda, baking powder, and salt.
Cut the butter into the dry ingredients using a pastry blender or your fingers (think making pie crust). You should end up with  a mixture that looks like course cornmeal.
Gently stir in the candied orange peel, lemon zest and chopped apricots.
Add the vanilla and Cointreau / Grande Marnier to the buttermilk.
Add the wet ingredients to the dry ingredients and mix until it just comes together.
Divide the mixture into 2 balls, and, one at a time, place them on a lightly floured surface, kneading them just gently to form a disk incorporating the buttermilk evenly. Try not to over work the dough.
Flatten each disk into a 1-inch thick, 6-inch wide circle. Slice each round into 8 wedges.
Transfer to the parchment paper-lined baking sheet, spacing at least an inch apart. Brush them with a little buttermilk and sprinkle with coarse sugar.
Bake at 425°F for 1o minutes. Rotate the pan, turn the oven down to 350 and bake for another 15 or until just starting to brown.
Cool on a rack for at least 5 minutes before eating.
When completely cooled you can put drizzle on them if you wish.
To store, allow first to cool to room temperature, then seal in a freezer bag.
---
---